New York, N.Y.  Last month, Dr. Kazuko Tatsumura Hillyer attended the grand opening of the Academic Building of Manjushree Tibetan Orphanage in Tawang, India that she helped finance. All 254 children, teachers, villagers, monks, officials, and international guests gathered to celebrate.
A member of the Board of Directors of Orphans International Worldwide (
OIWW
), I wrote about her early efforts to fund the Dalai Lama's children in this publication (
LINK
) several years ago. I recently had a wonderful Japanese dinner with Dr. Kazuko at 100 United Nations Plaza and she told me:
To me it was a very emotional occasion. It took over four years to build this building – with the help of many in the U.S. and Japan.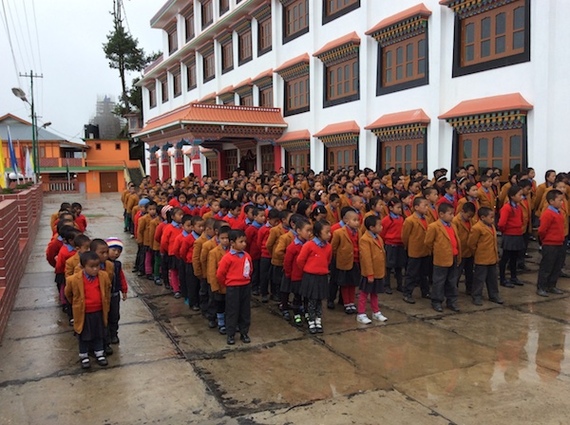 Dr. Kazuko provided iPads and uniforms for the children of Manjushree Orphanage.
Image: Manjushree Orphanage.
.
Her enthusiasm of the place and its children are infectious:
I wish you had been there with me: Tawang is a magnificent and very important Tibetan village, located deep in the remote Himalayan mountains, on the border of India and China, near Tibet, Bhutan and Myanmar.

This is where the fifth Dalai Lama's monastery was located, historically the second largest. It is the birthplace of sixth Dalai Lama. To get there, you must cross nine mountains – two almost 15,000 feet!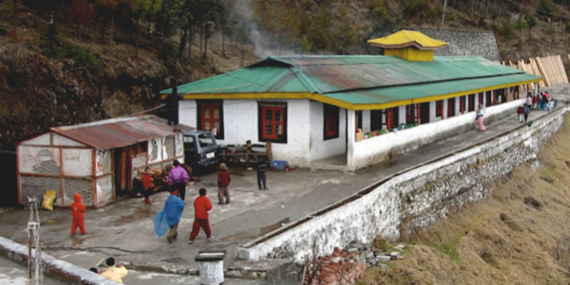 The old academic building. Photo: Dr. Kazuko.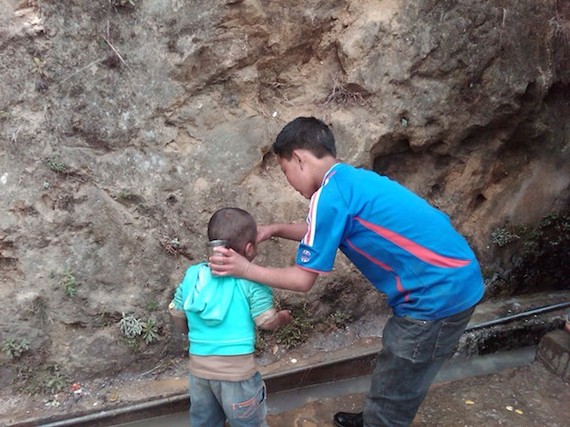 Dental hygiene used to require brushing teeth in the stream gutter.
Photo: Dr. Kazuko.
.
Manjushree Orphanage was started by a remarkable monk named Lama Thupten Phuntsok, He began 1n 1998 with 17 children and three devoted teachers. The original home was housed in an unsanitary building with no plumbing and no adequate lighting.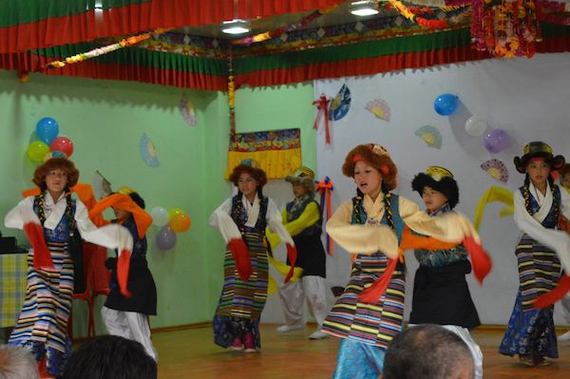 The Opening Ceremonies vibrated with Tibetan culture that very much lives
in India. Photo: Manjushree Orphanage.
.
Dr. Kazuko first heard about this Tibetan orphanage from the Dalai Lama and was concerned about the well being of its children. She particularly worried about the existence of infectious diseases.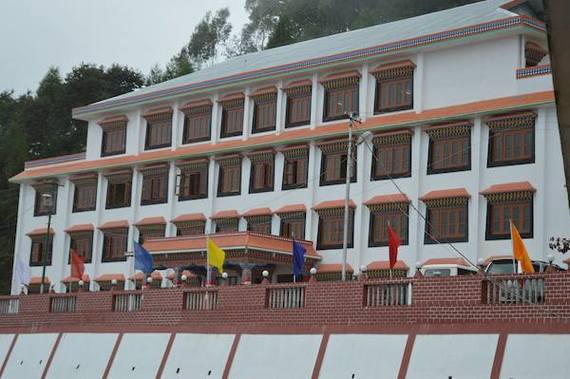 Another view in the architectural renderings. Image: Manjushree Orphanage.
.
Dr. Kazuko arrived first in 2009 to take care of eleven children suffering with TB. Originally, many of the children arrived in Manjushree, crossing over the Himalayas in pursuit of a traditional Tibetan education no longer available in Tibet proper. To do so, they risked their lives. Villagers there were as they are today, extremely poor and isolated from Tibet itself.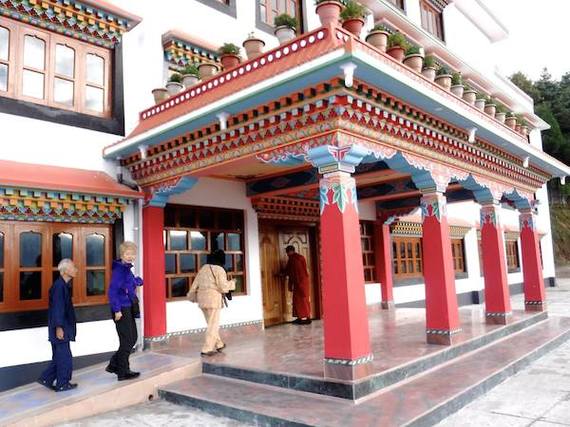 Walking into the building the first time, Dr. Kazuko said her
heart was pounding with excitement. Photo: Dr. Kazuko.
.
In last three years, the Manjushree produced 22 graduates, and all went to colleges and professional schools. This is a remarkable fact in any standard anywhere, but coming from this very remote village of Himalaya particularly notable.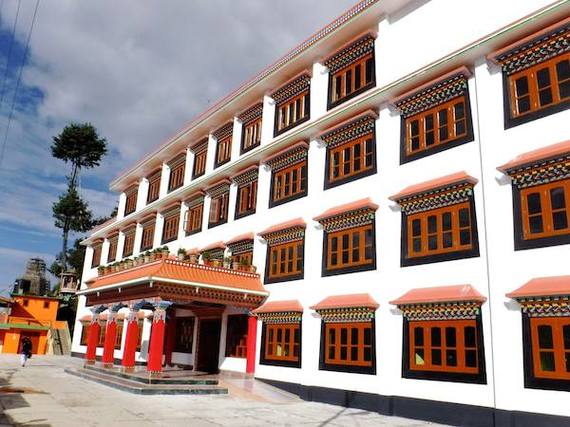 Architectural rendering of the Academic Building front.
Image: Manjushree Orphanage.
.
Dr. Kazuko told me with great satisfaction:
We now have a beautiful building which houses the classes till they graduate for the higher educations, together with rooms for Science, Biology, Library, Chemistry, Computer lab, Dalai Lama's teaching hall, and even the Gaia Holistic Health Clinic.
So many people from around the world spent so many years to make this happen.
Dr. Kazuko, middle, wearing ceremonial 'kata' given to her is appreciation.
Photo: Dr. Kazuko.
.
Although I already knew the answer as she tells me so frequently, I asked her what it was about these particular kids that filled her heart do full of love? She explained:
The children of Manjushree are quite different than any other children! They are all naturally compassionate – full of love for all sentient beings… They never raise their voices, nor quarrel among themselves. They are just adorable. One goes there to assist but, instead, we always learn so much from these children.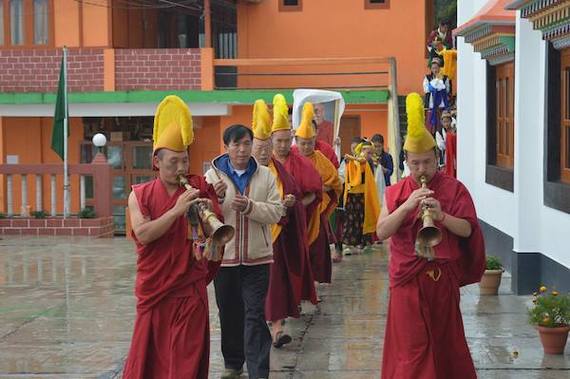 The Tibetan monks in residence were particularly pleased to see the
children's school. Photo: Dr. Kazuko.
.
She continued:
We were all moved and touched constantly in tears. It is a remarkable healing place for anyone's soul. I hope, in fact, I am sure that these children will grow up to be important leaders for the world – in whatever field they choose.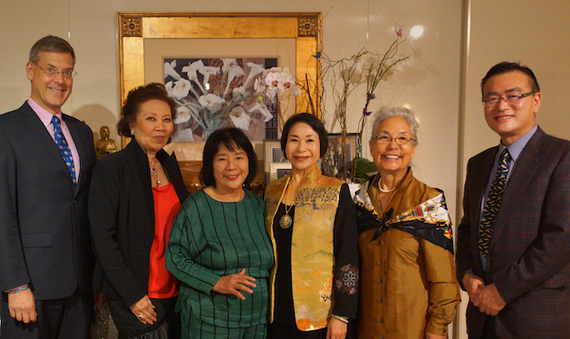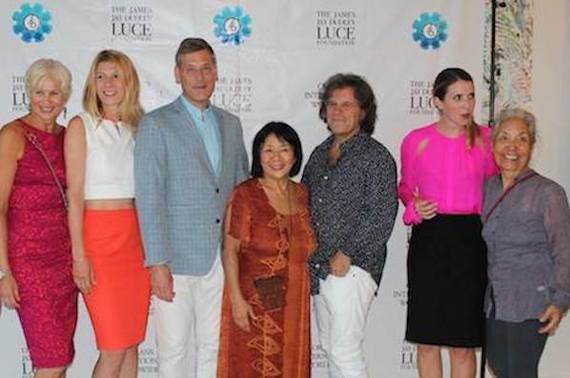 A Board member of Orphans International Worldwide (OIWW), Dr. Kazuko
has coordinated fundraising efforts in both the U.S. and Japan for several
years for the Manjushree Orphanage for Tibetan children. Photo: OIWW.
.
This summer a benefit was held in the Hamptons with Dr. Kazuko to raise funds for the Tibetan Manjushree Orphanage in Tawang, India. The benefit was organized by Orphans International Worldwide at Space16. Contributions, earmarked "Tibet," may be made online at http://tinyurl.com/qyx6hlf. Checks payable to "Orphans International," earmarked "Tibet," may be sent to 540 Main Street #418, New York, N.Y. 10044.
"These wonderful children deserve the world's support. They are kind and generous and loving – and need to be feed, and clothed, and educated. Please join me in compassion for these beautiful children of God!"
Originally published in The Huffington Post, October 13, 2015.
See Stories by Jim Luce on:

Children | Education | India | New York | Orphans |
Orphans International Worldwide | Young Global Leadership

The James Jay Dudley Luce Foundation (www.lucefoundation.org) supporting young global leadership is affiliated with Orphans International Worldwide (OIWW), raising global citizens. If supporting youth is important to you, subscribe to J. Luce Foundation updates here.