New York, N.Y.  Actress and humanitarian Liv Ullmann kicked off the Women's Refugee Commission's 2012 Voices of Courage Awards luncheon at Cipriani 42nd Street in New York City on May 4 with a story about a young boy she met in a refugee camp many years ago. He told her he only cried when it rained so he would not dampen the spirits of the other children. The gala honored intrepid women who are improving the lives of refugee women and girls, and featured corporate and humanitarian leaders such as PepsiCo's Chairman and CEO Indra Nooyi; former CFO of JPMorgan Chase Dina Dublon; Afghanistan's award-winning Dr. Sakena Jacoobi; and young refugee women from Sudan, Congo and Nicaragua.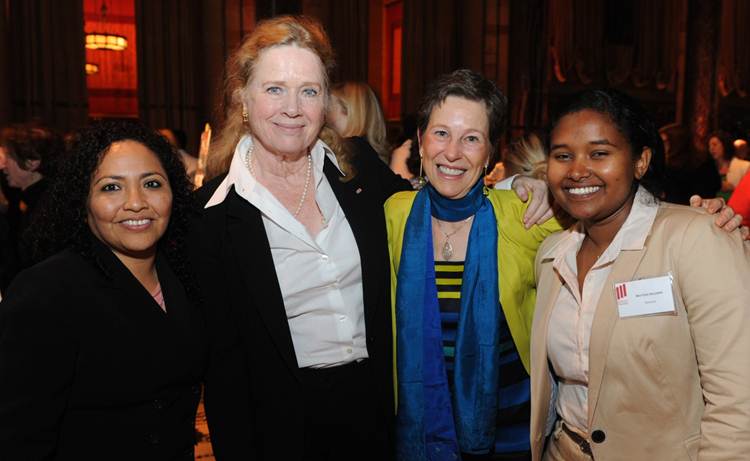 Humanitarian Liv Ullmann (second from left) with 2012 Voices of Courage Awards honorees Olga Cantarero, Dina Dublon and Rim Tekie Solomon. Photo: Don Pollard.
The Women's Refugee Commission, the only organization that focuses solely on the needs of displaced women and girls, advocates to ensure that their voices are heard, and then helps shape policies and programs to protect and empower them. This year, the luncheon focused on the need to protect and empower displaced adolescent girls — one of the most vulnerable groups within a refugee setting.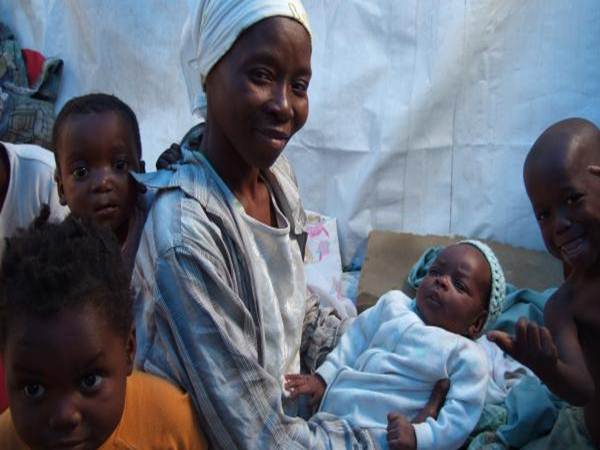 Mother and children in refugee camp in post-earthquake Haiti. Photo: WRC.
Through my work after the tsunami in Indonesia and Sri Lanka, and post-quake in Haiti, I knew the basics: I knew that girls risk their lives looking for firewood or going to the latrines in huge, often out-of-control camps, and that simple interventions such as fuel-efficient stoves or flashlights can save lives. But I learned so much more at the luncheon. It's shocking that:
• 80 percent of the world's refugees are women and children.
• The average length of displacement is 17 years.
• 50 percent of victims of sexual violence are girls under the age of 15.
• Girls in refugee camps are frequently forced into child marriages, sexual exploitation, or taken away as child soldiers.
• There are more than 6 million refugees globally living with disabilities, representing 15 percent of 42 million refugees globally. Approximately 25,000 are receiving better services in India, Bangladesh and Uganda because of trainings the WRC has led.
• Many girls come over borders pregnant, having been raped by their own smugglers.
• In our own country, never have more refugees been detained or deported. When we think of them as "aliens," we can forget they came to us to survive…
The Women's Refugee Commission is part of the International Rescue Committee (IRC), an organization that I highly respect after witnessing their work in the field. The IRC outfitted our Orphans International Worldwide's health clinic for women and children hurt by the Tsunami in Aceh Indonesia back in 2005 (OIWW; video of opening).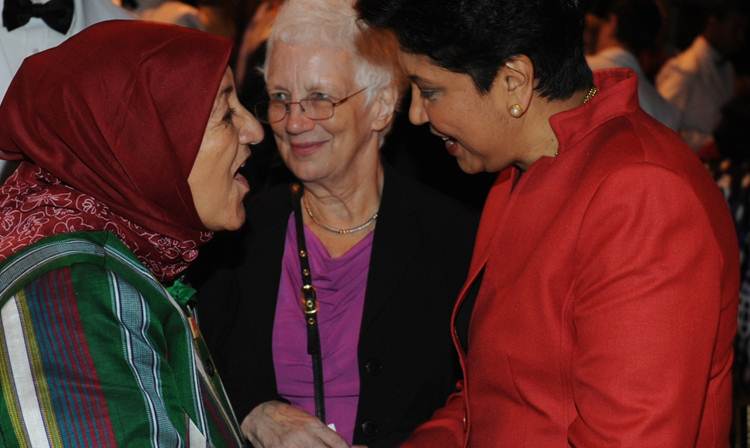 Sakena Yacoobi with PepsiCo Chairman and CEO Indra Nooyi. Photo: Don Pollard.
I particularly appreciated the chance to chat with Dr. Sakena Yacoobi, who has worked with women and girls in Afghanistan for decades and knows many of the leaders whom I have come to know through my foundation's Afghan Fund. She presented the award to an intrepid young Sudanese refugee, Rim Tekie Solomon.
Rim was born in a refugee camp in Sudan, then moved to Khartoum where she attended school and had a happy childhood. At 16, due to danger in Sudan, she made a terrifying journey through Egypt to Israel with her mother and five younger siblings. They left all their belongings behind and crossed the Sinai Desert, on foot.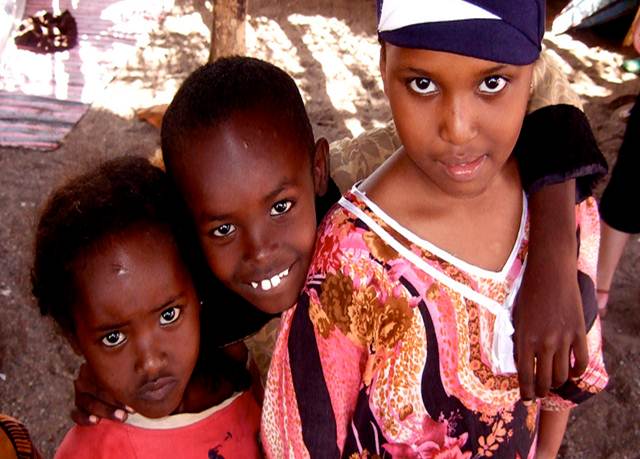 Visiting a camp in Kenya to conduct a fuel and firewood assessment. Photo: WRC.
Today Rim is just 20 years old, and works as a translator with the United Nations High Commissioner for Refugees and the African Refugee Development Center. In a moving speech, Rim said that in her work, she hears firsthand about terrible things that smugglers do to refugees — they deprive them of food and water, and often torture and rape them. Rim also volunteers with the Hagar & Miriam project, part of 
Topaz and Brit-Olam
, helping young asylum-seeking women who are pregnant or new mothers.
"The girls that we help often come alone, with only the clothes on their backs and the baby in their arms," Rim said when accepting the award. "They are overwhelmed by a culture and a language that are so foreign to them. And they have nobody to turn to for help."
I also enjoyed chatting with TV personality Maria Hinojosa, who introduced Olga Cantarero. Maria, who has worked with CNN and NPR, has created a program in Harlem creating socially relevant video content on for a global audience. We promised to get together to explore synergies.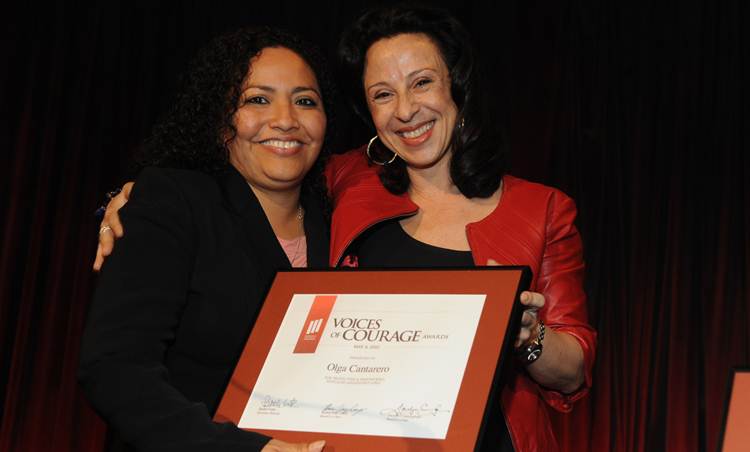 Maria Hinojosa (R) presents Voices of Courage Award to Olga Cantarero of Texas. Photo: Don Pollard.
When 
Olga Cantarero
 was a young girl, she fled Nicaragua for the U.S. after local political groups threatened her life. During her harrowing journey, she saw terrible things, including dead, naked bodies of women and children. She was passed from smuggler to smuggler, and one stole all of her money. Today, Olga works in Texas at the International Emergency Shelter with newly-arrived immigrants. They are mostly juveniles between 13 and 17 years old who have experienced terrible trauma during their journeys from Central America.
"Often, the girls have been drugged and gang-raped," Olga said in her acceptance speech. "Smugglers may promise them a job as a waitress, but then sell them into prostitution. When you hear about pregnant girls crossing the border, I am telling you, many are pregnant because they were raped."
At the Emergency Shelter, Olga helps guide them to a better future. "I tell them that many girls like them now lead successful lives. I know this is true because 20 years ago, I was one of those girls," she said.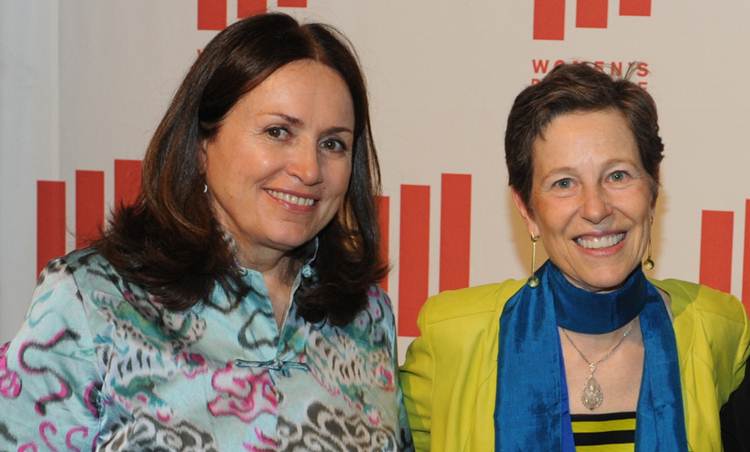 WRC Executive director Sarah Costa with honoree Dina Dublon. Photo: Don Pollard.
I am a huge fan of PepsiCo's Chairman and CEO Indra Nooyi, who introduced honoree Dina Dublon. Dina is a senior lecturer at Harvard and member of the boards of Microsoft, Accenture, and PepsiCo, as well as Carnegie Mellon, Global Fund for Women, and the Women's Refugee Commission.
Dina went to Rwanda with the Women's Refugee Commission more than a decade ago, where they spoke firsthand with the refugee women to understand their challenges.
"Despite Rwandans' traumatic experiences, the women I met were not hopeless or helpless," Dina said. "They were leaders in their communities who had overcome devastating challenges and were determined to improve their situations. Their courage, optimism and their drive inspired me to become involved in the Women's Refugee Commission — to raise my voice, to advocate."

I could not agree more fully with the closing remarks of Dina Dublon on social responsibility:
"As individuals, the ultimate responsibility for driving positive change is ours. Becoming involved in issues larger than our own is not only a right and a privilege — it is an obligation. We owe it to ourselves and to the generation to come."
To echo Dina, we should do what we can to help protect displaced women and girls. A direct way to do that is to support the important work of the Women's Refugee Commission. Their 2012 Voices of Courage luncheon was a stirring call to action. It's no surprise that the Commission has gained the respect of the international community. I look very much forward to their next presentation and invite you to join me.

Women's Refugee Commission
Frequently Asked Questions
122 East 42nd Street, New York, N.Y. 10168-128
info@wrcommission.org |             (212) 551-3115
See Stories by Jim Luce on:
Afghanistan | Africa | Children | Haiti | Health | International Development | Israel | New York |Social Responsibility | Women's Issues
The James Jay Dudley Luce Foundation (www.lucefoundation.org) is the umbrella organization under which The International University Center Haiti (Uni Haiti) and Orphans International Worldwide (OIWW) are organized. If supporting young global leadership is important to you, subscribe to J. Luce Foundation updates here.
Follow Jim Luce on Facebook and LinkedIn.
Follow Jim Luce on Twitter: www.twitter.com/jimluce