New York, N.Y. Self assured, poised, and performing with a wide range of emotional energy and intensity, 18-year old Caroline Goulding's debut performance at Merkin Hall this week ranged from soft and lyrical to commanding and powerful. It was the perfect presentation to mark the Fiftieth Anniversary of one of New York City's premier cultural institutions, the dynamic and career-making Young Concert Artists, Inc. (YCA) under the steady hand of Susan Wadsworth (story).
The star of this festive and musically rich evening was Caroline Goulding, at 17, the youngest winner of the 2009 Young Concert Artists International Auditions. This evening presented her New York Debut, sponsored by the Rhoda Walker Teagle Prize of YCA.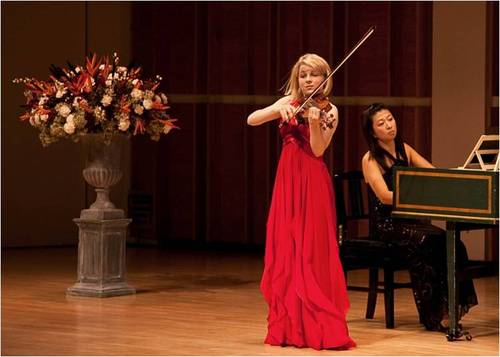 Goulding was triumphant as the Young Concert Artists Series celebrated its
50th Anniversary under the direction of Susan Wadsworth. Photo: Matthew Dine.
The moment this petite, brilliant and beautiful young woman stepped on stage, the evening seemed to be hers. She walked across the stage with smooth and confident steps, holding the precious 1720 Stradivarius violin on 
loan
 to her. As she played, her lovely bright-red evening gown whirled about her like red flames.
Caroline's gifted performance celebrates Young Concert Artists' fifty years of discovering and launching the careers of such now-famous artists as violinists Pinchas Zukerman, Ani Kavafian, Ida Kavafian, and Chee-Yun; pianists Murray Perahia, Emanuel Ax, Richard Goode, Jean-Yves Thibaudet, Jeremy Denk and Christopher O'Riley, flutists Paula Robison and Eugenia Zukerman; the Tokyo, St. Lawrence, and Borromeo String Quartets; cellists Fred Sherry, and Carter Brey; and sopranos Sasha Cooke and Dawn Upshaw.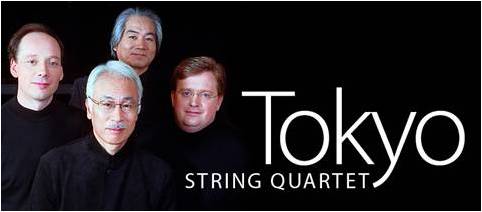 The Young Concert Artists Series has launched the careers of many around the world.
This fiftieth season in New York is unique in that every concert will have a magnificent YCA alumnus on the program joining the newest winners of the annual YCA International Auditions.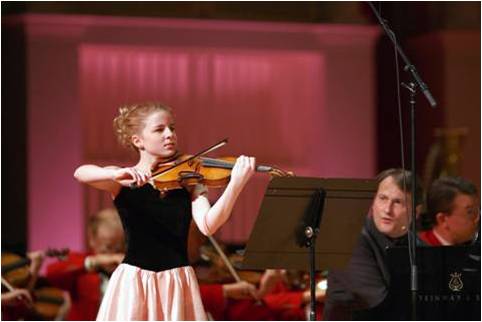 Playing with the Cincinnati Pops only two years ago, Caroline Goulding
is a now a musical force to be reckoned with around the word.
Champagne was served to celebrate the Fiftieth Gala at intermission. Following Caroline's spectacular performance, an elated Susan Wadsworth, director and founder of Young Concert Artists, Inc., told me:
This is what all of my work is about! The joy of hearing such spectacular musicians touching us with their music — blowing us all away — and having the fun of discovering them first! The ear-splitting, ecstatic roar of the audience at the end of the concert was unlike anything usually heard in a concert hall!
Audience members raved about Caroline's youth and virtuosity. One, Dr. Linda Stillman, commented:
Hearing Caroline Goulding reminded me of the famed German violinist Anne-Sophie Mutter who impressed me the same way when I first heard her perform in the 1980s.
I was particularly impressed with Caroline's musical interaction with her pianist Shuai Wang, and with the violinist Scott St. John, with whom she ended the program in the Moskowsky's exciting Suite for Two Violins. Equally exciting was her connectedness to the audience.

Her presence and presentation were stunning, and her graceful movements enhanced her music. I look forward to following her rising career!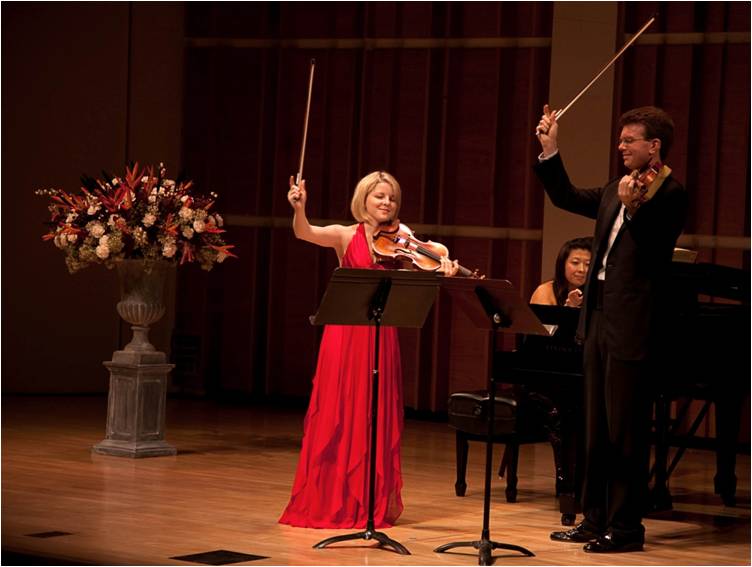 "The ear-splitting, ecstatic roar of the audience at the end of the concert was
unlike anything usually heard in a concert hall!" Photo: Matthew Dine.
The program opened with a contemporary solo violin piece, 
Red Violin Caprices
 by John Corigliano, based on music he composed for the movie 
The Red Violin
, for which he won an OSCAR. The movie was based on the story of a Stradivarius violin, made in 1701.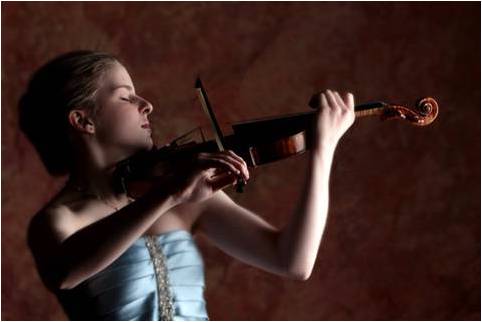 Caroline wrote me after the concert: "I am glad that people enjoyed the concert, and so grateful to Young Concert Artists for giving me this and other opportunities."
Caroline has already performed as soloist with The Cleveland Orchestra, the Toronto Symphony Orchestra, the Detroit Symphony Orchestra, the Dallas Symphony, the Buffalo Philharmonic Orchestra, the Cincinnati Pops, the Cleveland Pops, and the Aspen Concert Orchestra. She has appeared on shows from Martha Stewart to the Today Show. She will be presented next in Boston at the Isabella Stewart Gardner Museum on December 5, and then co-presented on October 22 in her Kennedy Center debut by Young Concert Artists and the Washington Performing Arts Society.
A native of Michigan, Caroline began violin lessons at the age of three under the tutelage of Julia Kurtyka, and continued her studies with Paul Kantor. She has participated in the Starling-DeLay Symposium at the Juilliard School, at the Interlochen Center for the Arts and the Ceilidh Trail School of Celtic Music on Cape Breton Island, Nova Scotia. She currently works with Joel Smirnoff at the Cleveland Institute of Music. Caroline plays the General Kyd Stradivarius (c 1720), on loan to her through the generosity of Jonathan Moulds.
Another of my friends was in the audience, Doris Cramer, who shared with me this charming story:
Although I was enchanted by Caroline's performance, I was not alone. During the concert, I noticed a youngish man sitting in front of me was following every note that she played. When she did a particularly difficult run, I noticed that he smiled, or leaned forward as if he wanted to shout out, "Yes, yes!" So I watched him and her.
At the end, I tapped the young man on the shoulder and apologized for being bold, but that I could not help noticing his reactions to her playing. He laughed and said that he had recorded her first CD on Telarc when she was 16, with Christopher O'Riley – a disc that was nominated for a Grammy. He said that he had first heard her play when she was 14, and had known immediately how special she was. He was delighted to be there for her New York debut.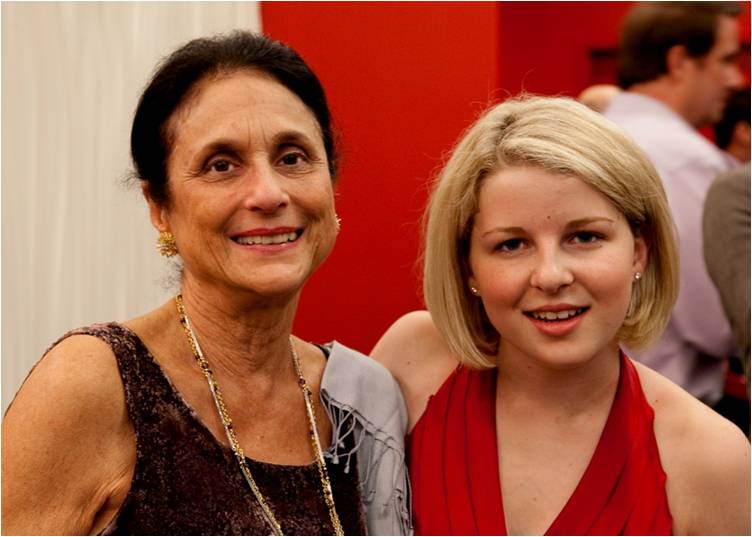 YCA Founder Susan Wadsworth with violinist Caroline Goulding. Photo: Matthew Dine.
Young Concert Artists founder Susan Wadsworth's extraordinary dedication and relentless energy have brought many gifted young musicians to the world stages of classical music. Caroline Goulding's season-opening concert for YCA's 50th anniversary is a testament to the organization that she founded in 1961 with a simple but complex mission: to discover and launch the careers of extraordinary but unknown young musicians. Susan has perfected the process, making the world a better and richer place.
I was fortunate last year to witness the debut in the Young Concert Artists Series of violin maestroHahn-Bin, and feel a great deal of satisfaction in knowing that Susan Wadsworth is able to deliver the best of the world's young talent on the great stages on New York. Both Caroline and Susan remind us of all that is great about this international capital we call home.
To learn more about Caroline Goulding and order her CD, see her album review in Time Out.
Originally published in The Huffington Post, October 14, 2010.