New York, NY. Approaching my 24th trip to Haiti in 12 years, just before the first anniversary of the earthquake, I have decided to call Haiti home for a while. I am able to do so because I am connected – not only to the Web, but to so very many people in Haiti and around the world.   Connectivity is turning out to be a powerful path to social change.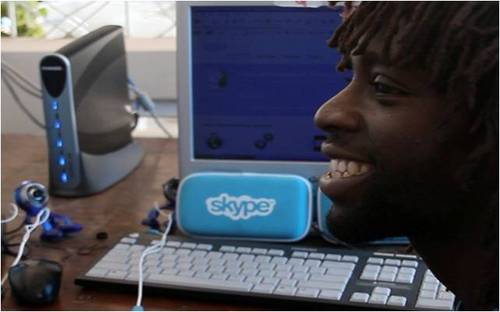 From Haiti to Indonesia and Togo, I stay in touch with staff and supporters via Skype.
Twelve years ago I formed a network of orphan care facilities, Orphans International Worldwide (OIWW), which has worked in Africa, Asia, and the Americas to "Raise Global Citizens." Connectivity alone allowed me to build this unlikely network. I began following up my trips via e-mail and Yahoo IM; now I communicate with my kids and staff via Facebook and Skype, and keep supporters abreast of developments via Twitter. I can relocate to Haiti only because we have field-tested connectivity in Léogâne — the epicenter of the earthquake.
During the last 20 years, the Internet and cell phones have reshaped our world. From 2006-2009, the number of cell phone users in the developing world soared to 2.2 billion, with projections putting it at 3 billion very soon. I have seen cell phone technology used in Sri Lanka and Indonesia after the Tsunami, across West Africa, in Latin America and, of course, Haiti. The mobile applications that excite me most are the ones that impact health, education, and finance. In Haiti, those are the only paths to recovery.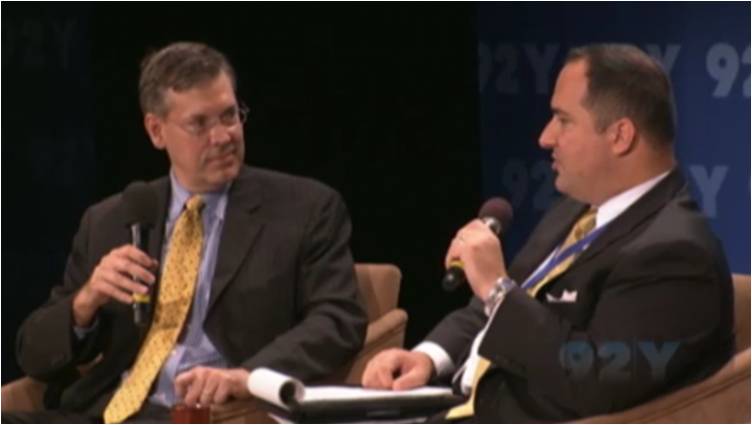 Disaster Relief 2.0: Collaborative Technologies & the Future of Aid at the 92 Street Y.
I was interviewed recently about our activities in Haiti during the "Social Good Summit" sponsored by
92nd Street Y
, the
U.N. Foundation
and
Mashable
(
here
). Using
Skype
, a vital tool for connecting and enabling conversations in today's world, activists from around the world –including Senegal, Kenya and England — were able to join this conversation with bloggers, press, and NGO workers in New York.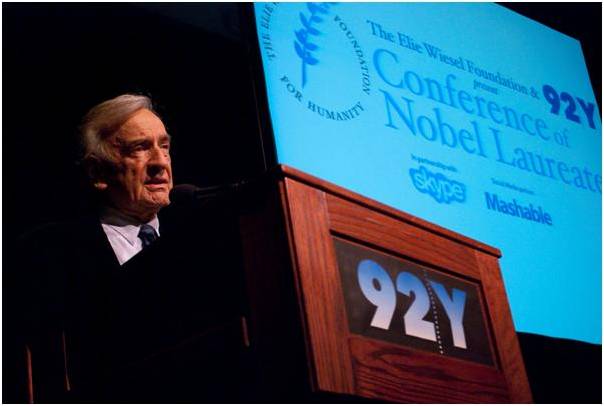 Elie Wiesel is hosting the Conference of Nobel Laureates at the 92 Street Y, bringing together
two unique groups: the world's greatest minds and the next generation of decision makers.
Photo credit: Joyce Culver/92nd Street Y.
Connectivity will take center stage again on October 5-6, when 92Y and the Elie Wiesel Foundation for Humanity present the 2010 Conference of Nobel Laureates. Peace Prize recipient Wiesel and other Nobel Prize winners from other disciplines will be joined by journalists and leaders of NYU's Moral Courage Project. The delegates will meet — in person and via Skype — for private-session discussions on the Middle East, youth engagement, education, and economic development. They also will discuss the need for a new, sustainable approach to corporate leadership that can be a force for good in our increasingly transparent and inter-connected world.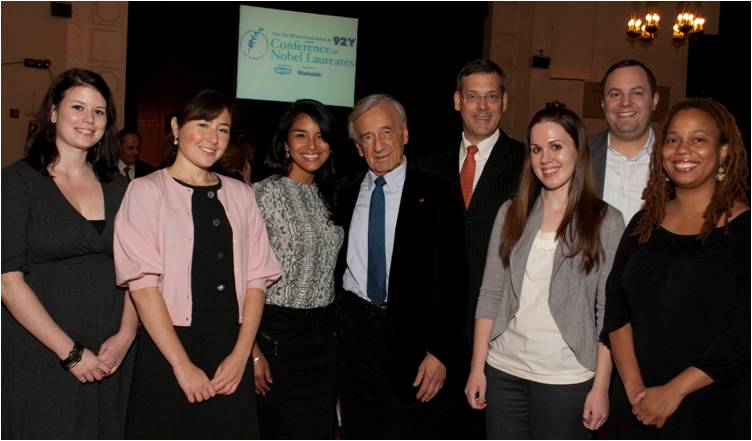 Nobel Laureate Elie Wiesel with friends including the Skype team at the 92nd Street Y.
Photo credit: Joyce Culver/92nd Street Y.
I could not agree more. My own team includes Dr. Arol Buntzman, founder of several technical schools in the U.S., as well as founder of the We Can't Have That Foundation; Carl Skelton, Director of the Brooklyn Experimental Media Center at NYU-Poly; Dr. Masoud Ghandehari of NYU-Poly's Civil Engineering Department; Evens Anozine, a Haitian-American entrepreneur with deep roots in Léogâne; Dr. Eunhee Jung O'Neill, Center for International Virtual Schooling; John Lee, director of Orphans International Worldwide; and Dr. Linda Stillman, director of the James Jay Dudley Luce Foundation. We will work with any partner of good will to better Haiti.
In the next three months, we will begin the Global Center in Léogane – an Internet-connected facility that will serve as the nexus of the local and international development community. Aid, development and research professionals will be able to stay, meet and have local logistical support — as well as share practical ideas and coordinate future work.
The Global Center will offer reliable access to communications and transport. It will match on-the-ground workers with international partners directly. It will distribute web-based media (text/audio/images/video) to build global awareness, and help support working coalitions. This infrastructure will be set up with the aim of replicability throughout Haiti.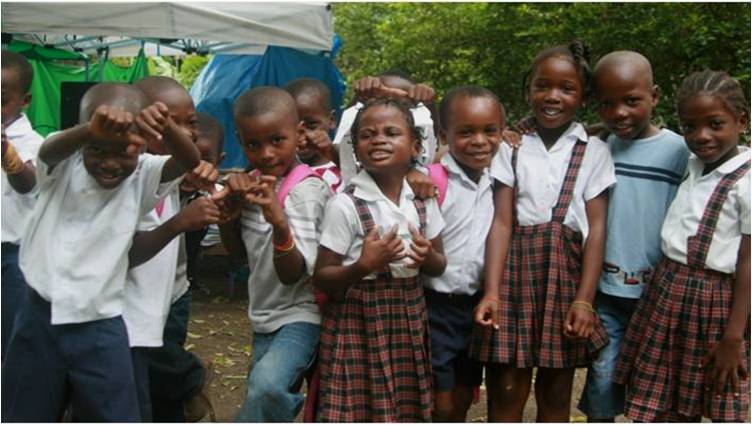 The children of our partner school in Léogâne, epicenter of the Haitian earthquake.
We also plan to incorporate our mentorship program founded last May into the International University of Haiti, with students learning English and IT one-on-one and via the Web. And, we will continue the work of Orphans International Worldwide Haiti, with our children and staff connected to their global sponsors.
None of this could happen without connectivity.
Connectivity is part of our natural evolution as human beings to become one world living in peace and harmony. In Haiti, it is essential for reconstruction: in Léogâne, long-distance learning, mHealth (the practice of medical and public health supported by mobile devices), and other high-tech applications will help build the New Haiti. It will not be accomplished in our lifetime, but this trajectory will change the world for future generations. My team and I intend to be there to help in whatever ways we can.
Jim Luce is a former banker who founded Orphans International Worldwide (OIWW), The Stewardship Report (JLSR), and the James Jay Dudley Luce Foundation (JJDLF).
Stories by Jim Luce:

Jim Luce on Connectivity (Stewardship Report)

Jim Luce on Haiti (Stewardship Report)

Jim Luce on Social Responsibility (Stewardship Report)

Interview with Jim Luce on Skype and Orphans International Worldwide
Follow Jim Luce on Twitter: www.twitter.com/jimluce
Thought Leaders and Global Citizens