New York, N.Y.  Ten years ago I envisioned helping orphans in the developing world by building small homes and hiring houseparents. It seemed obvious that the key to proper care for orphaned children was a strong substitute family.
So I put my money where my mouth was and founded Orphans International (OI). I've learned since then that building the small homes of my original dreams–with four children to a house–is very expensive, often too expensive.  Yet, I realize, in every country and in every village I have visited sufficient housing usually exists.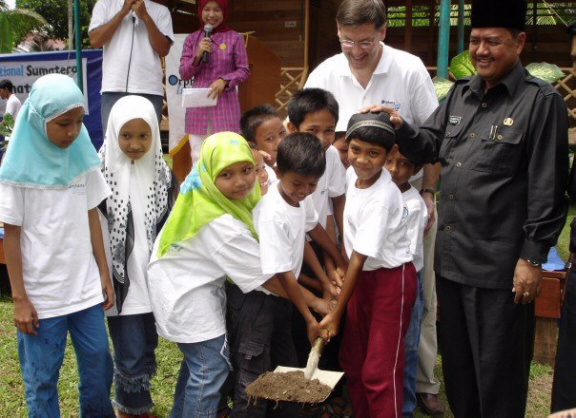 Ground breaking for OI Sumatera in Indonesia, following the Tsunami's devastation.
With OI Family Care–placing children with their aunts, uncles, or grandparents who want to help–I now grasp that we can provide for 48 children at the same cost as housing 12 in our own small homes.
This plan delivers a big bang for my buck–and more importantly, our donor's buck: a 75% reduction in costs, and a 400% increase in capacity.
The statisticians tell us that with Tsunamis, AIDS, earthquakes, etc. there are 143 million orphaned children in the developing world. If we help 12 kids in Haiti, then that is 12/143,000,000. If we can help 48 kids there through Family Care, that would be expressed as 48/143,000,000 of the global problem. Statistically identical, I think.
But one thing I have learned from my gritty travels is that children are not stats. Rescuing 36 more kids from a lifetime of despair makes me sleep better at night. My mission now is to make this exciting Family Care model happen–globally.
Using the Family Care model, OI can now expand our operations by providing direct payments to the extended families of orphaned children. The monthly stipends help pay for food, access to education, as well as literacy and nutrition training for the caregivers.
In addition, we will begin to use our unique, open-source medias to share our 'trade secrets'–architectural plans, foster parent training guides, administrative standards–so that OI Family Care is replicable across the developing world. We will raise not only our own boats but all the boats in this desperate harbor.
If we are to begin to keep up with these crushing needs, Orphans International must focus on rolling out Family Care because it is simple, sustainable, scalable–and most importantly, it is replicable. Already in Sri Lanka we are building OI Family Care with Tsunami orphans. Working with the local community, we are enrolling our first 42 children, and opening a community center to offer English, computer and vocational training, and health care.
We are fundraising now to supplement our original small homes in Manado, Indonesia and Jacmel, Haiti with community centers and health clinics that will serve as the hubs of our OI Family Care. Outside the seaside towns of Manado and Jacmel, respectively, we are expanding beyond our original 12 kids in each project. And we are now in Moshi, Tanzania to begin to explore ways to work closely with AIDS orphans in 2009.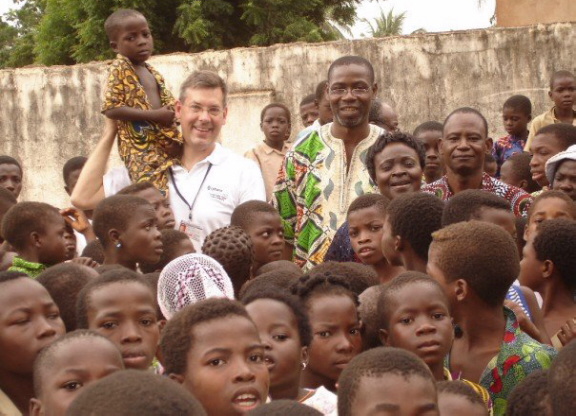 Exploring possibilities for OI to work with orphaned and abandoned children in Togo, West Africa.
My own son Mathew is adopted from Indonesia. In fact, the ethical foundation of our efforts begins with our Global Standards, encapsulated in "Mathew's Rule." This imperative states that each child in our custody shall be given the same care as we provide for our own children. With our help, I believe this level of care can be provided by existing, extended families. Orphaned children can then be raised in their own countries, and with help, as global leaders.
Our kids are raised to become such "global citizens," with computer and language instruction, and exposure to different peoples around the world. Many volunteers and college interns come to OIWW to help teach our children.
We want our kids to stand proudly with feet in both their local and international cultures. For example, our children in Indonesia have won native dance competitions and can easily point to Haiti and Peru on the map. And, seemingly, everyone wants to learn English–and maybe Chinese.
A decade ago, I worried that the term "orphan" was politically incorrect when I named Orphans International. Yet I knew that our initial support would come from individuals who held sacred the Torah, the Qur'an, or the Bible, where all are instructed to assist orphans and widows.
This core value drives the way we think about our kids. Other organizations highlight children's suffering–showing a pathetic little girl walking through a garbage dump, barefoot and crying. Our focus is sharing a vision of happy children already being helped. They have hope. They have a future. Orphans International is not about the 'before,' but the 'after.'
Training and experience are imperative to our efforts. OI trains staff to deal with both the children and cultural differences. Haitian staff have trained in Indonesia, Malaysian staff in Sri Lanka, and Togolese staff in Haiti. American, Canadian, and Australian staff have trained globally.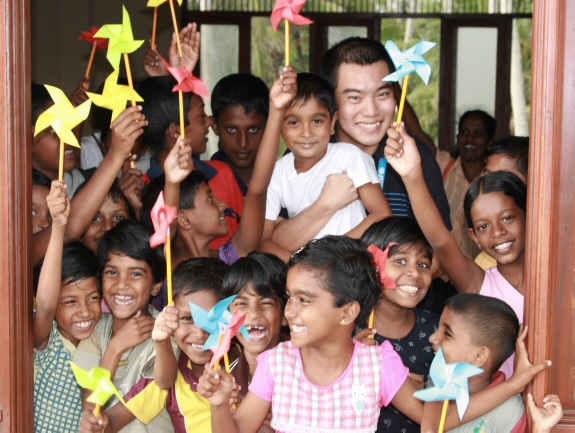 OI Project Officer John Lee of Malaysia works with the children of Sri Lanka who survived the Tsunami.
Today our team of volunteers from five continents are paid small stipends–from only $1 a year to $400 a month–even in New York. Most find us through our own website oiww.org or on the amazing idealist.org. Our offices around the world double as our volunteer housing. With administrative costs around 8%, we remain an impressively cost-effective international effort. We are currently listed in the charity-ranking website GuideStar.
We need more staff and volunteers, actually – social workers, psychologists, educators, nurses, physicians, and IT technicians. They are coming to us from across the United States and around the world. Our project task list with over 150 participants and 450 individual tasks seems almost as endless as Wikipedia, where we are listed.
Only one other global network of interfaith orphanages is associated with the United Nations D.P.I. – the venerable SOS Kinderdorf (Children's Villages) of Switzerland, founded after World War II. OI strives for cooperative relationships with all NGOs, such as SOS, the International Rescue Committee, U.N. Habitat, and the Red Cross/Red Crescent.
Foundations support us: Newman's Own, Friends of the Children Foundation, and the Tomorrow Foundation, among others. As our budget grows, we hope to invest the support of larger foundations, such as Ashoka, Ford, Gates, Kellogg, Soros, and Rockefeller.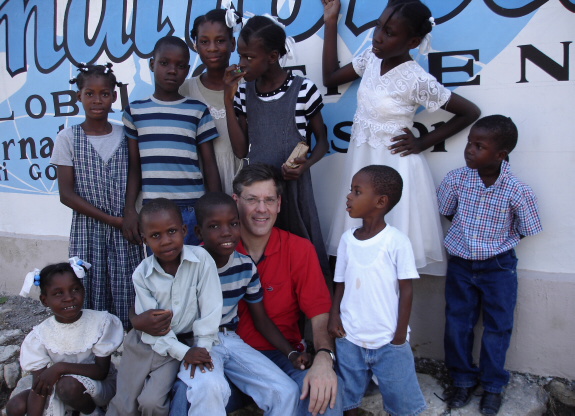 Outside the gates of OI Haiti, Jim Luce shares a moment with our children who survived Hurricane Jeanne.
E-marketing has taken us onto Facebook, Flickr, LinkedIn, YouTube, and coverage by the BBC, National Public Radio, and the New York Times. Speeches at universities such as Princeton bring our example of global OI Family Care to future U.S.-educated leaders of the world.
Why do I do it? Ultimately, each of us must participate in repairing the world. There are many, many ways-through our synagogues, churches, mosques, working with Rotary, Kiwanis, or Lions clubs, or contributing to UNICEF. One goal of OI is to offer others the opportunity to save the lives of children. The needs of these orphaned children seem less overwhelming when we work together to give them resources and a real hope for the future.
Originally posted in The Huffington Post, March 1, 2008.
Follow Jim Luce on Twitter: www.twitter.com/jimluce