New York, N.Y. I know from living in Haiti that after more than one year from its disaster, so little has been done. It was with amazement that I discovered MetLife — based in that cool building on Bryant Park and in the Snoopy commercials — was on the ground in Pakistan in less than six months following the disaster. MetLife, which closed its acquisition of Alico late last year, is set to rebuild an entire village.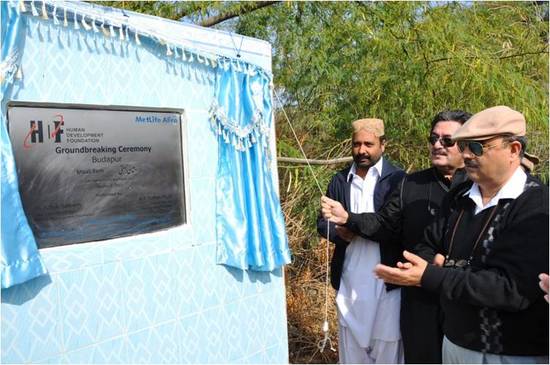 MetLife was on the ground in Pakistan in less than six months after the flooding to help
rebuild the village of Budapur, Sindh. Photo courtesy of Human Development Foundation.
In cooperation with the Human Development Foundation (HDF), corporations respond to tragedy. This is leadership for the world.
I spoke with Salim Manzar, MetLife's point person on the project, about their incredible work in Pakistan. Salim is CEO of the Princeton Advisory Group, LLC, a global firm that provides consulting services to the life insurance industry. Salim, originally from NWFP, Pakistan, graduated from universities in Pakistan and Canada. He worked with MetLife for several decades before founding his own advisory group. Salim told me:
Six months ago the rains came down the north of Pakistan — from the Himalayas — and washed across the country down to the desert plains of the south. The water started off as angry walls of water rushing across Pakistan, ending in new lakes miles across, the flooded areas being larger than England.

Though several thousand people have been killed by the floods, the larger issue is the millions of people who have been displaced by the floods. These people are still homeless, and many are living in the colder areas of Pakistan. Although the number of deaths was small in comparison to other major disasters, the number of those affected is higher than any other disaster zone.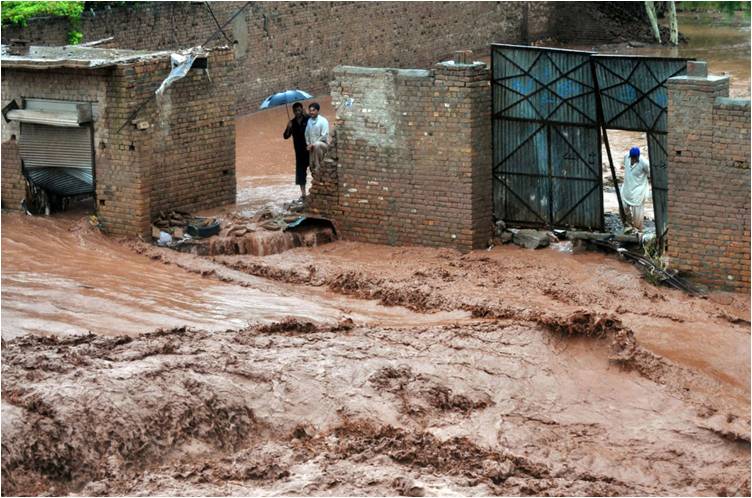 Like the Tsunami before it, photos are inadequate to express the flood damage in Pakistan.
Photo courtesy of Human Development Foundation.
The village of Budapur is to be built as a "model village"
(Misali Basti)
.  Conversion of this flood hit village into
Misali Basti
will be a three year program. Like
Jeffrey Sachs
'
Millennium Villages
, it will be completed with the ownership and assistance of the community, which is consistent with HDF's philosophy of "helping people help themselves."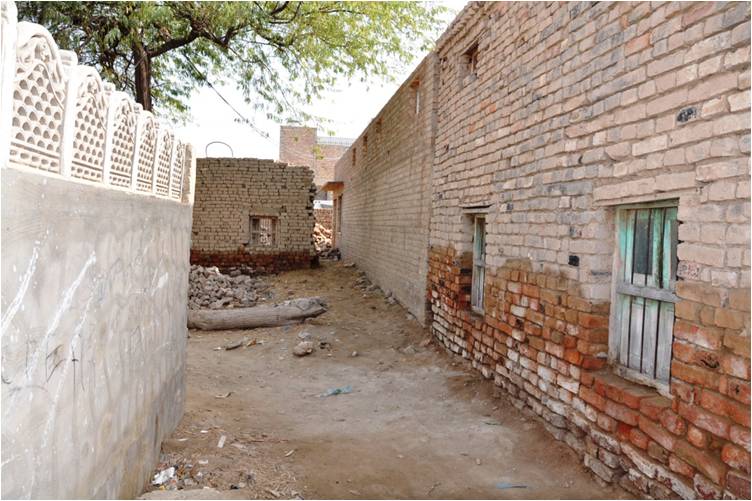 Six months after the floods, streets in Budapur are dry and reconstruction can begin.
Photo courtesy of Human Development Foundation.
Misali Basti
will be people-centric villages with all the basic amenities of life. A place where they can fulfill the daily living needs: every child goes to school, every individual has access to health care, clean drinking water is no more a luxury, there are adequate arrangements of sanitation, solid waste disposal, streets are paved and have lights, and facilities like a community center and a children's park also exist.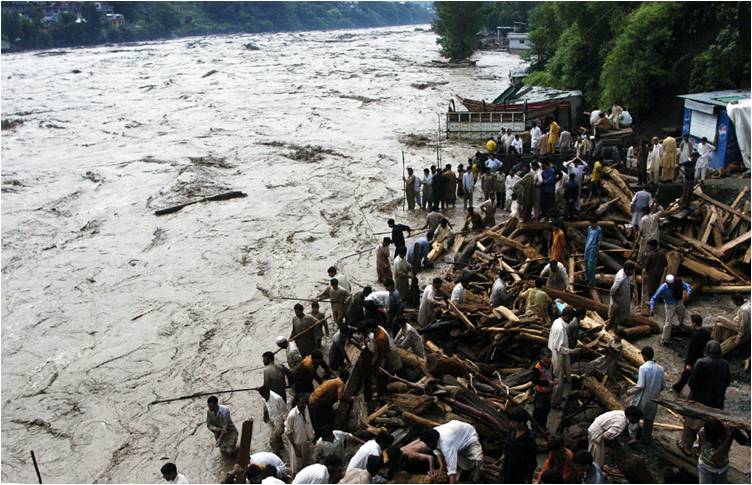 The raging rivers from the Himalayan north washed all the way to Pakistan's south.
Photo courtesy of Human Development Foundation.
Chairman and CEO of
MetLife Alico Pakistan
, Arif Mufti, said at the Opening Ceremony:
It is a matter of moral imperative to serve the people whose lives and livelihood were destroyed by these devastating floods. We have collaborated with HDF as our partner. This initiative to build the model village will make it possible for the flood victims to have a better life.
Michel Khalaf, MetLife Alico MEASA Region CEO, was key in his leadership of the effort. Michel said:
MetLife Alico in MEASA is proud and honored to be part of this much needed effort to rebuild one of the most flood-affected villages in Pakistan. Our employees' compassion and commitment to aid communities in the region will give hope and means to live a better life to 1,500 inhabitants of Budapur Misali Basti.

The floods had caused the largest number of displaced people in Pakistan since the country's independence. Twenty million people have been affected with over 7 million actually displaced following the destruction of more than one million homes.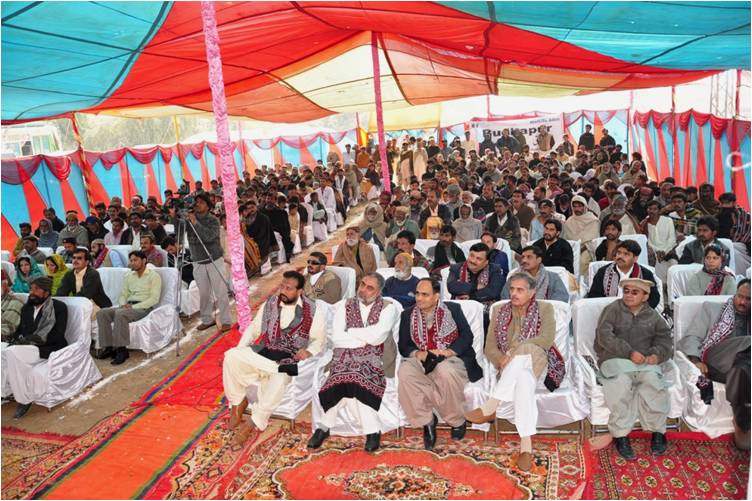 HDF has achieved total buy-in from the local leaders.

Photo courtesy Human Development Foundation.
I learned from Salim that the employees and agents from all 14 countries of Metlife Alico MEASA Region began to contribute funds for those affected by the flood waters in Pakistan on their own, and the company immediately agreed to match their generosity. Acts of humanity involving employees tend to increase pride and loyalty as the employer is seen to be more than just a business, but also a community with a heart. Soon, substantial funds were in hand and with Salim's help, MetLife Alico called in the Human Development Foundation, an organization he has known and partnered with for over five years.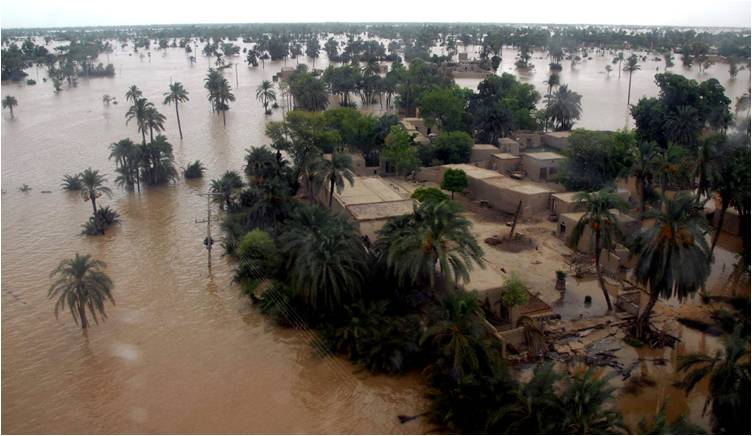 The majority of homes in Budapur were destroyed by these floods.
Photo courtesy of Human Development Foundation.
I know from being on the ground after the Tsunami in Indonesia and Sri Lanka that the most important thing about cooperation with NGOs is strong relationships based on trust, integrity, and transparency. Salim told me all of that was what made the Human Development Foundation stand out in his mind. Based in Chicago but already working in Pakistan, HDF agreed to build Metlife's village in Budapur, to the country's south.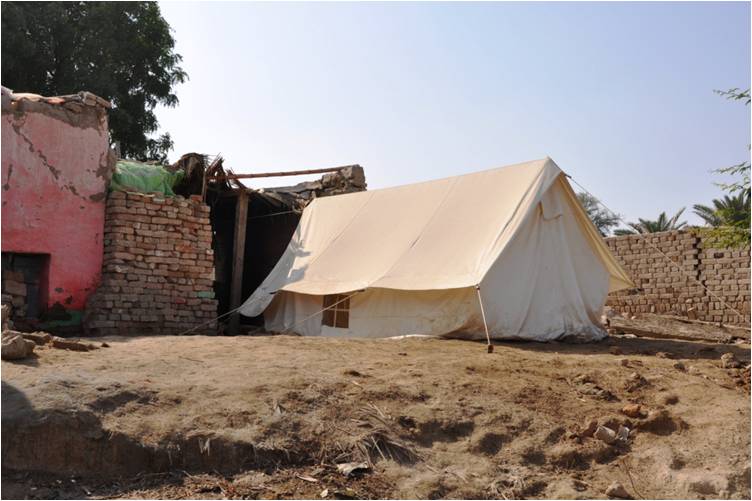 Around the world, people move from homes to tents post-disaster.

Photo courtesy of Human Development Foundation.
I know two women in New York with deep roots in both international development and Pakistan. I wanted to hear from outsiders if my assessment of MetLife was accurate. I called Batool Hassan of the renowned
Acumen Fund
.
Batool told me:
Acumen Fund's work in Pakistan, while not directly in disaster relief, has been invested $11.1 million since 2002 in affordable housing, financial services, agriculture solutions, and clean drinking water for communities earning less than $2 per day. Our vision is for sustainable, long term investment in social enterprises delivering essential goods and services that place dignity and respect at the forefront of our mission and work.

The most amazing thing has been to see the rise and strength of civil society organizations who are stepping up to the enormous challenge. The best work is collaborative between civil society, the private sector, supported by the public sector as well. It has the power to demonstrate a new model for how a country can respond and rebuild.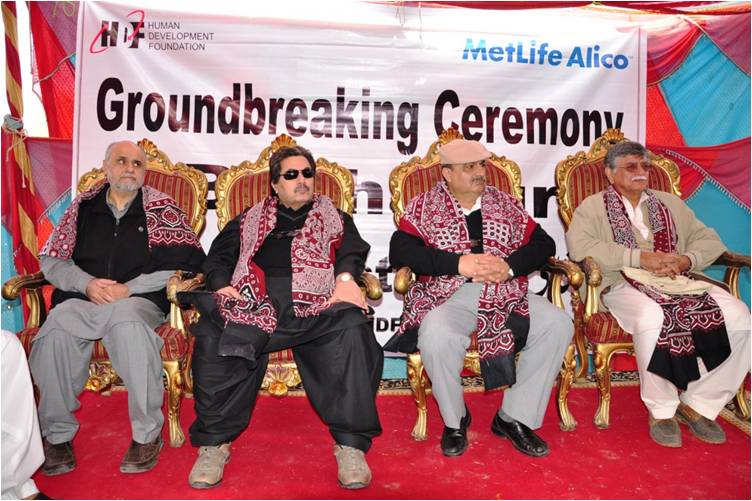 Many officials attended the Groundbreaking Ceremony of Metlife's Model Village.
Photo courtesy of Human Development Foundation.
MetLife Alico's response, from its CEO in New York to the office worker in Karachi, is exemplary. This is how multinational corporations should respond to humanity. And, frankly, strengthening the communities that companies work in is ultimately even good business! I commend this company, and challenge other corporations to follow in these footsteps whether helping the homeless in Harlem, the hungry in Harlem, or the flood-afflicted in Pakistan. The people of Budapur will stand strong after the flooding of their community thanks to Metlife.
Readers wishing to contribute to this project may do so through The Human Development Foundation link. The HDF and MFF still have to raise funds for the work on the ground in Pakistan. There is still a great amount of rebuilding to be done in the region that needs additional support.
Note: Pakistan, slightly less than twice the size of California with a population of 160 million, was created in 1947 when British India split into the Muslim state of Pakistan and largely Hindu India. East Pakistan seceded in 1971, creating the separate nation of Bangladesh.

Mr. Salim Manzar established the Princeton Advisory Group, LLC after a 30-year career at MetLife where he retired in 2004 as senior vice president and chief financial officer of MetLife International, the non-U.S. operations of MetLife. After MetLife announced in March 2010 its plans to purchase Alico from AIG, Salim was asked to lead the MEASA (Middle East, Africa and South Asia) regional team for the Alico integration. Salim also serves on the boards of the Amana Mutual Funds Trust, and the Trenton Area Soup Kitchen (TASK); and has been heavily involved with relief, hunger, women's issues and poverty alleviation initiatives in the U.S. and Pakistan over the past 10 years.

Originally published in The Huffington Post, March 14, 2011.