New York, N.Y. This year's Fountain House Symposium and Luncheon took on a formidable subject. Titled "Suicide: Looking for Answers," the event recently drew more than 500 attendees to The Pierre in support of the innovative mental health programs of Fountain House, winner of the Conrad N. Hilton Humanitarian Prize.
In light of recent reports that suicide in the U.S. has surged to the highest levels in nearly thirty years, the symposium's focus was timely. Suicide tragically ends the lives of more than 40,000 Americans each year. According to the Centers for Disease Control and Prevention, people with mental illness account for the overwhelming majority of deaths by suicide.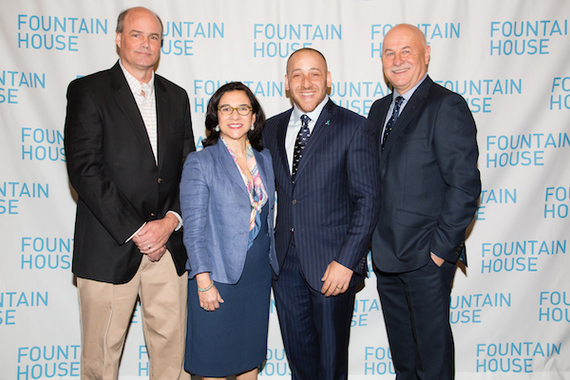 Panelists Thomas Joiner, Ph.D., Maria Oquendo, M.D., 
and Kevin Hines with Fountain House President Kenn Dudek. 
Photo: Leslie Barbaro Photography/Fountain House.
Fountain House President Kenn Dudek said, "Suicide is a preventable tragedy. Our programs give people with serious mental illness a reason for living. Every day, hundreds of members – people living with serious mental illness – choose to come to Fountain House to contribute their talents, learn new skills, access opportunities, and forge friendships."
Over the past thirteen years, the Fountain House Symposium and Luncheon has become New York's leading lay mental health forum. This year, the superlative panelists were: Maria Oquendo, M.D., Professor of Psychiatry at Columbia University and President-elect of the American Psychiatric Association (since the Fountain House event, she has officially assumed office as APA President); Thomas Joiner, Ph.D., the Robert O. Lawton Distinguished Professor of Psychology at Florida State University and author of Why People Die by Suicide and Myths About Suicide; and Kevin Hines, mental health advocate and author of Cracked, Not Broken: Surviving and Thriving After a Suicide Attempt.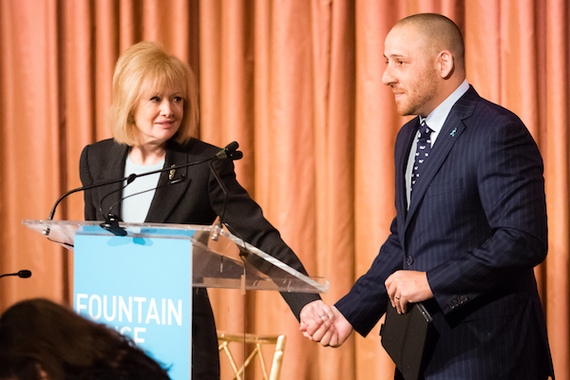 Emcee Consuelo Mack with Kevin Hines, survivor of a jump from the
Golden Gate Bridge. Photo: Leslie Barbaro Photography/Fountain House.
The emcee was the engaging Consuelo Mack, executive producer and anchor of public television's Consuelo Mack WealthTrack. When Consuelo asked for a show of hands from those in the room who had been personally affected by suicide, a significant number of hands shot up – mine included. More about that later.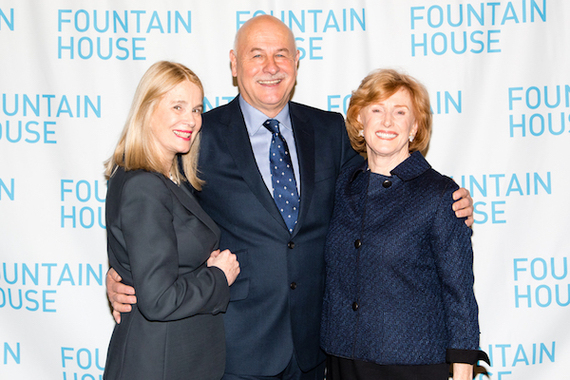 Event Founders Lorna Hyde Graev (left) and Lynn Nicholas (right)
with Fountain House president Kenn Dudek.
Photo: Leslie Barbaro Photography/Fountain House.
The panel's two eminent suicide researchers addressed various misconceptions. Suicide is not simply a response to some catastrophic life event; many people experience financial reverses or loss of a job or relationship, but relatively few take their own lives or attempt to do so. Dr. Oquendo's research indicates that there are measurable biological markers present in suicidal individuals, and further findings could lead to the formulation of a suicide "risk profile" similar to what is used to assess cardiovascular red flags.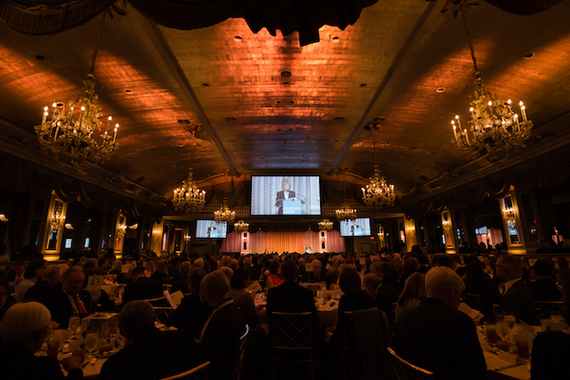 The Grand Ballroom of The Pierre. More than 500 attendees turned out in support
of Fountain House. Photo: Leslie Barbaro Photography/Fountain House.
Dr. Joiner, whose father died by suicide, challenged the commonly held view that suicide is a "cowardly" or "selfish" act. He believes that suicidal people feel that they do not "belong" and are a burden to others, resulting in the erroneous conclusion that "my death will be worth more than my life" – to family, friends, or society. But he emphasized that even small doses of connection and caring can foster a sense of belonging.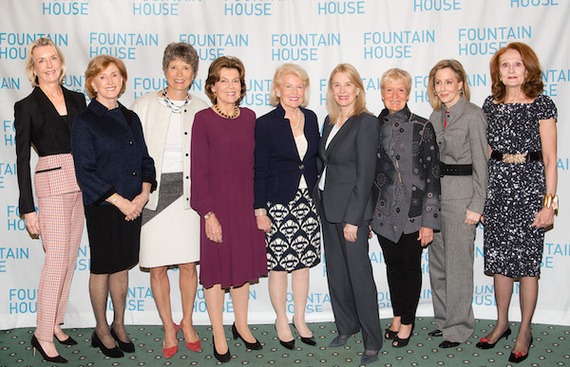 Event Chairs Podie Lynch, Lynn Nicholas, Alexandra Herzan, Kitty de Chazal, 
Carolyn MacKenzie, Lorna Hyde Graev, Anne Mai, Ilyse Wilpon, and
Patricia Begley. Photo: Leslie Barbaro Photography/Fountain House.
Panelist Kevin Hines rocked the house with an electrifying account of his suicide attempt and unlikely survival. In 2000, at the age of 19, Kevin jumped from the Golden Gate Bridge – and is one of the less than 1% to survive the fall. Diagnosed with bipolar disorder, he experienced mania accompanied by hallucinations that made him certain that he had to die. He took the plunge (falling the distance of a 25-story building, at 75 miles per hour in four seconds). As his hands let go of the railing and he hurtled toward the cold water, he felt "instant regret…but it was too late."
Miraculously, it was not too late for Kevin. Although his recovery from devastating physical injuries resulting from the jump has been long and rough, today he is a vigorous man in his mid-30s who is dedicated to "staying mentally well." A tireless crusader for mental health, he has shared his remarkable story with audiences around the world.
I was floored by Kevin's candor and commitment to living. His words elicited a tremendous ovation, and a number of my tablemates shed tears as they applauded. I found myself thinking of my family's response to a suicide in our ranks: stony silence. And the mental illness of two of my cousins (they haven't been heard from in years) was never acknowledged. Stigma, born of fear and ignorance, is powerful indeed.
Over the past seven decades, Fountain House has led the charge in challenging the stigma that surrounds mental illness. The members and staff of this pioneering organization operate successful employment, education, wellness, and housing programs and work as partners to perform all the functions that keep the community going.
Fountain House has inspired the creation of hundreds of similar programs in 34 countries that serve more than 100,000 people annually. In addition to operating evidence-based community mental health programs in New York City, Fountain House advocates for people living with serious mental illness all over the world.
Sheila Nevins, President of HBO Documentary Films, was the recipient of the Fountain House Humanitarian Award. The Award was presented by Sheila's dear friend – comedian, actress, and philanthropist Rosie O'Donnell. Sheila has received more Primetime Emmy Awards than anyone in history. She is the executive producer of the Academy Award-winning documentary Crisis Hotline: Veterans Press 1, Boy Interrupted, and the upcoming Every Brilliant Thing, all of which incisively illuminate the complex topic of suicide.
I chatted with Sheila about how moved I was by her documentary Boy Interruptedabout the suicide of a teenage boy from New York. I cannot imagine having lost my own son. In the film, the boy grew up in a family touched by mental illness and young suicide and all too soon takes his own life. I complimented Sheila on her great insight and sensitivity, as well as her willingness to take artistic risk.
I have written about Fountain House and its important work, committed staff, art gallery and events for a good many years. I have met its clients and seen them thrive over time. I have continued to learn about how real and how stigmatized mental illness is, and how many people close to me have suffered in its grasp. Fountain House is a beacon of hope for so many New Yorkers and I look forward to continuing to introduce the young global leaders of our foundation and readers around the world to its tremendous mission and success.
Written with Camille Tibaldeo. Originally published in The Huffington Post, May 24, 2016.
See Stories by Jim Luce on:

Film | Health | New York | Social Responsibility

The James Jay Dudley Luce Foundation (www.lucefoundation.org) supporting young global leadership is affiliated with Orphans International Worldwide (OIWW), raising global leaders. If supporting youth is important to you, subscribe to J. Luce Foundation updates here.

Follow Jim Luce on Facebook, Tumblr, Twitter (@JimLuce), and LinkedIn