New York, N.Y.  We first met French Contemporary Artist CharlElie Couture at the French Embassy in New York for the Wynton Marsalis ceremony in the fall of 2009. He impressed John Lee and me as a tremendous thought leader in the arts – as well as a very global citizen. We wanted to learn more about this legendary singer, composer, painter, writer and photographer.
We first met CharlElie the French Embassy in New York for the Wynton Marsalis ceremony.
We wanted to learn more about this legendary singer, composer, painter, writer and photographer.
Over the winter CharlElie invited John and I to his Manhattan studio to see his work. He explained to us his philosophy of "multistable" – the pursuit of multiple artistic talents. What he describes as "Multist" – pluri-disciplinary concept of multi art. His desire is to discover nothing less than the intersection between all forms of human expression. His talented brother is the actor Tom Novembre.

Park Avenue, NYC by CharlElie Couture – West36 Artspace Gallery.
Born in Nancy, France a few years before me, CharlElie graduated from the
Ecole Nationale Superieure des Beaux-Arts
. Known as a multidisciplinary artist – exploring fields of image, writing and music – he founded the cooperative group Local a Louer in France, linking photographers, painters, and poets. CharlElie then published his well know
Art Rock Manifesto (Manifeste de l'Art Rock)
. He has now pursued his "Multism" for over 30 years.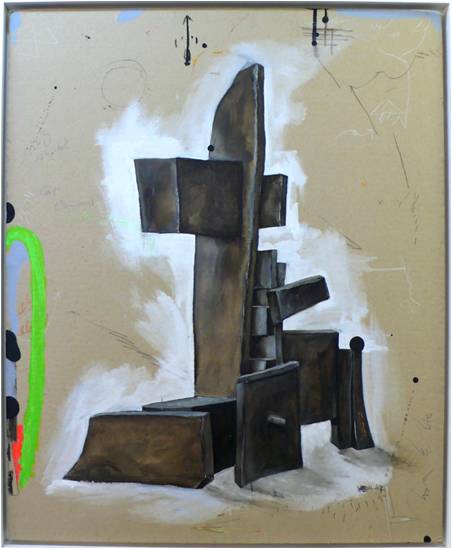 The new "CharlElie – West36 Artspace Gallery" in NYC opens soon.
CharlElie told me he remembers his father taking him to see an exhibition of Dadaist art when he was 12, and that made a deep impression on his young mind.
In 1978, the topic of his final academic thesis was "the polymorphism of spirit," in which he presented photographs, texts, and paintings – and also self-produced a debut album, "12 Songs In Sawdust" (12 Chansons dans la sciure), which sparked the interest of music professionals.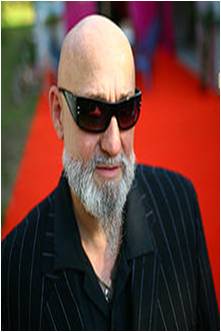 Three years later CharlElie was the first French artist signed to the legendary label Island Records, now part of Island Def Jam Music Group Network. However the growing success of his albums didn't detract from his continuing work on paintings, sculptures and photographs.
In the words on one art critic, "CharlElie has over the years patiently built, brick by brick, with modesty and dignity, a giant edifice devoted to creation. Each new journey is an incentive for new questionings, new images, and hearing new sounds provide stimuli for new literary creations. CharlElie Couture sees no boundaries between people or genres – anything can be a source of inspiration, and stimulate creativity within any art form."

"Pathway" – a photograph by CharlElie Couture.
From the very early days of the Internet, for example, CharlElie saw the potential for expression and communication contained in that media. He was among the first thousand acknowledged "Web pioneers," having launched his groundbreaking
website
, "Les Champs Paraboliques," in 1996. This site, exclusively devoted to his visual artwork, keeps evolving, drawing from the ever-expanding possibilities of digital creation.
From 1981 to 2004, he produced poetic images, inspired by his numerous trips (hotel rooms, urban landscapes). The success of his poetic-rock music albums did not stop him from continuing his exploration in painting, sculpture, and photography. CharlElie exhibits his work regularly at exhibitions in France, Switzerland, Belgium, and the U.S.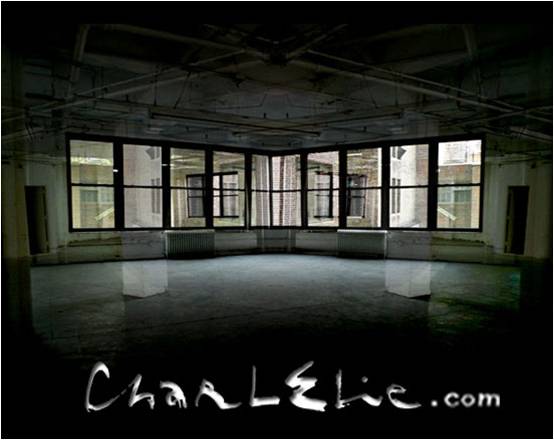 CharlElie moved to NYC to create a neo-constructivist project, "The big RE-Construction."
Working on the neo-constructivist project called "The big RE-Construction" – a reflection on the human being and the different states of personality – CharlElie moved to New York City in 2004 with his family, saying the environment here is more conducive to the full blossoming of his Art Search. CharlElie's quest is in many ways the counterpart to the "inner landscapes" he pictures in the quest of the absolute. He describes this search as "Painting is an open window to the invisible." He found here in NYC the freedom to escape his musical fame.

New York Sun Reflexion – a photograph by CharlElie Couture.
In New York, CharlElie invented the concept of "Photo-Grafs." These are second degree interpretations of mixed media work conceived as the meeting point between objective harnessing of photographic reality and the subjective of the interior mystery formalized by painting ("writing-graf").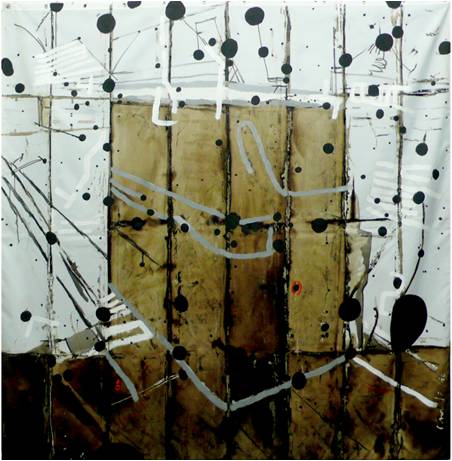 In France, CharlElie is still best known for his outstanding contribution to global music. With 23 albums of songs, over a thousand international concerts, and 17 original soundtracks for films, one cannot avoid his mark in music. But he is so much more than a musician. He has now published 15 books. These range from reflections, to drawings and photographs – including the beautiful New York by CharlElie, published by
Editions du Chene
in 2009. He autographed a copy for us.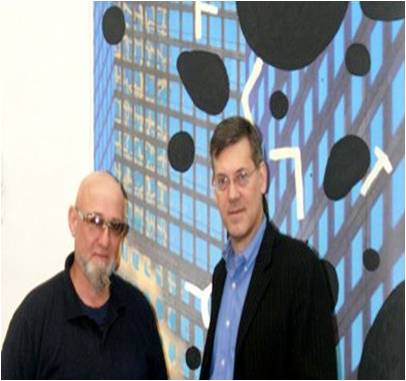 With CharlElie in his neo-constructivist studio in Midtown Manhattan.
In the words of another critic, "Great artists often challenge complacent truths; their trajectories cross periods of shadow and light. CharlElie's path has shown itself to be search for the absolute, which he places between the sides of buildings and the heart of a society in RE-construction."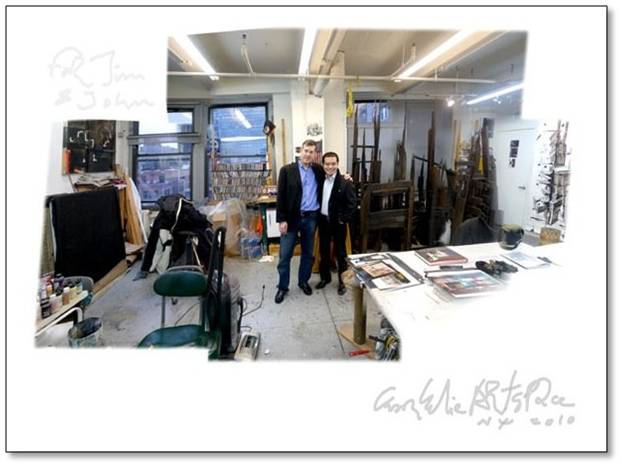 The artist took a photo of the author and photographer in his studio and signed it.
For thirty years, with modesty, he has built a body of work dedicated to creation. It is for this reason that my organization, Orphans International Worldwide (
OIWW
) awarded CharlElie Couture our 2010 Global Citizenship Award for Leadership in Helping Humanity. He pointed it out to us in his crowded studio, "My certificate is exhibited on my wall – I'm proud of this award!"
His Wikipedia entry in French gives more information.  Originally published in The Huffington Post.

For more on art and French culture by Jim Luce see:

Painter Julio Valdez: In the Same Path as the Sun

Wynton Marsalis Awarded French Legion of Honor in New York City

The Rubins on "What is Cuban Art?"

Jules Verne's Kip Brothers Translated into English after 100 Years

Follow Jim Luce on Twitter: www.twitter.com/jimluce
The Luce Index™
97 – Wynton Marsalis
93 – CharlElie Couture