C ash remittances allow people living in cash-hungry countries to receive funds from friends and relatives in cash positive-countries.
Before the earthquake in Haiti, Haitian's sent home about 1.2 Billion Dollars annually to Haiti. This amount does not include what the Haitian people carry with them when traveling to Haiti nor does it include in the modern world of technology adding minutes to their cell phones.
Most of that nation's national income was sent by relatives living outside Haiti.
The Haitian Diaspora sends money through Haiti's largest microcredit unions, Cam and Fonkoze,Western Union, Moneygram – and now through mobile phones.
The problem with cash remittances, from the U.S. to Haiti, from France to Senegal, from Germany to Turkey, or from Singapore to the Philippines is that is it often expensive, neighbors see that money is being delivered to you, and according to a Haitian friend, "The delivery man expects you to tip him handsomely."
Current commission fees for money remittances are estimated to be 15% per transaction, increasing to over 25% for remittances below $100. These high costs limit the ability of individual workers to distribute funds to a larger number of people and penalize the poor who can only afford to send small amounts of money.
The world now has automated banking (ATMs) and automated check-out (think Home Depot). But until now, remittances have been labor intensive and have relied on banking intermediaries.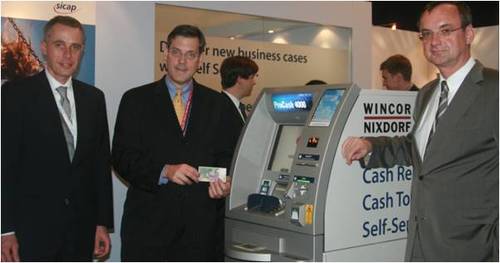 The author with the Chief Strategy Officer and C.E.O. of Sicap AG in Barcelona.
SICAP AG
, from Switzerland, unveiled a new product at the GSM Association (
GSMA
) Congress recently in Barcelona, which I attended.
Meet the new ATM, made by "Germany's NCR," Wincor Nixdorf, that can receive cash on one end and pay it out on the other – in any currency programmed. The ATM conquers the biggest challenge for cash remittances at the moment: that of pay-out.
Part ATM and part bank vault, this new machine is so strong people living with no security – such as in Haiti after the earthquake – can safely store their cash in it and return to retrieve it at will.
The authorization is done with one's cell phone. The mandatory identification of all cell phone users also ensures the integrity of operations.
The secret pass-code is one's cell phone. Also the key to its integrity, as each cell phone user globally is registered nationally, making ID possible.
This super ATM can be used by existing cash remittance operators throughout the developing world – raising their own security – or it can stand outside like a Coke machine.
Mobile operators and microfinance offices are predicted to also use the machines, causing competition for cash remittance transfers, further reducing pricing.
"I think this is ingenious," says Haitian-American store owner Evens Anozine in New York. "I have already had several friends in Manhattan, Brooklyn and Queens who have told me they want this machine. Any my family in Haiti own stores and want the machines there, too!"
Not everyone agrees. I asked my friend Brooke Partridge, C.E.O. of Vital Wave Consulting in Palo Alto what she thought about this new technology.
She is a thought leader in the field, having lived much of her life in the developing world, and world extensively with multi-national corporations in developing products for this consumer base:
The first thought or question that comes to my mind is how this solution would disrupt anything already in-country or in the existing set of competitive solutions.
For instance, I believe that existing companies enabling remittances are exploring much less expensive solutions as a result of these kinds of offerings coming about.

In other words, these newer, less expensive solutions have second-order impact in the market as companies with current, more expensive offerings are obliged to come down dramatically in their pricing to remain a viable option in these highly price-sensitive markets.

An analogous example of what we call "second-order impact" is the XO Machine from the One Laptop Per Child organization. It has altered the rest of the notebook industry.

The XO itself has not been overly successful in terms of sales, but it's second-order impact on the offerings of other netbook providers, and their intensified activities in developing-country markets, has been tremendous, a real game changer in the industry.

One can argue that without the XO, the lower-end netbooks, like Intel's Classmate PC, would not necessarily be available today.
Acquiring customers for any business is costly. Added value, such as the new super-ATM, creates excellent public relations, reduces customer turn-over, and increases consumer loyalty.
Four-fifths of the world population is "un-banked," yet over half today have cell phones. Mobile technology – and its eventual merger with all other technologies – will solve many of humanity's challenges, form finance to healthcare, to education, creating a connectivity that will assist in uniting the world.
But for the moment, the biggest challenge for cash remittances is cash pay-out.
The new super-ATM allows lower cost, higher security, and an opportunity for both the cash remittance venues, mobile phone shops, and microfinance offices around the world to increase business.
Sicap's C.E.O. Jurgen Samuel and Chief Strategy Officer Dr. Andreas Stehmann are truly corporate thought leaders and global citizens.
Stories by Jim Luce on Cell Phone TechnologyC.E.O. Brooke Partridge Helps Lead Technology Thought in Developing World (Huffington Post)