New York, N.Y. My father went to Andover, Dartmouth and Yale. My grandfather 12 times over signed the charter that created Harvard. Yet I attended the College of Wooster in Ohio — my first choice, my only choice — and three decades later I can say I owe who I am to the four years this institution gave me.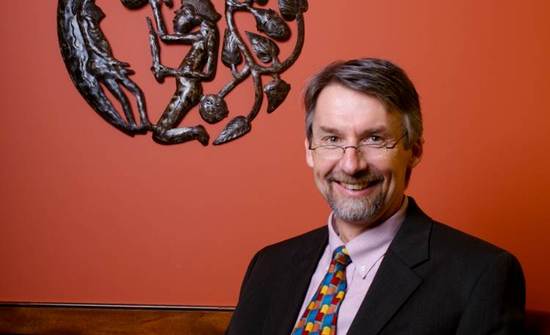 Dr. Grant H. Cornwell, president of the College of Wooster, with Haitian tin art in the background.
Credit: College of Wooster — Matt Dilyard.
I recently met up with Wooster's president, Dr. Grant H. Cornwell, at Sundaram Tagore's gallery in Chelsea, along with another classmate from Wooster, Kenyan ambassador to the United Nations, the Hon. Macharia Kamau. Grant, who came long after I graduated, has moved Wooster in a direction I agree with. He is a thought leader and global citizen — not to mention being 6′ 5 inches — and I interviewed him on his leadership role in making Wooster one of the best colleges in the United States, ranked No. 71 overall by U.S. News & World Report, but also singled out for 10 years running by other college presidents and provosts for having outstanding undergraduate research opportunities and senior capstone programs.
Grant took office as The College of Wooster's 11th president in 2007. A philosopher by training, his scholarship and teaching lie in the areas of human rights, globalization and critical race theory. Grant is co-editor of two books: Global Multiculturalism: Comparative Perspectives on Ethnicity, Race, and Nation and Democratic Education in an Age of Difference: Redefining Citizenship in Higher Education. He has authored more than two dozen scholarly articles or chapters in edited volumes, as well as a CD-ROM and website on the history of slavery and the sugar industry in St. Kitts.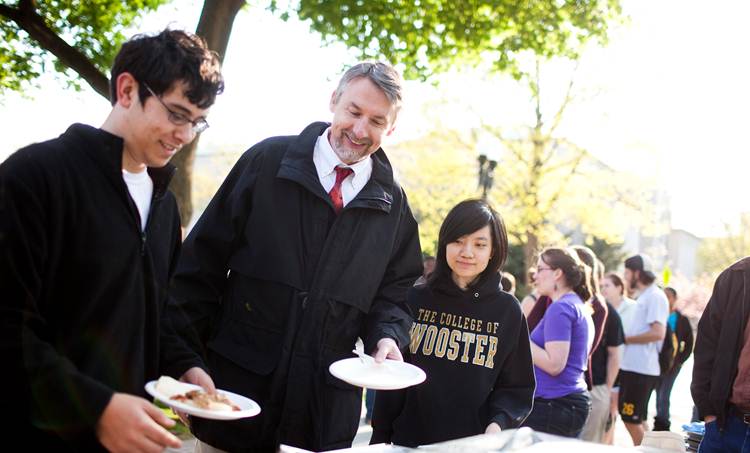 President Cornwell joins students at a picnic. Central Park reminds me of Wooster.
Credit: College of Wooster — Ryan Donnell.
Prior to his appointment at Wooster, Grant served as vice president of the university and dean of academic affairs at St. Lawrence University in Canton, N.Y., from 2002 to 2007. Grant holds a bachelor's degree in philosophy and biology from St. Lawrence University and a master's degree and doctorate in philosophy, both from the University of Chicago.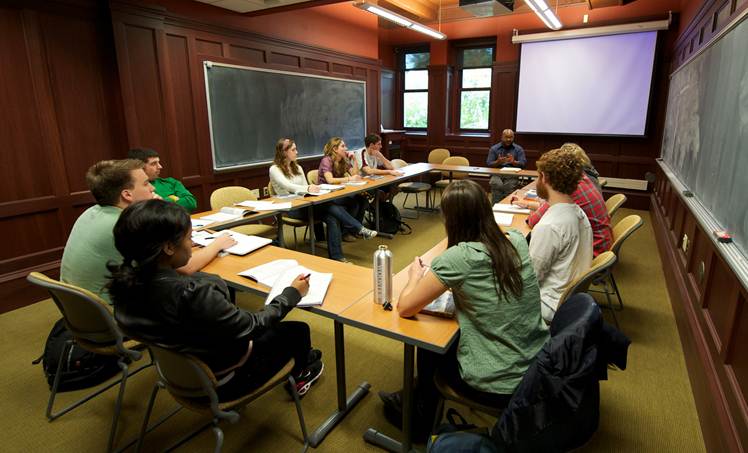 A history class at Wooster. Although renovated since I was there, class sizes remain small.
Credit: College of Wooster — Matt Dilyard.
I arrived at Wooster fresh from a year high school exchange program with AFS in Germany and was among the first freshman to live in Babcock International Hall. I was stunned to realize that about 10 percent of Wooster's students were international and the bonds I formed there have shaped my career.
I asked Grant on his views of the importance of international students on campus:
Wooster has long recognized the importance of having a rich mix of international and domestic students on campus, and we continue to work hard to build on that foundation. Now more than ever our students need to learn in an environment where different perspectives come together to form larger, more complete understanding.

We have launched a new center on campus with an innovative, 21st century vision, called the Center for Diversity and Global Engagement (CDGE). It is housed in Babcock Hall, where you lived. Through is activities, offices and new initiatives, the CDGE fosters a collaborative environment of inclusion and global engagement for the campus community.

Babcock Hall is also now home for students in the Cross-Cultural Living and Experiences Program (CCLEP), a residential education program that includes intercultural communication as part of the Center's activities.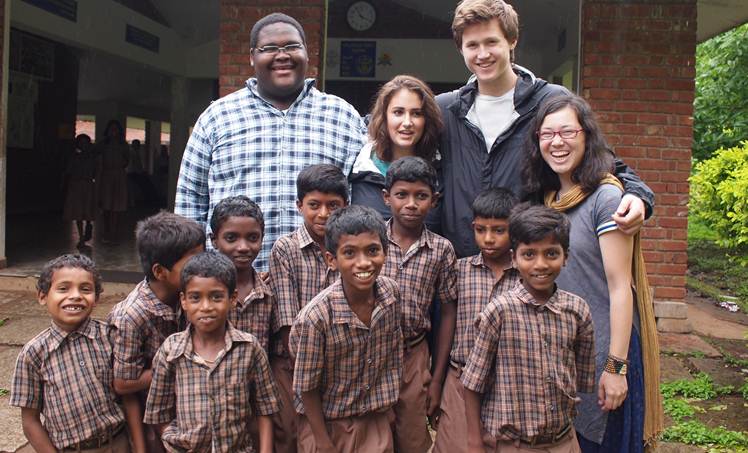 These four Wooster students spent the summer of 2011 working with NGOs in India, through the college's
Global Social Entrepreneurship program. Credit: College of Wooster — Amyaz Moledina.
As a student of the College of Wooster, I spent one semester in Bogotá, living with a Colombian family and studying Spanish and Latin American culture. I then spent three semesters in Japan, including one in the north of Iwate and two at Waseda University in Tokyo — again, living with local families. These experiences were transformational for me as I learned about other people and new perspectives.
I asked Grant, "How important is global studies today at Wooster?" He said:
The first sentence of our mission statement says that Wooster is "a community of independent minds, working together to prepare students to become leaders of character and influence in an interdependent global community," so it's absolutely central to what we do.

We have developed a new approach to study abroad which I think is brilliant, innovative, and very Wooster. It is called Global Social Entrepreneurship and it involves our students doing research and problem solving for NGO's in developing countries.

Our Wooster in India initiative is pretty interesting. Wooster has had a long and historic relationship with India, as you know from your own friendship with Sundaram Tagore. We are continuing to expand this relationship and I recently toured India toward this end (story).
At the foundation of Wooster's curriculum is a commitment to mentored, undergraduate research, culminating in a yearlong senior capstone project — independent study — in which every student works one-on-one with a faculty mentor on a major piece of scholarship, researchor creative endeavor. Mine was on "Figurative Language in the Novels of Abe Kōbō."
I asked Grant to reflect on the transformational educational impact of this focus. He told me:
Wooster's senior capstone project and the four-year approach to liberal education that prepares each student for independent inquiry, problem solving, and polished communication are the things that we do that make us who we are: America's premier college for mentored undergraduate research.

Why is it so important? Not because most of our students are going to become researchers after graduation; they're not. It's because the capacities they develop — independent judgment, creativity, project-management and time-management skills, strong written and oral communication skills — are precisely the ones they will need to make their way successfully in any profession.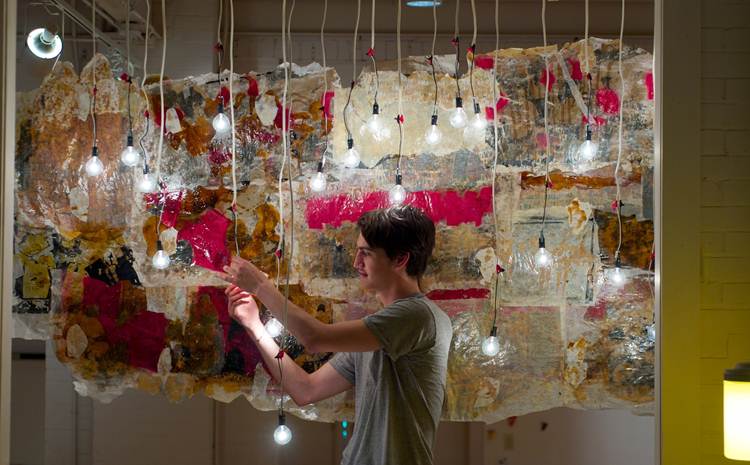 A student works on an art installation. Credit: College of Wooster — Matt Dilyard.
Having left the world of finance to focus on doing what I can to better humanity, I feel I have a large sense of social responsibility. Although I had this feeling prior to Wooster, I believe my college experience strengthened this resolve. I wondered how Wooster continues to support students who feel a sense of social responsibility. Grant explained:
My first convocation speech as president was titled "Liberal Education and Social Responsibility in this Global Era." In that speech, I said that all of us at Wooster — students, faculty and staff — "have a profound social obligation, to this and future generations, to graduate alumni who can and will use their access and influence to work for social justice, environmental sustainability, and world peace."

I believe that profoundly, and this is a college that acts upon that belief every day, whether it's through programs like our Center for Diversity and Global Engagement, our Global and Local Social Entrepreneurship programs, or the individual efforts of students and faculty.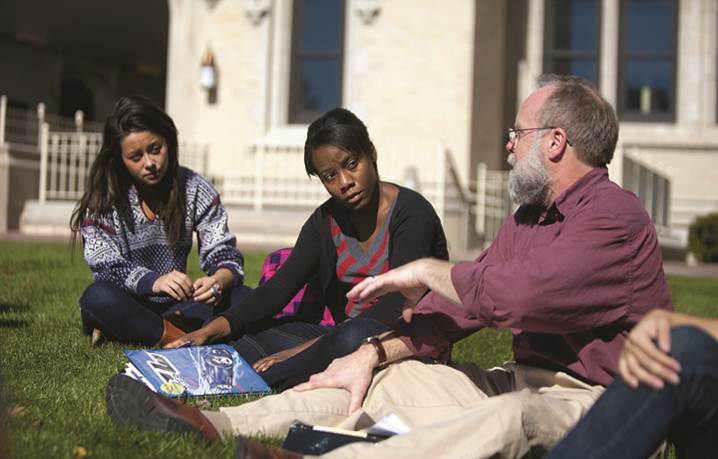 Professor Tom Tierney holds class outside. Credit: College of Wooster — Matt Dilyard.
I was very pleased to help found an unofficial gay and lesbian organization on campus in 1979. I asked the president how far he felt diversity had come in the last 30 years and in comparison with other Top 100 North American colleges. He told me:
Frankly, there was a time when Wooster was slower than its peers — and slower than it ought to have been — to make progress in this area, but we are in a much better place today. Last year, we launched Going True, the College's first official association of LGBT alumni, allies and friends, and also established a scholarship that honors a Wooster alumnus who worked in the College's business office and was a mentor to our LGBT students for almost four decades.

In terms of other aspects of diversity, we are very pleased that a quarter of this fall's entering class were either domestic students of color or international students.
Students head for class with Wooster's iconic Kauke Hall in the background.
Credit: College of Wooster — Matt Dilyard.
Although Grant Cornwell was not president when I was a student, I feel enormously connected to him as both a thought leader and global citizen. As president of the College of Wooster, I am convinced his leadership will lead to increasing numbers of bright, articulate and particularly global students will continue to emerge from its idyllic campus, that the college's place in the world will become more and more pronounced, and that the world will continue to be a better place for all as a result of his dynamic tenure and wise international stewardship.
See Grant Cornwell on YouTube.

TIDBITS

Originally published in The Huffington Post, November 30, 2011.