Léogâne, Haiti. There is no reason for Haiti to be a hell hole. It has abundant and beautiful natural resources, an incredible and indomitable people, and is only two hours from the United States. Certainly France and other nations have tried to punish Haiti over the centuries for having the audacity to become the world's first free slave-state, but it is primarily Haiti's own leadership that has doomed her citizens. The only way out of this abyss is through strong and moral leadership.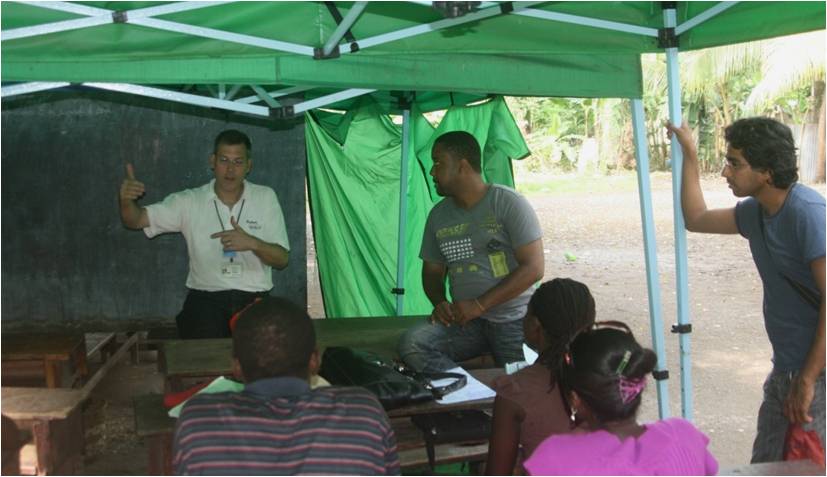 Because of the fear many Haitians have of buildings, many programs are still held in tents.
Recognizing this, Orphans International Worldwide (
OIWW
) has created a College Prep Leadership Training Program in response to the earthquake of January 12, 2010. Primarily, we need help in mentoring the children in our orphan care. But we realized that if we could also develop a cadre of Haitian students who could win scholarship to study overseas with a commitment to return and help their people, we would be doing more for Haiti's future than anything else we could think of.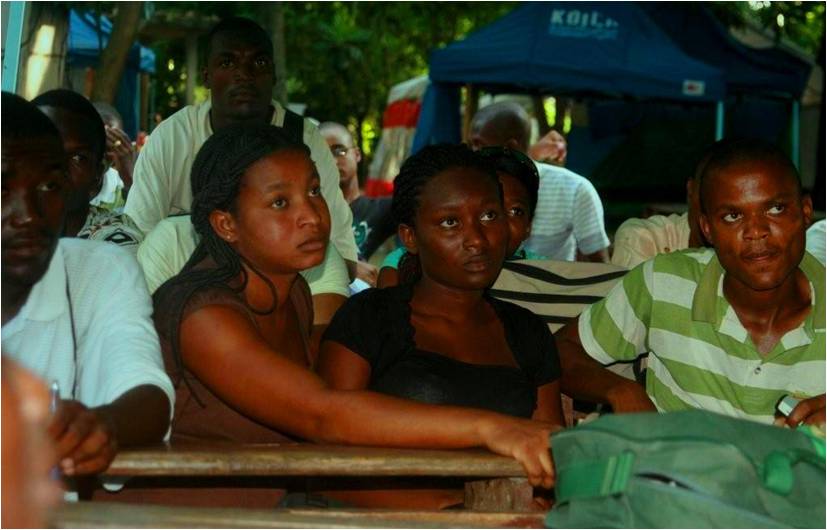 Members of the OIWW-Haiti College Prep Leadership Training Program.
Orphans International Worldwide realized years ago that traditional full-care models of orphan care – even small-home based institutions that avoided the Dicksonian warehouses of yore, were only a stop-gap measure given 150 million global orphans. We had to do more than simply provide room-and-board. We needed to Raise Global Citizens, our motto. Ideally, we would like to End Orphanages Globally, another motto. But we are willing to work with the best institutions until they can be replaced by family/foster care, as was done decades ago in the U.S., Canada, Europe, Israel, and Japan.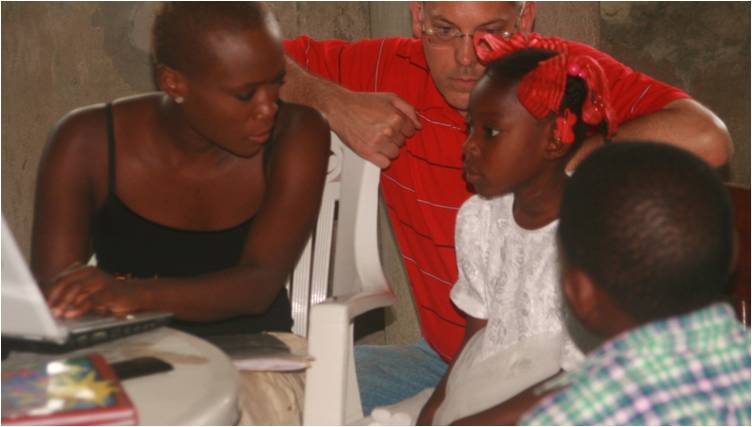 We completed our Intake with the caretakers and kids of the first 50 orphans in OIWW care.
Rooted in the earthquake's epicenter in Léogâne, and proud partner of "Project Léogâne" which includes NYU Polytec, OIWW-Haiti has identified the first 100 orphaned children post-quake, living with extended families in refugee camps. We have processed and are currently seeking sponsors for our first 50 kids at $50 per month (
website
). But above and beyond giving the children in our care the basics, we felt they needed mentoring – more than their aunts and grandmothers could offer.
Caretakers lined up outside our office for a chance to participate with OIWW's family care.
We therefore created the Orphans International Worldwide Haiti College Prep Leadership Training Program, with another 100 recently-graduated high school students identified and the first 50 already processed. These students have ambitions spanning engineering to education to agronomy and were narrowed down from 200 applicants with an emphasis on equal male-female ratio, as per OIWW Global Standards.
We are teaching English and computer skills to these young adults, while we supervise them mentoring our orphaned kids. The most important aspect of the ten-hour per week, ten month Mentorship project is that we hope to identify college scholarships from around the world for the majority of them within the next year.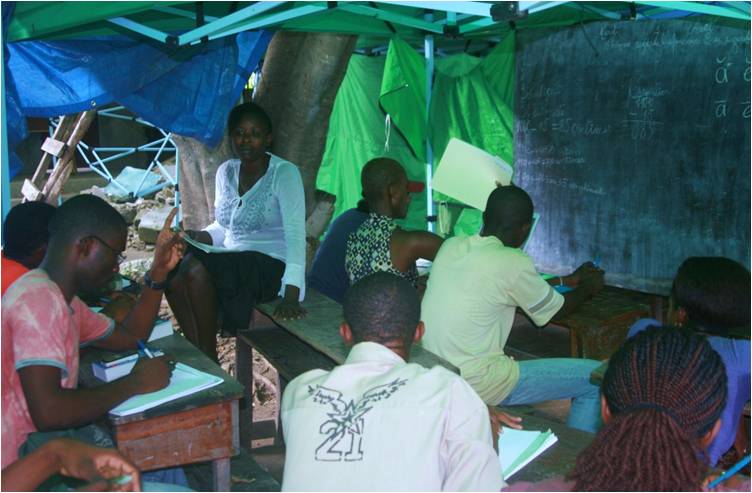 Our English instructor speaks English to the class with her native American accent.
Towards this end, we are working to build out the base of our project Рthe school of our local partner Ecole de la R̩demption Рwith a Connectivity Program linking our orphans, mentors, and staff with the world via the Internet. We are in dialogue with some major multi-national corporations to achieve this object by the fall. And we are accepting used laptops, notebooks, video and digital cameras for our students.
Orphans International Worldwide has operated in Haiti since 2001. We were particularly involved in Gonaives after Hurricane Jeanne in 2004 in which over 3,000 Haitian died. The children in our care receive after-school programming, donated goods (clothing, school supplies), as well as full school tuition to a private school, and their caregivers receive weekly improvement seminars (hygiene, first aid, literacy, vocational training, etc.), and a monthly stipend for the child in their care. Each child will receive regular psycho-social support and healthcare. OIWW Family Care, our website notes, results in better social, emotional, educational, and health outcomes for a child's wellbeing.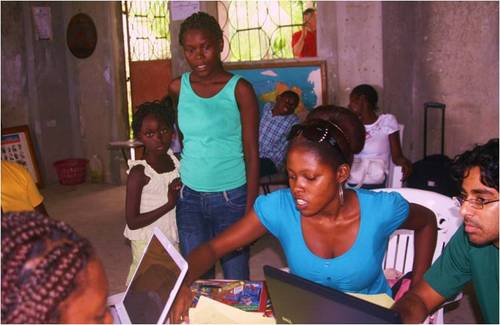 A caretaker and her orphaned niece meet with us to determine the best Mentor match.
The OIWW Leadership Mentors may be individually sponsored on-line for $10 per month. In addition, we have identified another 100 orphaned children enrolled at the local school who are not part of OIWW Family care are who cannot afford tuition in the fall. These students, grades Kindergarten through high school, may be sponsored
on-line
for $25 per month
Our Mentors are taught English language, cultural immersion and computer technology by both our language director and technical director, and supervised by our executive director who is a registered nurse. N.Y.U. Polytechnic Institute is supervising our Connectivity Project, which features Skype technology.
One match includes 25-year old Mentor Rose-Laura whose dream is to become a doctor or a business woman. She says, "I would like to become a woman leader in order to help women develop their cultural talent. If possible, I will help build a school for providing a better education. If given the chance I would work very hard to help make this dream happen." The orphaned child she is mentoring is 3-year old Rose Ashley whose parents were in church when the earthquake started. The church collapsed, killing both parents. Only because Rose Ashley was late was she spared. OIWW has another 99 orphans and Mentors, each with a strong story.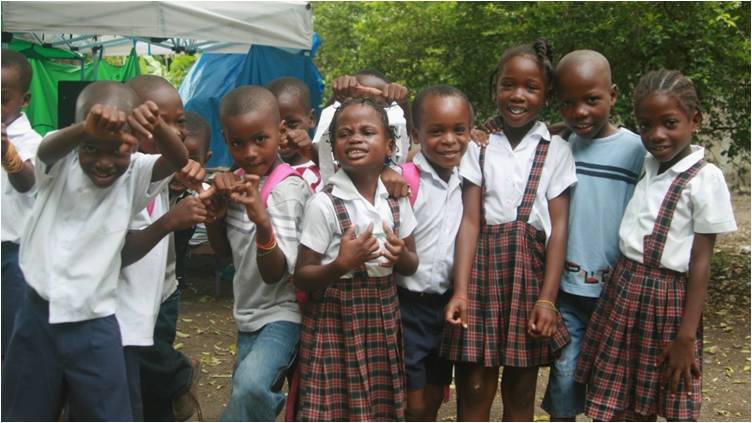 Summer school students of Ecole de la Rédemption which runs from first to ninth grades.
For the first time in our ten-year history, OIWW is allowing the children of parents physically disabled to qualify for our family care program. This is because so many Haitians lost limbs and suffered severe brain and other traumas during the earthquake and are no longer able to care for their children appropriately. There is little employment opportunities, and for those who are no longer in good physical condition, there is literally nothing at all.
After one year, our Mentors should move on to higher academic callings or be placed with good jobs though the NGO community in Haiti. At that point, another class will take over their mentoring tasks. This cycle will help the orphans of Haiti while simultaneously building its leadership. The Haitian people, incredible and indomitable, will have hope because their children are in good hands and their young adult are being groomed for succession. The strong and moral leadership Haiti so desperately needs is now being readied.
Originally published in The Huffington Post, Aug, 16, 2010.

Related Stories by Jim Luce:

Trip to Haiti #22: Some Changes at Bottom, Same Old Stuff at Top

Eyewitness: Haiti Has Improved Somewhat in Last Two Months

Live from Léogâne: Orphans International Partners with Haitian School Founded by Orphan

Live from Léogâne: College Prep Leadership Training Begins for our Orphan Mentors

Airplane Interview with the American Ambassador to Haiti

Latino College Students Fund Haitian High School Graduates to Prepare for Chinese University

NYC's Japan American Association Funds Haitian Students Dream of International Study

Film Shown at U.N. Donor Conference on Collapse of Haiti's Presidential Palace

Connecting Disaster Relief Through Technology After Earthquake in Haiti

Fonkoze Helps Rebuild Haiti through Microfinance Following Earthquake

Live Report: No Spiders to Bite Me in My Pre-Dawn Haitian Shower

Live Report: 200 Haitian Earthquake Survivors Interviewed for Ten Chinese Scholarships

Live Report: Tremendous Progress Accomplished in Six Long Haitian Days

Live Report: Orphans International Worldwide Goes Live in Leogane, Haiti

U.N. Blue Helmets from Sri Lanka Come to Our Assistance in Haiti

Live Report: Cement Dust Coats All of Haiti, as 9/11 Dust Coated New York