Bodhgaya, India.  One of the highlights of my pilgrimage to India has been meeting Ranjan Kumar, founder and president of the Gyanjyoti Rural Development Welfare Trust. Ranjan is a 22-year-old Indian Hindu whose passion and education is rural development. He aspires to become a member of the national government here where he can help improve the lives of literally millions of Indians.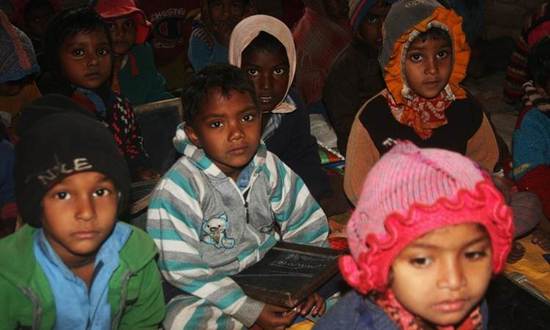 Gyanjyoti Rural Elementary School in Bataspur Village outside Bodh Gaya, India.
Photo: author.
His organization's name Gyanjyoti is Hindi for "Light of Education." He founded the Gyanjyoti Rural Pre-Elementary School in Bataspur Village, Bakrour Panchat Community, Bodh Gaya City, Bihar State – two miles outside of the city of Bodh Gaya where Buddha achieved enlightenment. Ranjan has overseen the construction of an orphan care facility that needs another $20,000 to complete.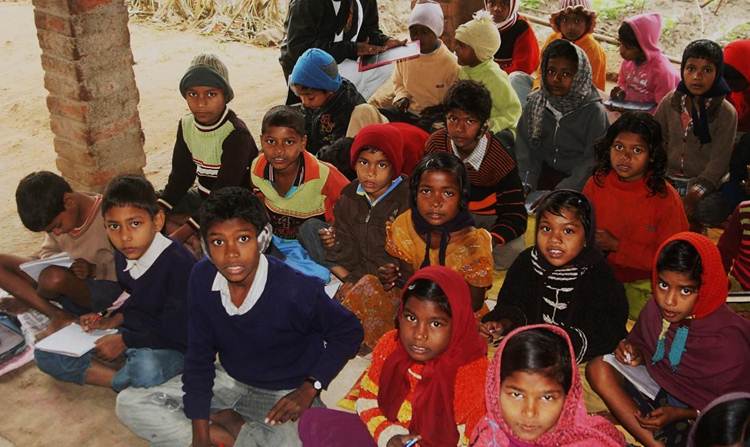 The older children hard at study. With no desks, they sit on mats. Photo: author.
Ranjan gave me a tour over two separate days of both his orphan care facility under construction about a mile outside Bodh Gaya and his two-room school. We arrived at the almost-finished orphan care facility by horse-drawn carriage and rode motorcycles across– and through – wide and cold rivers to reach his rural school.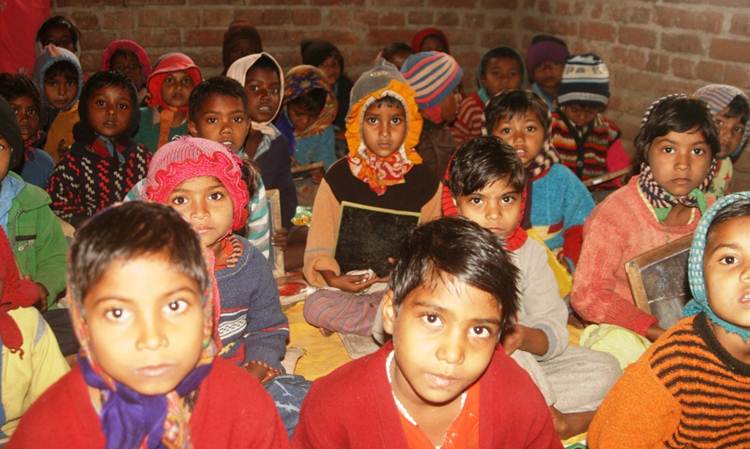 The faces of the children in Bataspur Village across the river from Bodh Gaya, India.
Photo: author.
The children at the two-room pre-school were waiting for me and I was presented a garland upon arrival. The younger kids were so pleased to take turns leading their classmates in reciting the numbers in English, 1-100. Some of the ninety students are from the Untouchable caste. They shouted out "Eleven! Twelve! Thirteen!" with staggering glee.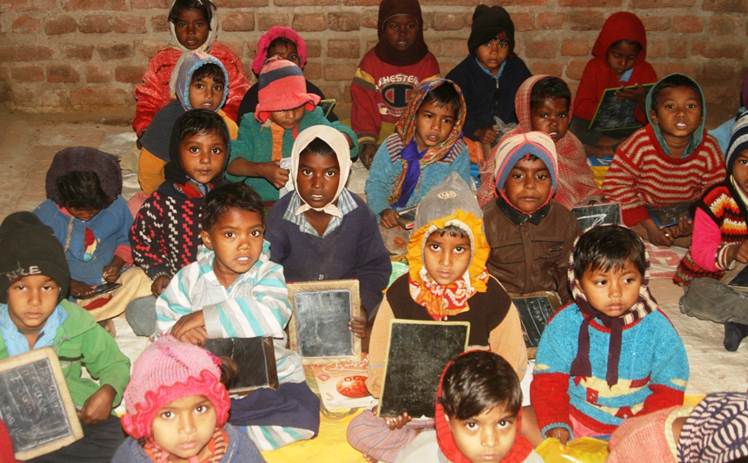 The younger children get chalk and slate while the older students pen and paper.
Photo: author.
The rural village pre-school has ninety students divided into two classes, Kindergarten throughfirst grade and then second through third grades. The concept is to prepare rural students for admission into the regular public school. The students sit on mats on the floor and for the most part have no shoes to call their own. Each of the younger students has a chalk pad and takes temporary notes while the older students use pen and paper. There is a junior and senior teacher for each class.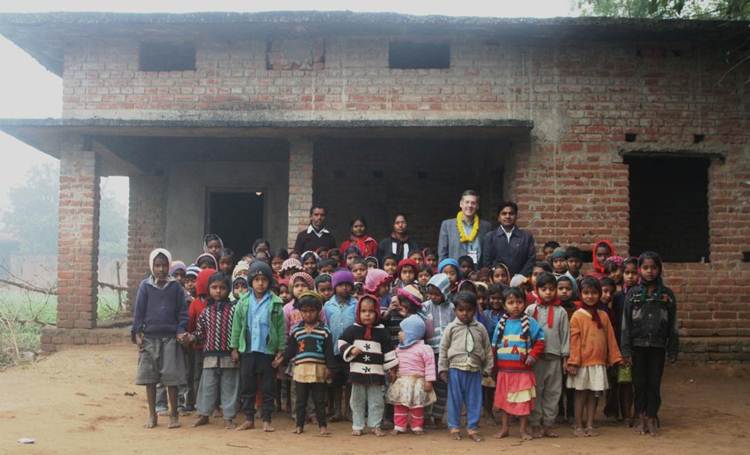 Lining up in rows with the students and staff of Gyanjyoti Rural Elementary School.
Note that winter in northeast India is cold, damp and very foggy. Photo: author.
We passed a government school in which the teaching staff had not arrived yet for the day. I am told that many public schools in India suffer from the pervasive corruption that runs through this society. The teachers in the public school are paid on average in this province about $400 a month whereas Ranjan is only able to pay his teachers half that. Despite the discrepancy in salaries, Ranjan's teachers take great pride in their work. The end goal, however, is to move these students into the public school.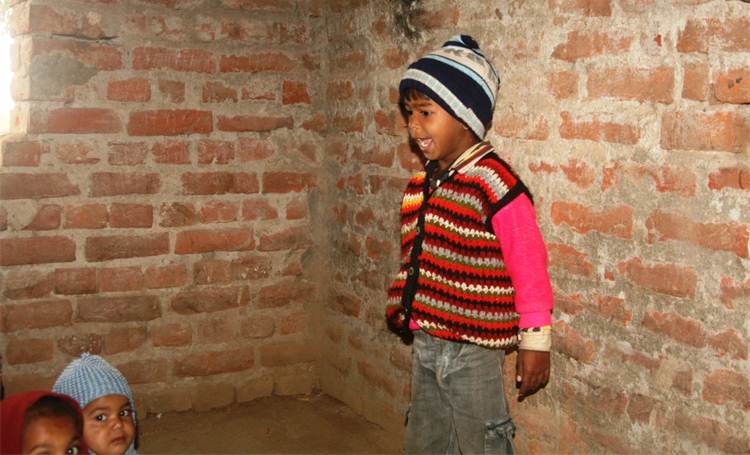 The students took turns reciting the numbers 1-100 in English for me with much glee.
Photo: author.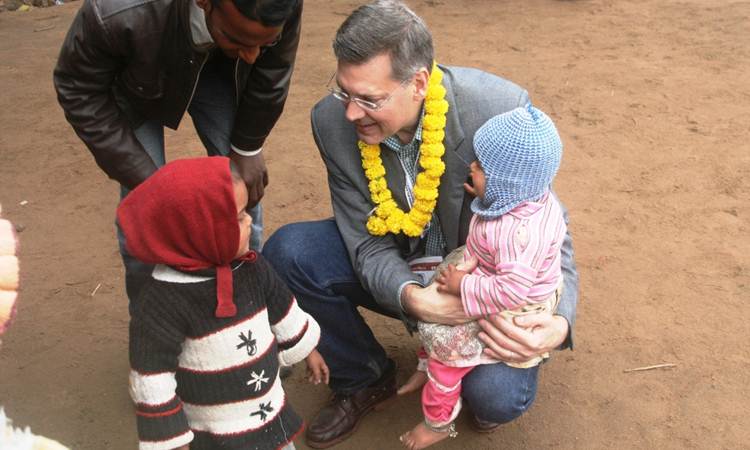 Ranjan Kumar introduces the author to two of his youngest students. Photo: author.
The orphan care facility was begun years ago but has not yet been completed for lack of funding. Ranjan's project director estimates the cost to finish and furnish the structure at $20,000.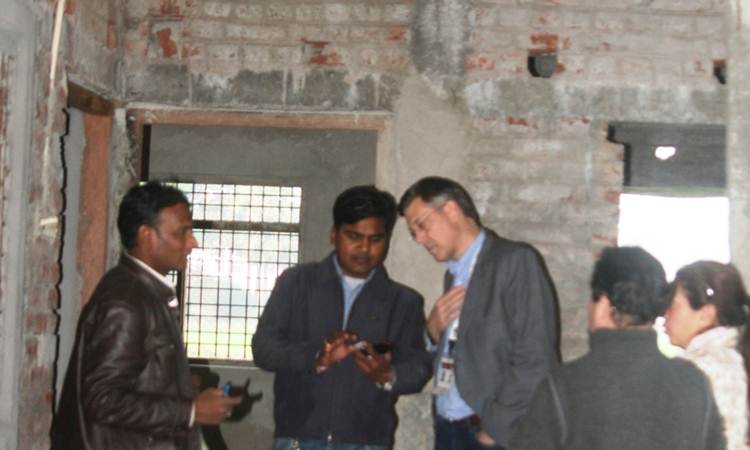 The orphan care facility is well-built, spacious – and almost finished. Photo: author.
One important aspect of leadership is team-building and Ranjan has assembled a highly-capable group of administrators, accountants and business. I met several times for masala tea with his key supporters – the program manager, the bookkeeper, the social worker and others. I was also privileged to meet one of his financial backers, Deepak Agrawal, owner of the Sakura Hotel Bodh Gaya as well as several other establishments. I was impressed with their passion and commitment to Ranjan's vision.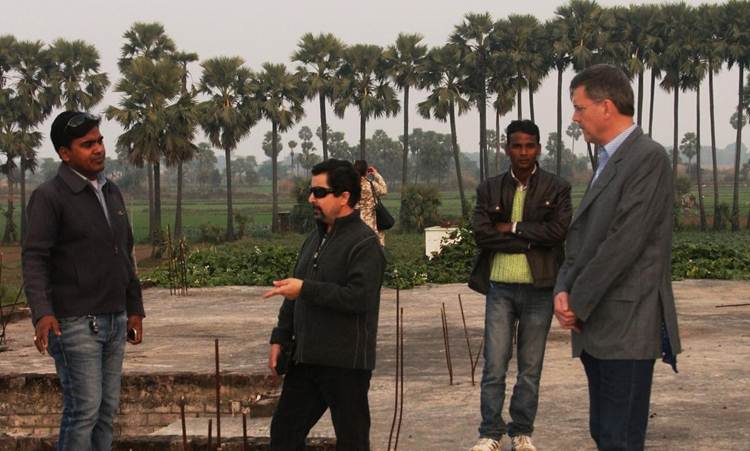 On the roof of the orphan care building with its panoramic view. Photo: author.
The mission of The James Jay Dudley Luce Foundation that I lead is to support young global leadership initiatives around the world that are committed to our ideal of 'a life, not a job.' The Gyanjyoti Rural Development Welfare Trust and its founder Ranjan Kumar personify this concept. The school needs to be improved and the orphan care facility needs to open.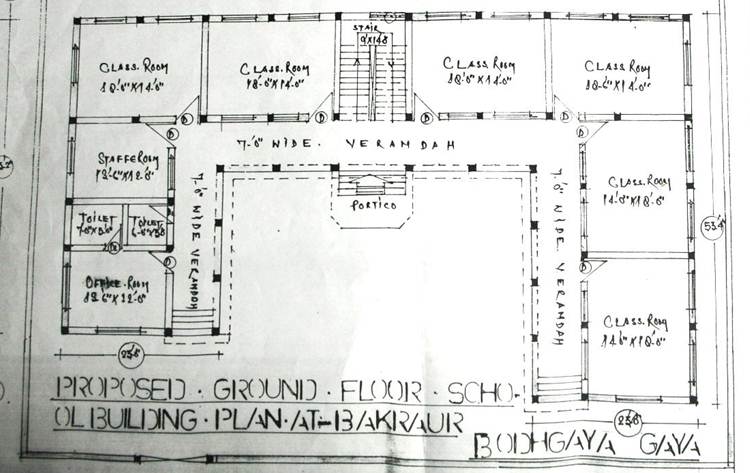 The current structure has been designed to eventually rise three stories. Photo: author.
Here's what I propose: Raising $20,000 through Orphans International Worldwide India (OIWW) to finish building "OIWW-India." I would like to raise $600 per year from a new group of OIWW-India Sponsors – that's only $50 per month. You can contribute immediately here. Thirty-three contributors will bring us to our goal immediately. We can assist Ranjan achieve his dream in helping the children of rural India. You can be among the first to launch a new nation for OIWW. After the Tsunami OIWW was in Indonesia and Sri Lanka, and remained in Haiti after the earthquake. Now, after this deeply inspirational pilgrimage, I need your help to help these kids in India.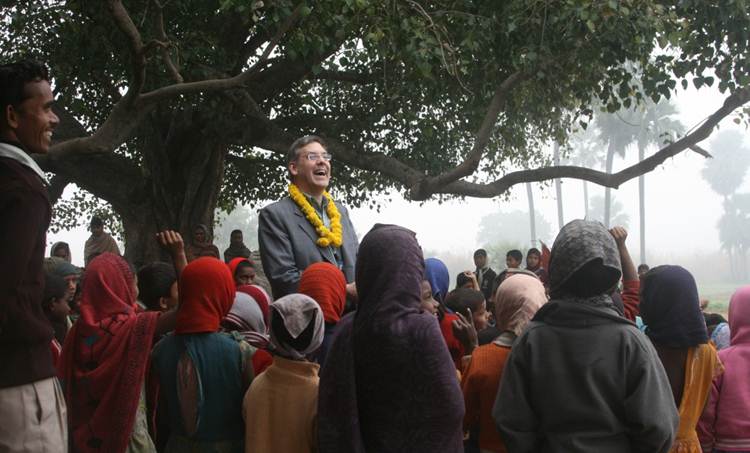 Finding joy with the kids around him in a village in Bihar, rural India. Photo: author.
In addition, because of his dedication to the youth of rural India, and his position here as a thought leader and global citizen, I will nominate founder Ranjan Kumar to become a 2012 Luce Leader complete with stipend. I came to India on pilgrimage to learn more life, and a lesson I have learned is as long as the Ranjan's of our world are given strong support, humanity has a chance. Help me make sure we give him that support – these children ask for nothing more.
Edited by Ferdi Kayhan.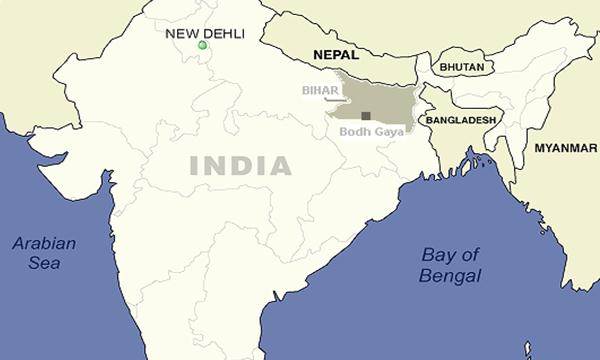 Map: J. Luce Foundation.
See Stories by Jim Luce on:
India | International Development | Philanthropy | Social Responsibility | Tibet

On Pilgrimage: Following the Footsteps of Buddha Across N.E. India: 14 Parts

1. HuffPo: On Pilgrimage: Following the Footsteps of Buddha Across N.E. India
2. Daily Kos: Under the Bodhi Tree in Bodh Gaya Where the Prince Became The Buddha
3. Daily Kos: Photo Essay of Bodh Gaya, Where Buddha Became Enlightened
4. Daily Kos: Next Step of Indian Pilgrimage: Mountain Where Buddha Preached
5. HuffPo: Touching the Untouchable in a Rural Indian Village
6. Daily Kos: Rediscovering the World's First Great University in Buddhist India
7. Stewardship Report: Buddhism for Beginners: Insights from a Non-Buddhist
8. Daily Kos: Buddhism and the Universal Concept of Social Responsibility
9. HuffPo: Can I Help Support Education and Orphan Care in Bihar, India?
10. Stewardship Report: Most-Photographed Man in the World Prepares to Retire
11. Daily Kos: Varanasi: Holy City of Buddhists – As Well as Hindus, Jainists, Jews
12. Daily Kos: On the Banks of the Ganges: Continuing the Search for My Soul
13. HuffPo: My Pilgrimage Complete: Lessons Learned, Life Continues Like a Wheel
14. Daily Kos: Pilgrimage Postscript: Pneumonia and Possible T.B.

The James Jay Dudley Luce Foundation (www.lucefoundation.org) is the umbrella organization under which The International University Center Haiti (Uni Haiti) and Orphans International Worldwide (OIWW) are organized. If supporting young global leadership is important to you, subscribe to J. Luce Foundation updates here.

Follow Jim Luce on Twitter and Facebook.

Originally published in The Huffington Post, January 18, 2012.