Roosevelt Island, between Manhattan and Queens, has its own newspaper.
New York City has many examples just in specific languages. Any subway rider is likely to see fellow straphangers reading Polish, Korean, Spanish, and Chinese, plus several other languages that are hard to identify over someone's shoulder.New York also has hyper-local service for English-reading audiences defined by geography. The Staten Island Advance reaches a significant audience in that borough. The
Queens Gazette
and the
Queens Chronicle
are serving and fighting for the same audience. Lower Manhattan has its
Battery Park Broadsheet
.These serve not just readers, but local advertisers whose local message doesn't merit the expense of space in the
New York Times
.
Tiny Roosevelt Island where I live — a two-mile-long sliver in the East River — has its fortnightly Main Street WIRE. My hometown paper is so hyper-local it ignores just about anything other newspapers are covering. Instead, it focuses on serving its 12,000 readers who live in our splinter of Manhattan, served by the world-famous Roosevelt Island Tramway.
Just how hyper-local is The WIRE? So hyper-local that when Orphans International decided to make my 50th birthday part of a fundraiser, it made page 1.
What is important is the wonderful story of Orphans International, urging my generous neighbors to contribute even more.
The Main Street WIRE will start its 30th year of publication this September. The paper's history parallels that of the island itself, going back to the days when New York State leased the land from New York City.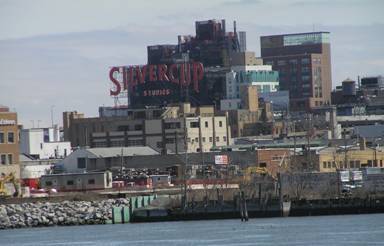 Queens is on one side of Roosevelt Island – also a small newspaper town.
The idea then was to change it from an institutional island that had housed the insane, the profane, the contagious, and the criminal into a residential community that would integrate low- and medium-income families, New York's melting pot of nationalities and races, and be designed to be everywhere accessible for the disabled.
When residents new to the community started asking What's going on here? there was a natural solution in the days before ubiquitous e-mail and proliferating websites: We need a newspaper!
A Roosevelt Island physician, Dr. Jack Resnick, agreed to back and manage The WIRE in its earliest days. "WIRE" is an acronym for the first four residential buildings on the island: Westview, Island House, Rivercross, and Eastwood.
This is a village, and of course, Jack was the village physician. Jack continued as publisher for 17 years, leading a succession of editors who nursed the paper with a volunteer staff through difficult years in which breakeven was an elusive goal.
About 13 years ago, the newspaper stopped publishing briefly for lack of an editor; the key person at the time had suffered both a heart attack and stroke.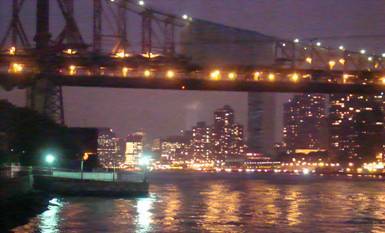 Manhattan with its incredible skyline is on the other side of Roosevelt Island.
Ironically, what rescued the paper was the desire of a lifelong journalist to publicize a website (
Website NYC10044
) that he had just started. To get the word out about his beloved island, he offered to do one issue – then couldn't stop.
Some 300 issues later (there were a few "extras" along the way), this fortnightly tabloid has grown to a usual minimum of about 16 pages, with color on at least four pages per issue, and an advertising load that takes about half the pages.
By growing, The WIRE has handled increases in expenses and avoided increases in ad rates for those 13 years through simple economy of scale.
The editor-publisher, Dick Lutz, told me, "Our paper isn't immune from the effects of national economic trouble, but it's reasonably recession-proof because its local advertisers see it as an important community service. Advertisers, whose businesses are based elsewhere, see a need to reach the Roosevelt Island audience somehow."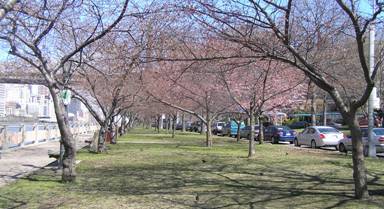 Cherry trees line our road underneath the Queensborough (59th St.) Bridge.
Dick — who lives across our one street from me — says the paper is earning back some of the cash he advanced to the paper when he stepped in over a dozen years ago.
A typical issue of The WIRE is reliably hyper-local. It deals only with what's happening within zip code 10044, which is exclusive to Roosevelt Island.
Because the State of New York still runs the island — the 99-year lease runs to 2068 and the community is still being developed — there are the inevitable conflicts between the wants and needs of residents and the Roosevelt Island Operating Corporation's need for cash from further development.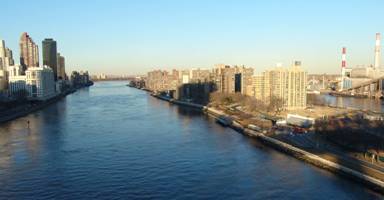 The State of New York still runs the island under a 99-year lease.
For example, with so many new residents coming into new buildings, the island's subway service has become inadequate, and many residents would like to see development halted until the problems of getting on and off the island at rush-hour can be can be solved.
There are always local stories. One recent issue gave front-page coverage plus two interior pages to the arrest, by the local security force, of a Little League father — who I chat with often on our bus — who started taking pictures when officers showed up to clear the field for an off-island league that had rented one of the island's playing fields.
Eyewitnesses and photographs suggested that the arrest was an overreaction to behavior by other residents — not the photographer — and The WIRE took special pains to get the full story into print.
The newspaper's coverage roused the community and led to the scheduling of an upcoming town meeting about the Public Safety Department, an arm of the state agency that manages this island.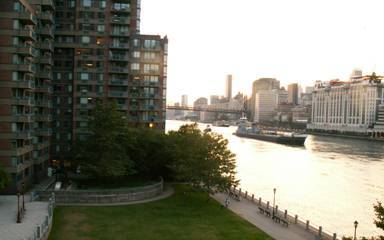 Many new apartment buildings have risen, yet the island remains a small town.
Dick instituted a practice of paying
WIRE
writers, though some still waive payment. That practice has brought a cadre of his fellow professionals into the paper.
Over his 12-year tenure, they have included a New York Times editor, a Times dance reviewer, and a former Daily News movie critic.
"The island is teeming with talent," Dick says. "The WIRE pays primarily because that's really necessary to entice professional writers who might really like to put their feet up and watch TV at the end of a hard day — to write for our newspaper."
Dick is adamant about the quality of the product: "There's no reason why this local community shouldn't have the highest standard of journalism in every respect.
"People here read The Times, The Post, The Daily News, and to get their attention, we have to be not only hyper-local, but produce solid journalism and commentary that means something to their daily lives. If we're not an honest and impartial force in the community, we're not worth the effort."
Dick himself came out of a background in public broadcasting news. At 70, except for the near-fulltime WIRE work and research for the sequel to his novel, Jadwiga's Crossing, he's "retired."
Along the way, he did a stint at NBC Chicago, managed a public TV station, created the first news program to give up film in favor of portable cameras in the field (1969), reported and produced for WQED Pittsburgh and the Pennsylvania Public Television Network, then wound up in New York.
Here, he worked as a consultant on an early version of the internet and World Wide Web based on British technology in use at the BBC and British Telecom (1981). That was a direct result of a year at The University of Michigan in what are now the Knight-Wallace Fellowships for mid-career journalists.
"I'm a small-town kid," Dick says. "That makes me perfect for Roosevelt Island, but I came to New York because of a consulting assignment. When it was over, I stayed for Roosevelt Island – a small town in the middle of the greatest city in the world."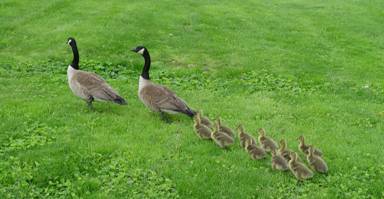 "Make Way for Ducklings" could have been set on NYC's Roosevelt Island.
How does he feel about his current self-assigned career? "Best job I've ever had. My own boss, my own success or failure, I get to work with neighbors and, because of the political situation here, the paper is really a necessity."
He remembers when one president of the Roosevelt Island Operating Corporation was trying to shut down the island's iconic Tramway. He put out an extra to alert the community, there was an uproar, and the plan was ditched. Action! Power!
As for the economics of publishing a hyper-local newspaper every two weeks, Dick says that intense community interest is a key requirement. He instituted hand-delivery, by volunteers, to every residential door on the island, something that happens in effect as a service by the Roosevelt Island Residents Association.
Digital photography helps control costs, and desktop publishing has compressed the staff and time required to put the product together. Everything else is break even or a little better. But, Dick tells me, "Considerations of economics take a back seat to the quality of the product. The costs are what they are. The quality is what we make it."
Asked if he's thinking of "real" retirement, Dick says he'd like to make a transition from research to writing on his fiction sequel, Jadwiga's America, and to get back to some local-level video producing ("For kicks"). He's concerned about succession.
Dick would like to find another retired journalist who can bring the necessary skill-set to the paper, and gradually turn it over to new blood.
Conscious of how another editor's illnesses brought him into the picture originally, he says, "I don't expect to live forever, and I've got other things to accomplish before I trade my sneakers for slippers."
Even so, he says, "This has been more fun than all the TV news jobs put together." Why? "It's local. Intensely local. I see my readers on the street every day. I can't walk 50 feet without someone commenting on the last issue or suggesting a story for the next."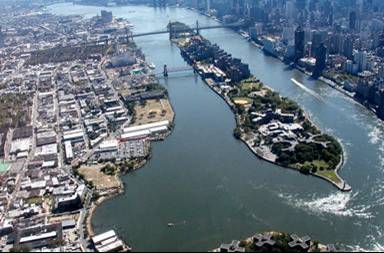 Roosevelt Island is a village well-served by its Main Street WIRE.
My birthday would never have made the front cover of the
New York Times
, and — unlike Dick — Arthur Ochs Sulzberger, Jr. does not sponsor one of my orphaned kids in Haiti or Indonesia.
I love the blogs – this one more than anything. I adore the Times. But for me and my neighbors – whether on Staten Island, Brooklyn, Queens, Manhattan or Roosevelt Island — nothing beats our local newspaper.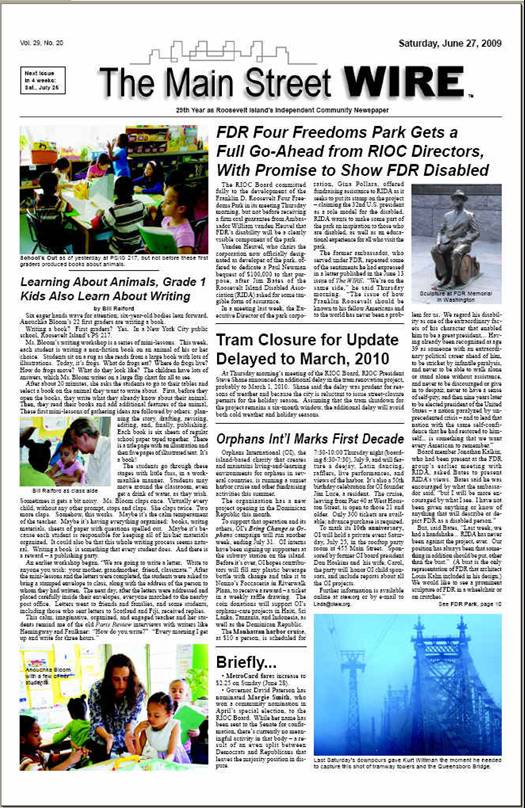 Edited by Ethel Grodzins Romm. Photos courtesy of Website NYC10044.  Originally published in The Huffington Post, July 17, 2009.

Luce Index
95 – Arthur Ochs Sulzberger Jr.
89 – Dick Lutz
Follow Jim Luce on Twitter: www.twitter.com/jimluce