New York, N.Y. Although 200 guests were expected, 250 arrived to the United Nations's social club Aux Antilles's 21st annual dinner, this year to benefit the International University Center Haiti (Uni Haiti), in the Grand Ball Room of the Czechoslovakian cultural center known as Bohemian National Hall on Manhattan's Upper East Side.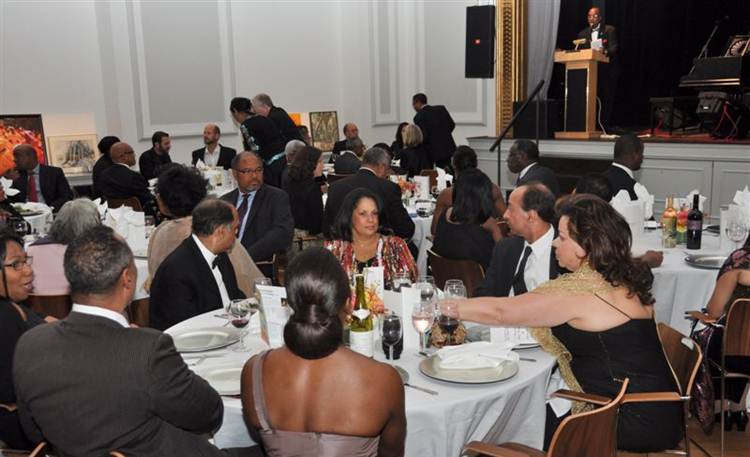 The Grand Ballroom of Bohemian National Hall hosted Aux Antilles's gala for Uni Haiti.
Photo: Pikliz.com.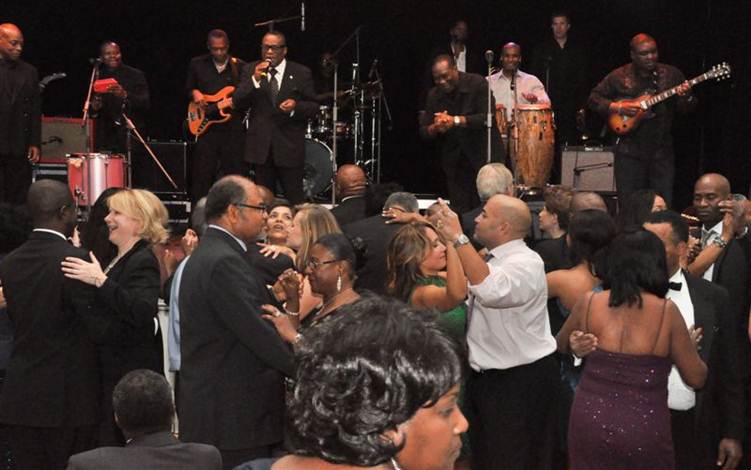 Haiti's most popular orchestra, Tabou Combo, performed a three-hour concert.
Photo: Pikliz.com.
Diplomats from the supporting U.N. missions of Haiti, Hungary, Cape Verde and the Czech Republic joined other ambassadors and consul generals from around the world in support of the New Haiti and the university center planned for the earthquake epicenter of Haiti — the city of Léogâne. A who's who of the Haitian diaspora as well numerous global advisors, friends and well-wishers of the J. Luce Foundation also attended this diplomatic soirée.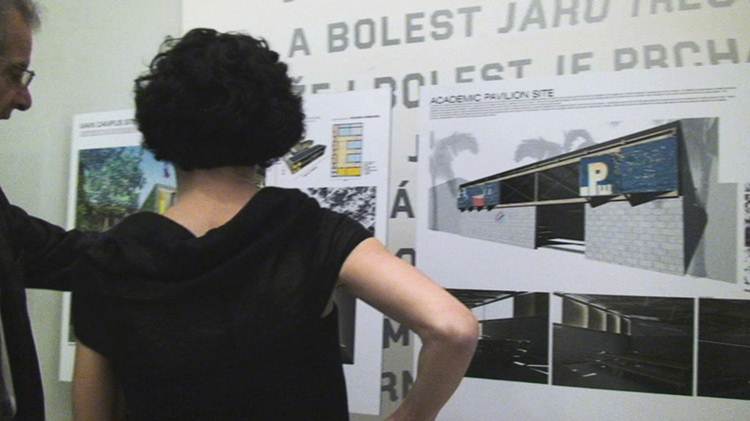 The architectural boards for the planned campus of Uni Haiti in Léogâne were unveiled.
Photo: Li Wong.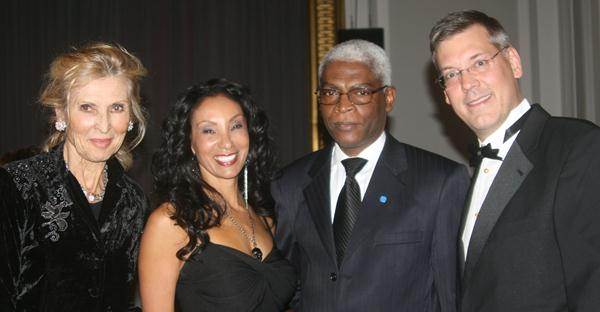 Jurate Kazickas, Downtown Julie Brown, Ambassador Kean Wesley Cazeau and author.
Photo: John Lee.
The black-tie dinner dance, in the spectacular 1898 Czech cultural center, featured a cocktail reception followed by a piano duet known as Horvárth-Schauser presented in concert, then dinner with speeches from Ambassadors from Haiti and the Czech Republic, and then finally a three-hour performance of Haiti's most popular orchestra —
Tabou Combo
. Architectural boards showing the three campuses set for construction in Léogâne were on display, courtesy of Andrew Burdick, Jason Buchheit and Tim Bell.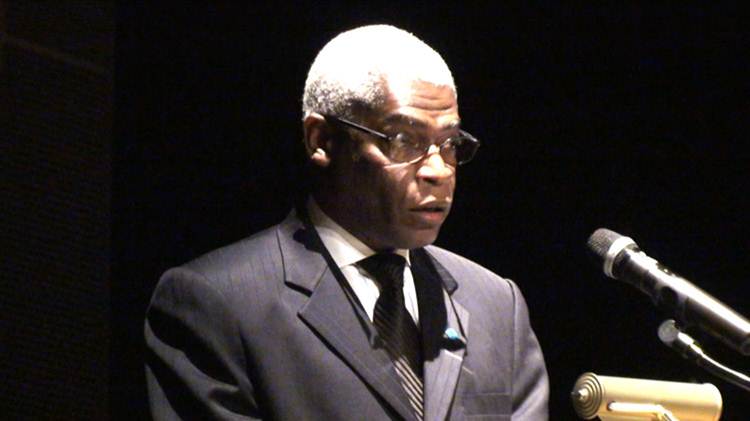 Haitian Ambassador to the U.N. Kean Wesley Cazeau, thanked Aux Antilles and Uni Haiti.
Photo: Li Wong.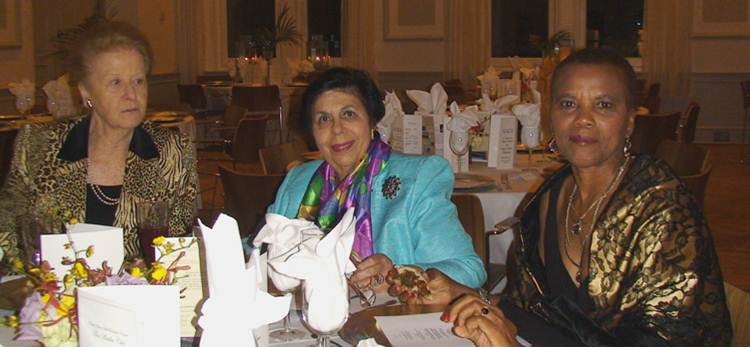 A who's who of the global community attended the diplomatic soirée including Mrs. Françoise Cestac
of the Association Culturelle Francophone with Yolette Chéry. Photo: Li Wong.
The president of the UNSRC Aux Antilles Club, Elsie Laurence-Chounoune, spoke first, commenting on the club's 21-year history:
H.E. Mr. Kean Wesley Cazeau, permanent representative of Haiti to the U.N., spoke next, stating:
I thank Club Aux Antilles for hosting this important, patriotic event. In doing so, they are contributing to the start of a very crucial institution, the new International University Center Haiti.

This will provide young Haitians the right tool — education — to allow them to be better prepared for the future, to become exactly who they were meant to be, and to face the future with hope, dignity and pride as the participate in the development of their own country.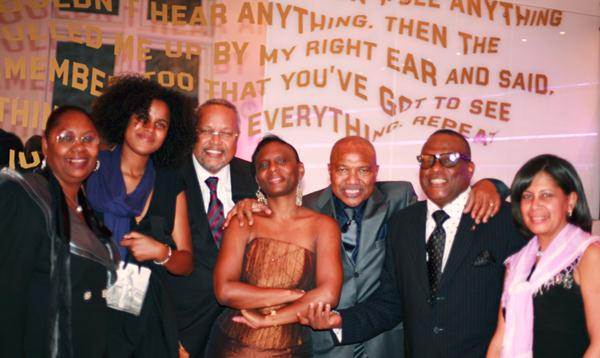 The ambassador of Cape Verde, diplomats from Guinea, the president of Aux Antilles
and the lead singer of Tabou Combo. Photo: pikliz.com.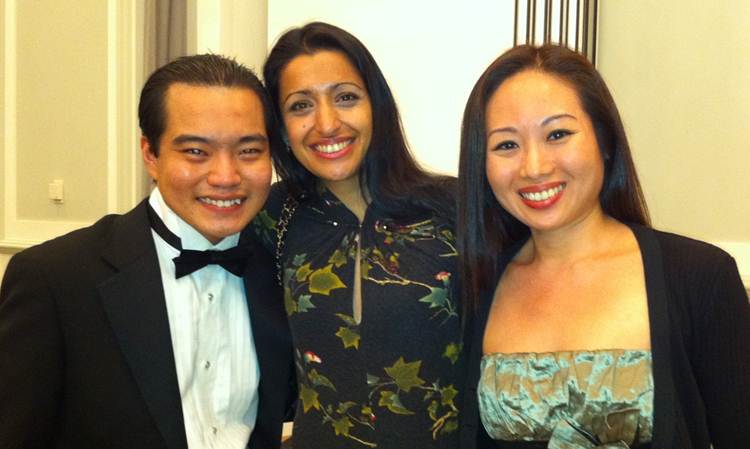 J. Luce Foundation V.P. John Lee, with Global Advisors Fareen Butt and Fiona Chuang.
Photo: courtesy of Fiona Chuang.
The Czech ambassador, Mrs. Edita Hrda, then welcomed the diverse group to the Bohemian National Hall, followed by Her Excellency Ms. Yanick Mézile, the Haitian Government's minister of women's affairs.
The minister for feminine condition and the rights of women (ministre a la condition feminine et aux droits des femmes — MCFDF), Ms. Yanick Mézile, took the opportunity to congratulate the J. Luce Foundation for taking the initiative in founding a university center — including women — in the town of Léogâne. It is a very ambitious project, which is in line with the priorities of the head of MCFDF, namely, changing the material conditions of existence of Haitian women through education and work.
The Minister kindly expressed her appreciation for the UNSRC Aux Antilles club for women of the West Indies, and the invitation to participate in the excellent evening Gala on Friday, November 4. She said, "This evening shows how these women are committed to the cause of the fairer sex for 21 years." Minister Yanick Mézile also expressed her support of the project of the University of Léogâne throughout her term as head of MCFDF.
The Czech Ambassador H.E. Edita Hrda congratulated Aux Antilles for their leadership role.
Photo: pikliz.com.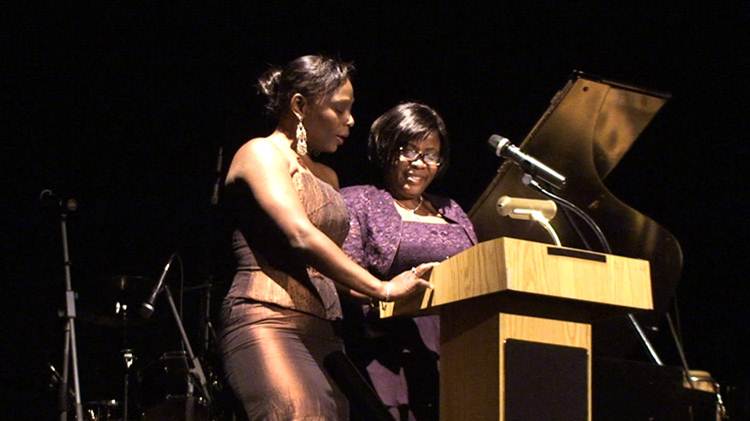 UNSRC Aux Antilles Club president Elsie Laurence-Chounoune with Her Excellency
Ms. Yanick Mézile, the Haitian Government's Minister of Women's Affairs. Photo: Li Wong.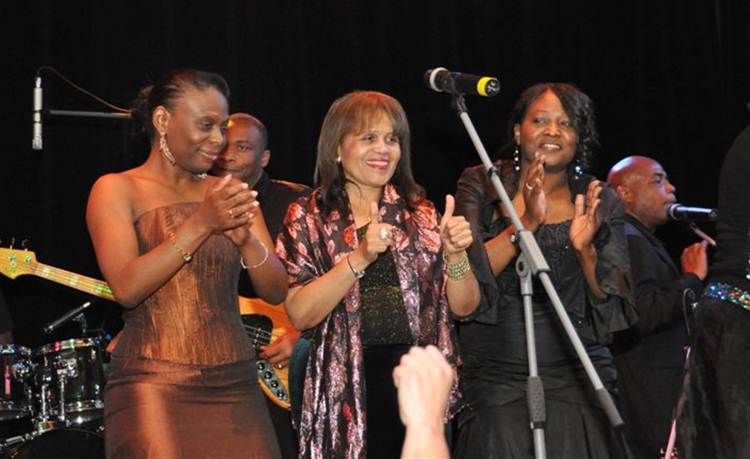 The leadership of the UNSRC Club Aux Antilles shared center stage with Tabou Combo.
Photo: pikliz.com.
After listening to statements of support from representatives of the Haitian government and other nations, I explained my vision for founding the International University Center Haiti in cooperation with The James Jay Dudley Luce
Foundation
in the footsteps of my continuing orphan work:
Despite more than a decade of success at Orphans International Worldwide (OIWW), it became clear that more had to be done for not only the 153 million orphan children living on this planet, but also the many others for whom life has been so difficult — including the university students of Haiti.

My goal is uplifting the most desperate of humanity while celebrating the best of humanity — especially education and the arts. Only a reinvigorated, independent organization can change the minds and improve the lives of these children and other young people who so desperately need help.

We have developed a new way of thinking about global change and we need your help to achieve our goal. This new organization, the Foundation, will surpass the limitations of separate and competing institutions by building multi-institutional networks and collaborative approaches with numerous thought leaders, philanthropic institutions, and supporting entities — including select Missions to the U.N.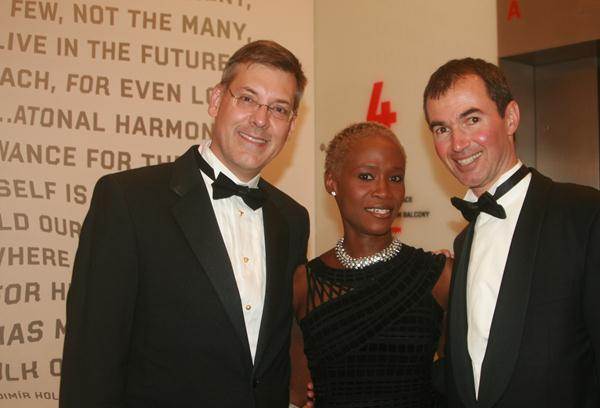 Elegant Bohemian National Hall was the perfect setting for the elaborate soiree. Here,
the author, Deborah Pierre and Guillaume Fonkenel of London. Photo: John Lee.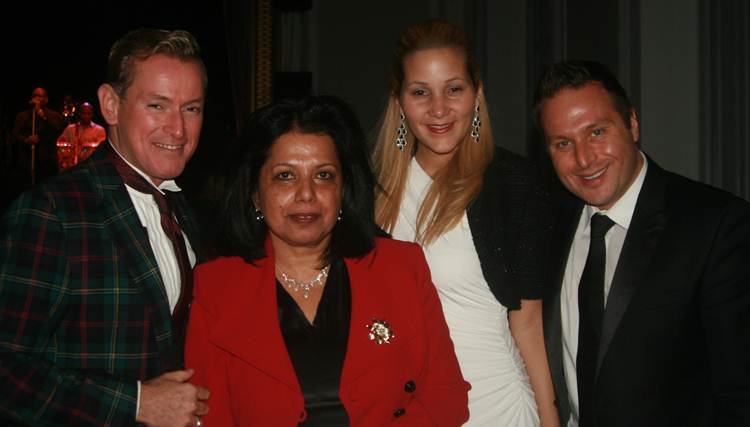 Montgomery Frazier, Jaya Dargan, with Matt and Linette Semino. Photo: John Lee.
I concluded:
I have pledged to spend the rest of my life doing what I can to help Haiti, but one man, one foundation, one university cannot build the New Haiti. I call on all people of good will to help in the construction of the New Haiti — not as a colony of the international community, but as a sovereign nation under the leadership of the proud people of Haiti.
The amazing piano concert of Horvárth-Schauser featured a variety of pieces, from classical to contemporary, and featured the music of Mozart, Rakhmaninov, Lutoslawski, Messiaen, and Ravel of Boléro fame. Tabou Combo rocked the house after a dinner featuring fine Haitian cuisine until midnight.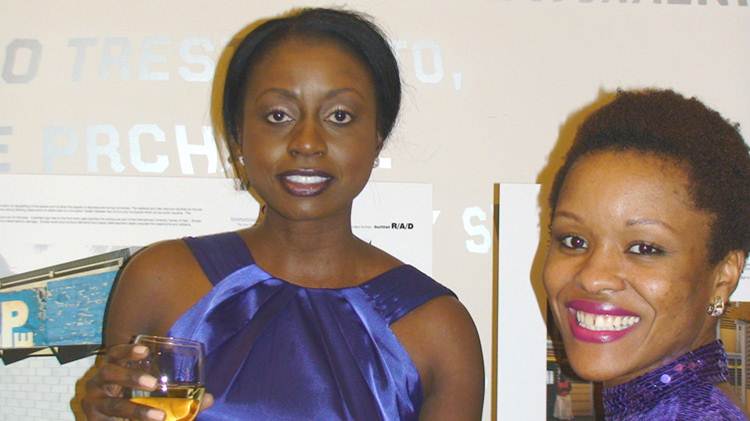 Guests included Peacola Johnson and Christie Desir. Photo: Li Wong.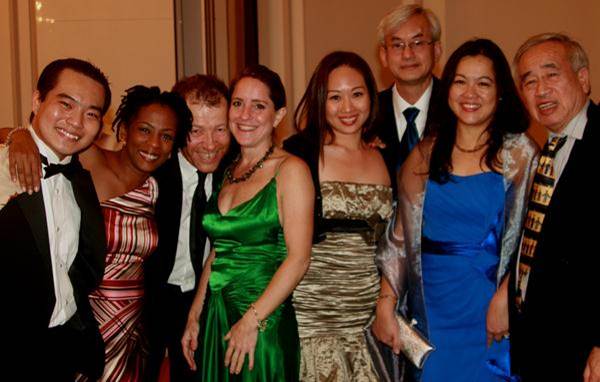 The UNSRC Aux Antilles Club was founded in 1990 by U.N. Haitian staff members who
wanted to share their culture and that of other Caribbean countries with others. Since its
existence, the Club has showcased countless talents from Haiti as well as from other countries.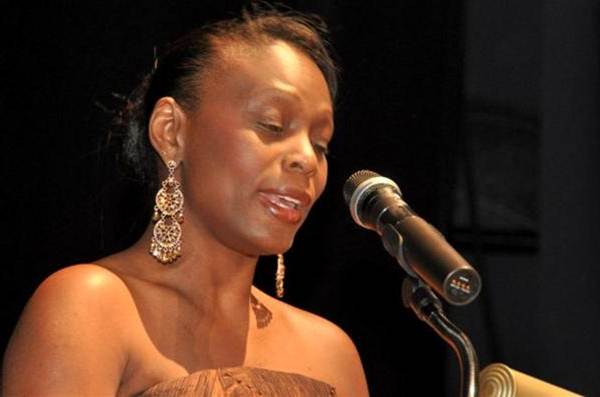 UNSRC Aux Antilles Club president Elsie Laurence-Chounoune spoke
of her club's 21 years of service to humanity. Photo: pikliz.com.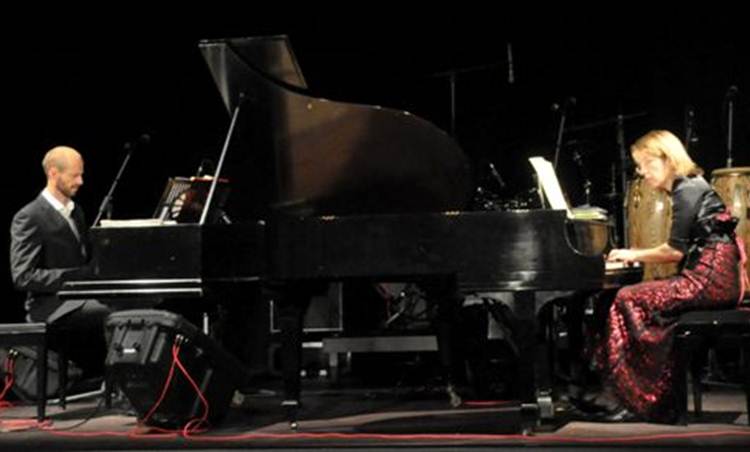 Ingo Schauser and Izabella Horvárth played pianos simultaneously in a one-hour concert.
Photo: pikliz.com.
The piano duo Horvárth-Schauser consists of Hungaro-French pianist Izabella Horvárth and Danish-German pianist Ingo Schauser. Founded in 2008, they already have performed in Italy, France, Austria, Romania and Denmark. Izabella Horvárth received her diploma as a music pedagogue and concert pianist from the Acadamie of Music Franz Liszt in Budapest. Ingo Schauser has given countless piano performances in Denmark and the rest of the world and is broadcasted on radio and available on CD.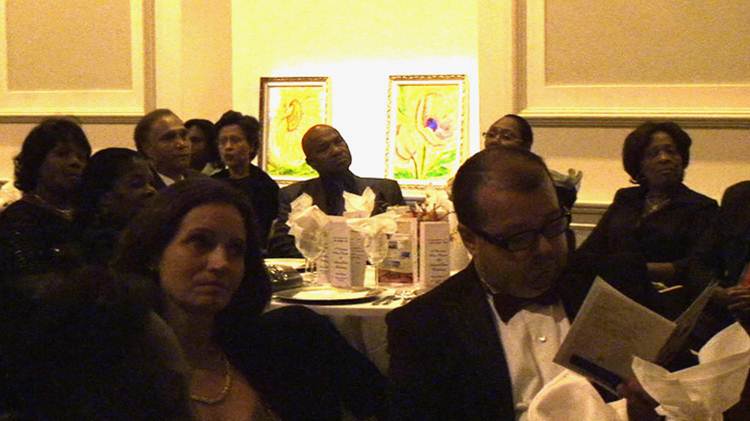 A silent auction raised additional funds for the International University Center Haiti.
Photo: Li Wong.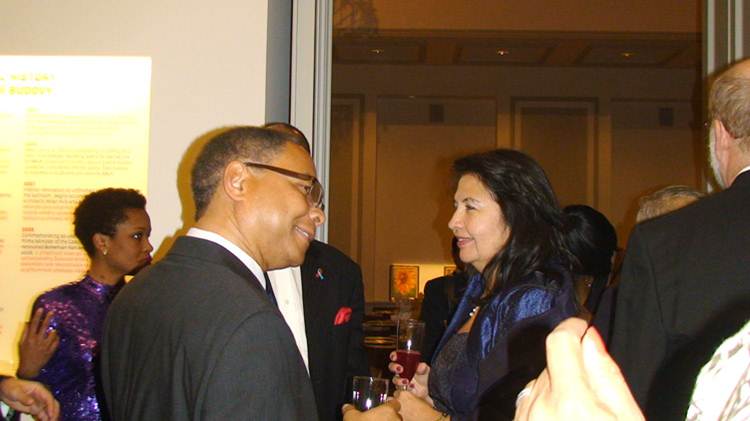 Former Aux Antilles club president Pierre Perodin and his wife at the gala. Photo: Li Wong.
Tabou Combo started in 1967 and for over 40 years, they have toured worldwide and are celebrated as "Ambassadors of Kompa" — the popular Haitian dance rhythm sung in French, English, Spanish, and Creole.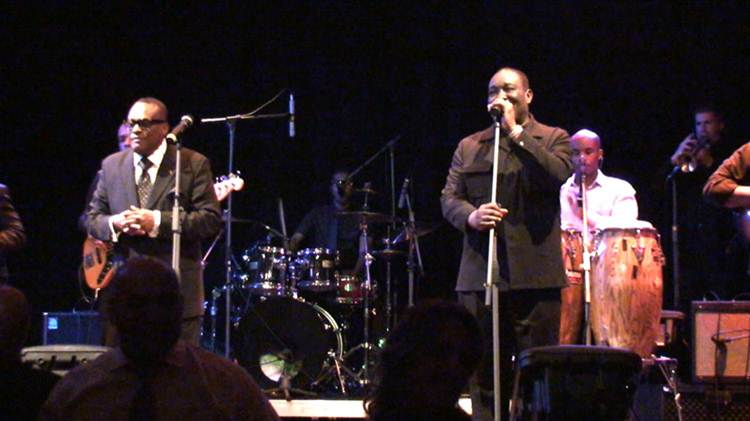 Haiti's premier orchestra Tabou Combo rocked the distinguished guests until midnight. Photo: Li Wong.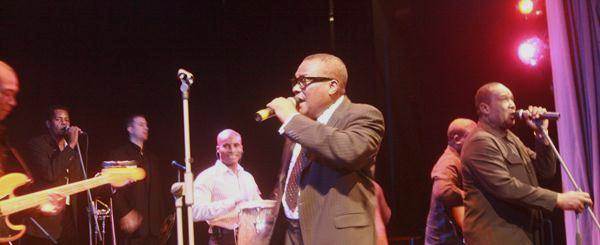 The inspiring, get-off-your-feet-and-dance Tabou Combo. Photo: John Lee.
Tabou Combo's music is aimed squarely at the dance floor — mixing Haitian
meringue
,
rara (vodoun
percussion) with
kompa
and elements of Brazilian music,
soukous
and funk. Their phenomenal popularity has given them an important standing in Haitian society and they use their lyrics to defend the poor in their songs.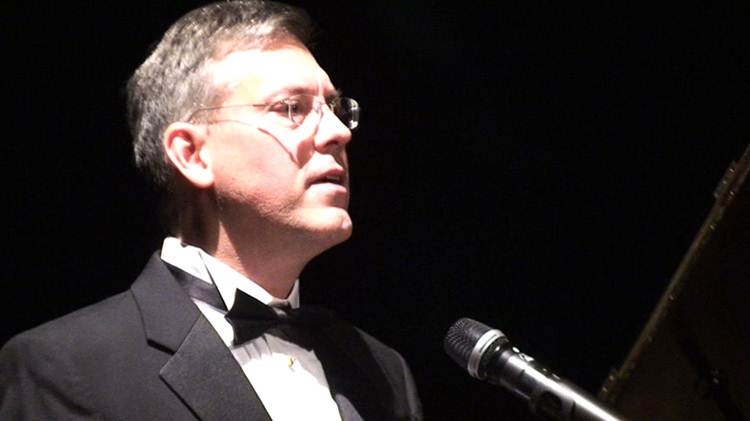 The author explaining his vision before the assembled diplomatic guests. Photo: Li Wong.
Proceeds from the evening will go towards building the UNSRC Aux Antilles Academic Pavilion of Uni Haiti in Léogâne, to break ground in January — the second anniversary of the earthquake there. I recently wrote in detail about Uni Haiti for The Huffington Post
here
.
See Stories by Jim Luce on:
Art | Education | Haiti | International Development | Music | New York |
Orphans International Worldwide| Social Responsibility | United Nations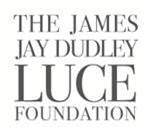 The James Jay Dudley Luce Foundation 
(www.lucefoundation.org)
 is the umbrella organization under which The International University Center Haiti and Orphans International Worldwide are organized. If supporting young global leadership is important to you, subscribe to J. Luce Foundation updates 
here
. Contribute 
here
.

Follow Jim Luce on Facebook.  Originally published in The Huffington Post, November 14, 2011.