New York, N.Y.  
"Polio is only a plane ride away."  So began my sobering interview with Carol Pandak, Manager of 
PolioPlus
 for 
Rotary International
 about polio, a crippling and potentially fatal disease that still threatens children in Africa and Asia (
video
).  People in 125 countries had polio in 1985 – today only four.  Good news, no?  But the four countries – Nigeria, India, Pakistan, and Afghanistan – constitute nearly one-quarter of the world's population.
One ray of hope is that Rotary International continues to battle polio, working alongside UNICEF, the World Health Organization (WHO) and the Gates Foundation.  The global eradication of polio is Rotary's top priority.
On Dec. 2, Carol told me, Itzhak Perlman will perform at Lincoln Center, New York City, in a benefit concert of Rotary International's efforts to eradicate polio – the Concert to End Polio.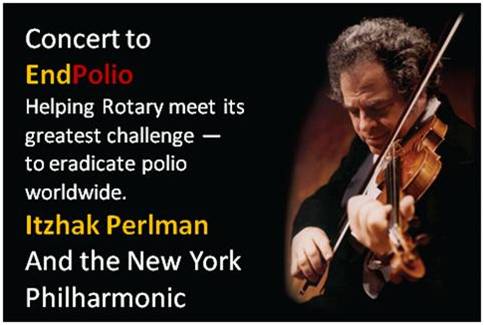 Itzhak Perlman will be featured at the Concert to End Polio in New York City December 2.
Itzhak Perlman, the Israeli-American violin virtuoso, conductor, and instructor, is widely considered as one of the preeminent violin virtuosi of the 20th century.  He has often played with the New York Philharmonic, although not for the last four years.
Before writing this article, I did not know that Itzhak Perlman, the virtuoso violinist, is himself a polio survivor.  Today, he generally uses crutches or an electric wheelchair for mobility and plays the violin while seated.
Perlman will perform with the New York Philharmonic at the Lincoln Center for the Performing Arts, Avery Fisher Hall, in New York City, on Wednesday, 2 December, at 7:30 pm.  View the concert program.  Tickets may be purchased online through the Philharmonic.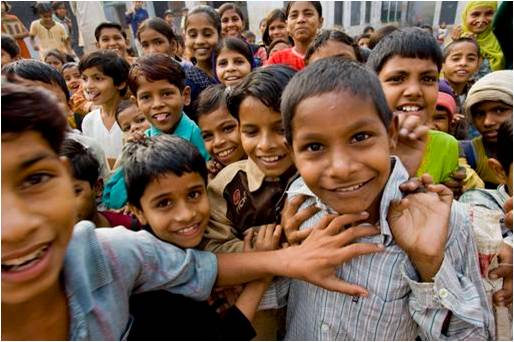 Rotarians tackle "the last few, the hardest to get," says volunteer Charlene Hall, as they go door-to-door with the polio vaccine.
Moradabad, India. Credit: IPTC/Alyce Henson. © Rotary International.
Carol explained that since 1985, Rotary club members worldwide have contributed more than $800 million and countless volunteer hours to the effort.  Rotary is now working to raise an additional $200 million to fulfill its commitment for a $355 million challenge grant from the Bill & Melinda Gates Foundation.
Polio is terrible.  It is a life-time affliction from which people cannot regain the use of their limbs – or even spine.  It usually hits children under the age of five.  In some cases, paralysis can be overcome, but with post-polio syndrome, the body weakens again later.
There are three historic strains of polio.  One has already been eradicated, and a potent new vaccine is about to be unleashed, called a Bivalent oral polio vaccine (bOPV), that specifically targets the other two strains.  This drug, to be launched in India and Nigeria in the coming months, is poised to accelerate progress towards a polio-free world.
Until now, health officials would push one vaccine, and the other strain would strengthen, and then vice-versa, causing a ping-pong effect.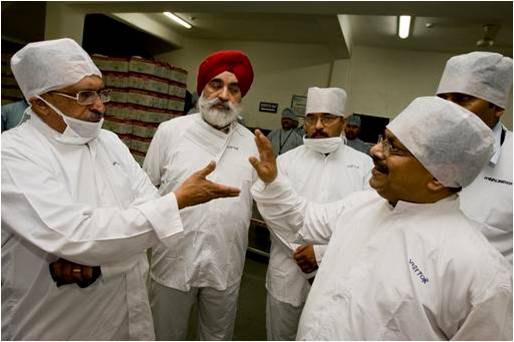 Rotarians visit the Panacea Biotec factory, where some of the oral polio vaccine
provided to India is manufactured. Creator: IPTC/Alyce Henson. © Rotary International.
Uttar Pradesh, a state in northern India where polio transmission has never been interrupted, is the size of Texas – with a population the size of the U.S.  Think about that.  Half a million babies born each month.
Nigeria and Pakistan, each approximately twice the size of California, have populations of 150-170,000 million each – more than half the population of the U.S.
I have learned that polio cases can be considered in two categories: those that are naturally occurring, and those that are imported from other regions.  Only India, Nigeria, Afghanistan, and Pakistan have naturally occurring polio.  It is endemic in those nations.
The Americas, Europe and the Western Pacific have already successfully eradicated polio.  A certificate of eradication is issued following three years without the virus.  Africa, Southeast Asia, and the Eastern Mediterranean are still considered to be at risk.
Great progress has been made, and the incidence of paralytic polio infection has plunged worldwide from 350,000 cases in 1988 to fewer than 2,000 in 2008.

A child receives the polio vaccine at a booth inside the Maisthan Temple in Birgunj, Nepal,
during Subnational Immunization Day rounds. Creator: EXIF/Alyce Henson.  © Rotary International.
No one can predict when exactly polio will be defeated, but beginning in January 2010, the Global Polio Eradication Initiative will launch its three-year program, which –  if the milestones along the way are met – would achieve the interruption in the transmission of the wild polio virus.
Cultural factors also have played a role in hindering prevention efforts.  In Muslim communities some believe that the vaccine could hamper fertility in boys.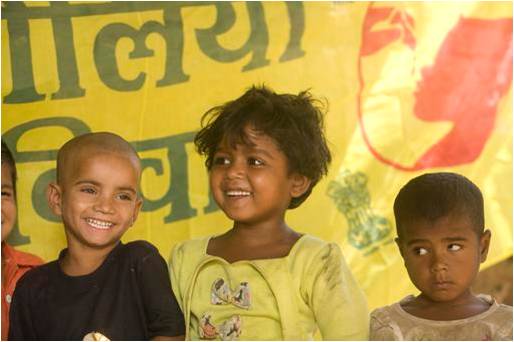 Children smile during a visit from Rotarians who worked through a children's
center outside Lucknow, India, during door-to-door polio immunization effort.
Creator: IPTC/Rajesh Kumar Singh.  © Rotary International.
Bearing in mind that the four remaining nations with polio are Nigeria, India, Pakistan, and Afghanistan, Rotary's strategy to engage Islamic clerics to help deliver the vaccine message to their congregants hits the mark.
Overseeing the state's effort to end polio in one Indian state is the Ulema Council for Polio Eradication, established by Rotary International.  Ulemas are leading Muslim experts in Islamic law.
Muslim clerics receive a booklet published by India's National PolioPlus Committee, which links polio immunization to the duties of parents as explained in the Quran. See Rotary Foundation story.
Rotary International, made up of service clubs located all over the world, is a secular organization open to all persons regardless of race, color, creed, or political preference.
Rotarians gather as business and professional leaders to provide humanitarian service, encourage high ethical standards in all vocations, and help build goodwill and peace in the world.
As the world's first service club organization, Rotary began as an idea 104 years ago. Today, Rotary flourishes worldwide with 1.2 million members in more than 200 countries and geographical areas.
I personally have visited and spoken at Rotary clubs in Africa, Asia, and the Americas.  I am looking forward to hearing Itzhak Perlman perform at the Concert to End Polio.  I too dream that polio will be wiped from this plant for the sake of the world's children.
To learn more about polio eradication, visit the Rotary End Polio or Polio Eradication websites. Also, I recommend you see the video from Rotary International President John Kenny.  If you can't attend the concert, you can still donate online.
View Polio Eradication background sheets by country.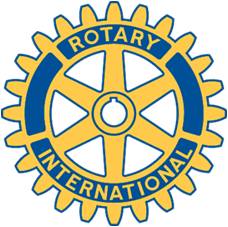 Edited by Karen F. Dimanche Davis.
The Luce Index™
96 – Itzhak Perlman
Follow Jim Luce on Twitter: www.twitter.com/jimluce