Jim Luce knows from traveling extensively that no company does more to get money from A to B, anywhere in the world, than Western Union.  However, microfinance institutions in countries such as Haiti also play a role.  Fonkoze is but one.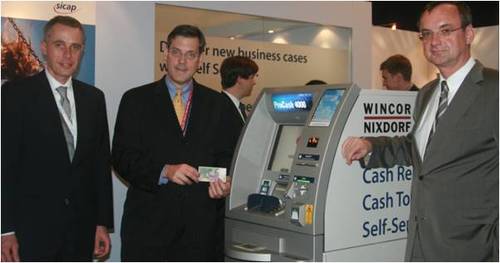 Jim Luce with the Chief Strategy Officer and C.E.O. of Austria's Sicap AG in Barcelona, Spain.
For the complete listing of thematic stories, see 
Jim Luce Writes
.
Trademarks are property of their respective owners.  Articles, photographs and graphics by Jim Luce are © Jim Luce.  Luce Publications™, The Jim Luce Stewardship Report™, The Stewardship Report™, JLSR™, The Luce Index™, JLSR Tidbits™, Thought Leaders & Global Citizens™, and JIM LUCE™ are all TM – SM of Jim Luce.  Follow The Stewardship Report on Facebook.