Jim Luce first learned about the Philippines from his first partner who was form Quezon City in Manila.  The first president of Orphans International America after Jim in 2001 was another Filipino-American.  Jim is godfather to two children of Filipino descent, one still in the Philippines and one in the U.S.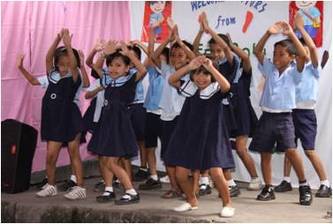 Wonderfully happy children perform heartwarming songs for their community.
Photo by Alastair Onglingswan.
For the complete listing of thematic stories, see 
Jim Luce Writes
.
Trademarks are property of their respective owners.  Articles, photographs and graphics by Jim Luce are © Jim Luce.  Luce Publications™, The Jim Luce Stewardship Report™, The Stewardship Report™, JLSR™, The Luce Index™, JLSR Tidbits™, Thought Leaders & Global Citizens™, and JIM LUCE™ are all TM – SM of Jim Luce.  Follow The Stewardship Report on Facebook.