Léogâne, Haiti. I am perhaps the most excited I have been in my entire life as I prepare to move to Haiti next month. Ten months after the earthquake of January 12 I will be on the ground — to stay — with our international team. We are ready and able to roll-out a real, integrated, and desperately needed development plan that builds housing, education, health care, orphan care, tourism, and other forms of commerce including construction. It will be my 24th trip in about 12 years.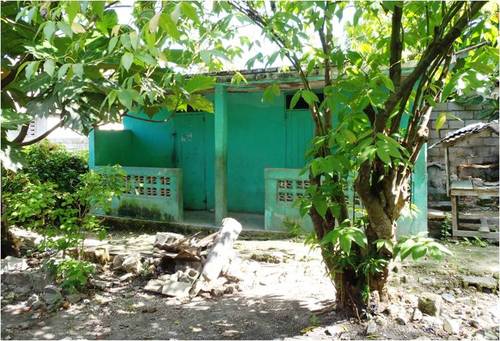 My 'new' home awaits me in the heart of Léogâne, epicenter of Haiti's earthquake.
After struggling for more than a decade with international development focused on orphan care through Orphans International Worldwide (
OIWW
), I have realized that graduating orphans into a failed state is, at the end of the day, hopeless. I believe in hope. If there is not a nation there that can support our children through jobs, housing, higher education, than I must do my part to help build it. Otherwise, it is like serving water to the hungry. OIWW's vital work continues here in Haiti, but it is not enough.
Orphans International Worldwide supports orphans through Family Care cash transfers.
Luckily, I have an enormous global network of partners working with me – anchored by over a dozen properties of a prominent Haitian family who have agreed to allow us to develop their land along two parallel paths: social needs and business. We are based in 
Léogân
e, epicenter of the quake's destruction. More people died here in Haiti than in the Tsunami that ravaged Indonesia and Sri Lanka, where I worked with orphaned children in the past.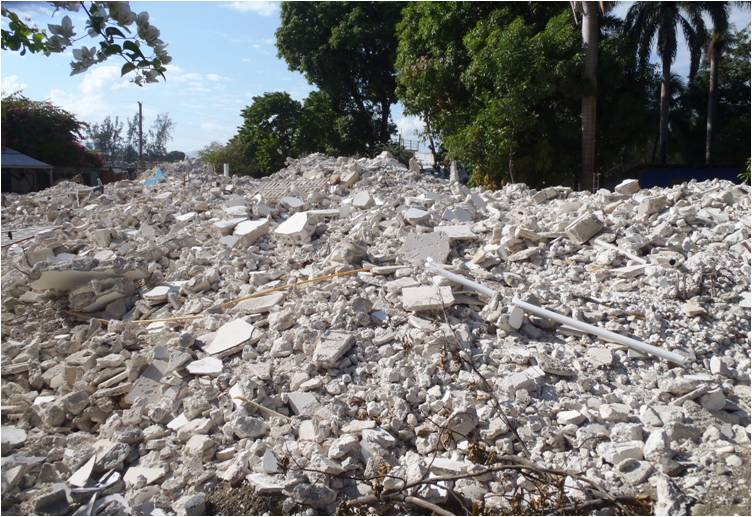 The devastation from the earthquake of January 12 is still seen everywhere in Haiti.
After meeting with lawyers, accountants, and funders on both sides of the Caribbean for the last six months, our unique, two-tier approach has evolved. We are founding here the International University of Haiti to open January 5 with our first 100 students, a Haitian-American investment company under which many for-profit entities are emerging, and an import-export firm in New York to get us the supplies needed. In Haiti, the University is our social vehicle, while the investment company is our platform for business.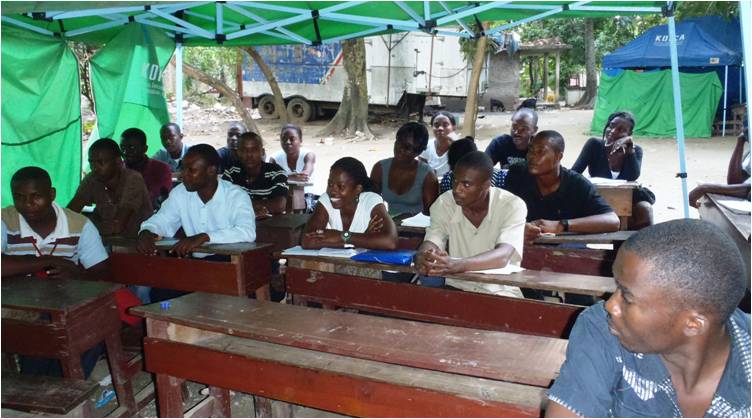 Students in the Orphans International Leadership and Mentoring Program in Léogâne.
The University will require each of its students to declare a double-major, another two-tier approach. The first major is to learn critical thinking and acquire a humanities-based education. This Liberal Arts major will encompass history, literature, language, sociology, anthropology, and the arts.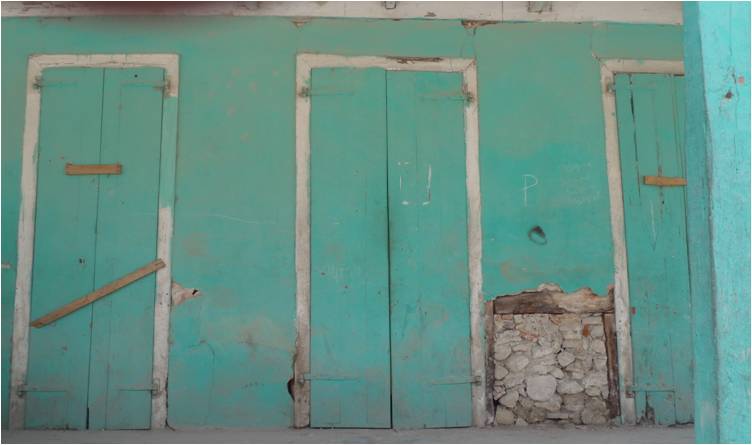 We are committed to retaining as much of the look of old as possible in the New Haiti.
The second major, Professional Development, will be one that provides our future graduate to get a job in Haiti's Renaissance immediately upon graduation. It will offer I.T., engineering, agriculture, communications, hospitality, education, as well as public and business administration and related fields such as accounting. For those seeking advanced degrees, we will also offer pre-law and pre-med. The University's motto: Creating Global Leadership.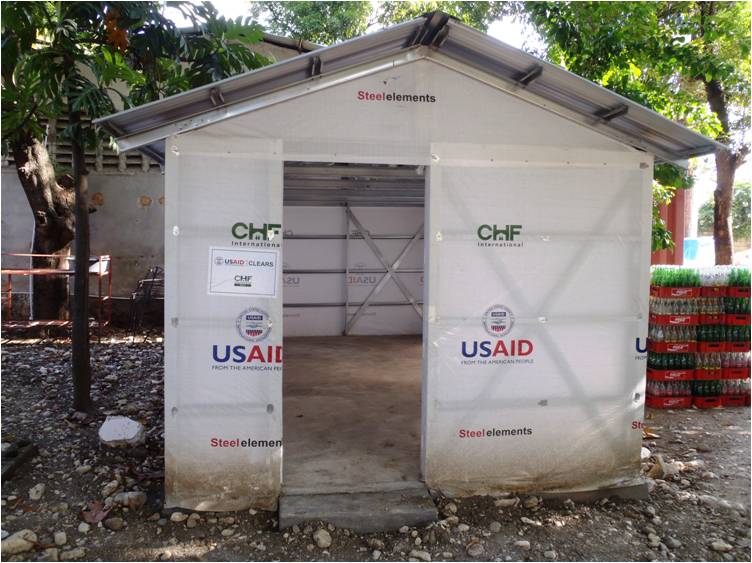 USAID and CHF housing is beginning to replace tents across Haiti, but is not permanent.
The University already has several institutes in development, including vocational training, art restoration, allied health, and global leadership. The University will open its Center on a membership basis — in tents — for the global community to visit and participate in this international project January 1. Think Harvard Club meets MASH unit.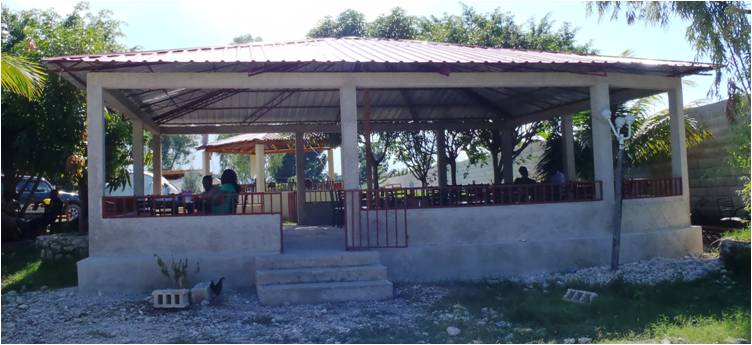 Much new construction in Léogâne is in open pavilions, such as this new restaurant.
On the commerce side, we are opening businesses — and employing Haitians — to offer in Léogâne the basics of what are needed: hardware, computer and Internet, motor vehicles and supplies, and even an art gallery.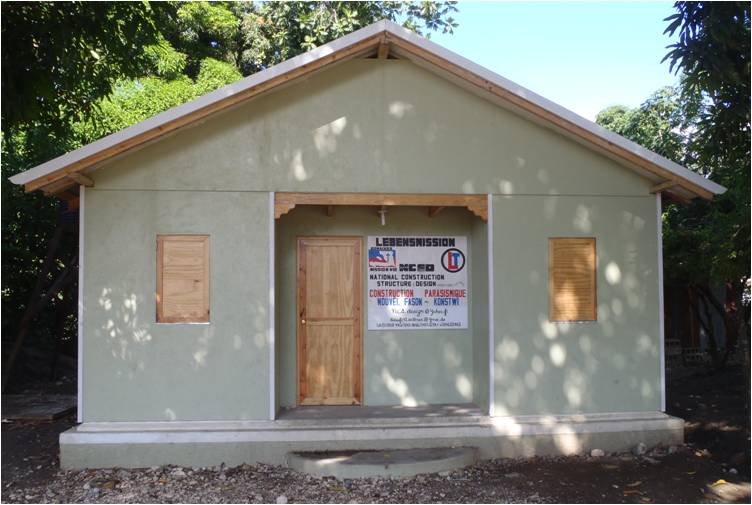 Simple new homes like this are needed across Haiti – and we will help to build them.
Among the biggest needs here are housing and jobs. We are working with NYU-Polytec and Haitian contractors to build light-weight concrete housing that, with microcredit financing, is affordable to the average Haitian. These will be built and financed by Haitians. We are working with other contractors to offer middle-class housing that is targeted at the Diaspora and American retirees. Again, jobs for Haiti.
We hope to build over the next few years many 'villages.' These conceptually will be ten by ten blocks-wide with four homes to a block, including public facilities. The villages would consist of mixed income housing. Twenty by twenty foot homes will be available at $20,000, thirty by thirty will be available for $45,000. From 400 square feet to 900 square feet – about $50 per square foot. Rental units will also be available.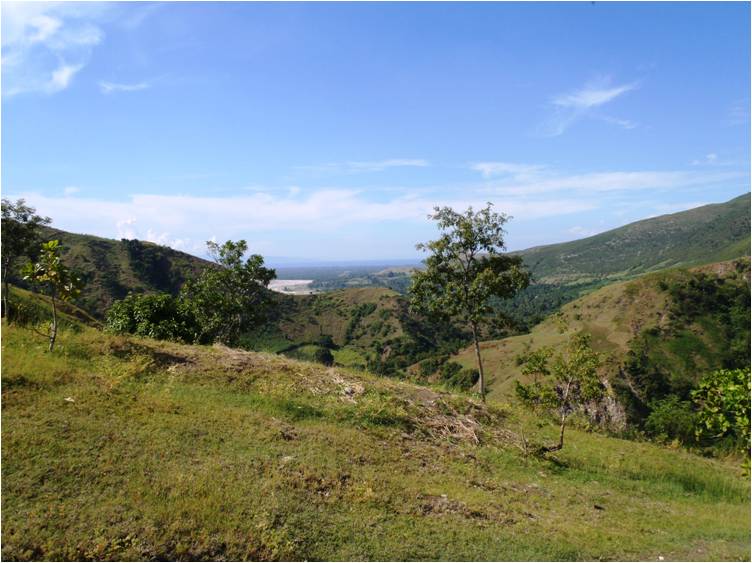 The Haitian family we have partnered with controls land from the mountains to the sea.
Having local partners is key to our success. We are integrated into a prominent land-holding family here whose reach is literally from the mountains to the sea, from the village to the capital. The family consists of educators, lawyers, accountants, financial executives in commercial banking and microcredit, and government ministers. Land in Haiti, even after the earthquake, is scarce, incredibly expensive, rarely for sale, and usually in dispute. This family holds clear titles to dozens upon dozens of locations around the entire country, from mountain plateaus to horse pastures to town centers.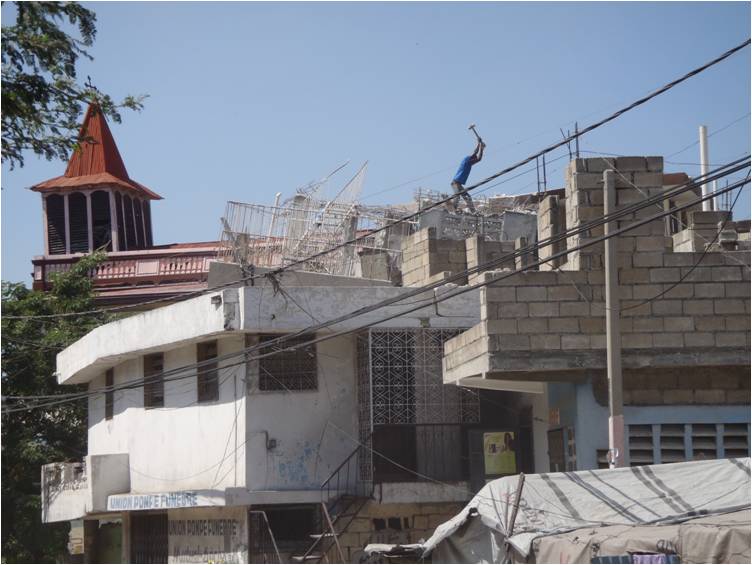 The work of tearing down the broken buildings continues by hand, as will reconstruction.
Other local partners include 
Ecole de la Redemption
, a four-story, 700-student facility for elementary through high school. Many of the children in our orphan care study here. Our university is sub-leasing Ecole's former ten-room high school for two years while we begin to build out our 100-acre campus between the national highway and the ocean.
Our group is in the process of partnering with the excellent newly re-opened local hospital, St. Croix, a local cooperative of artisans, an agricultural cooperative, and various microcredit agencies.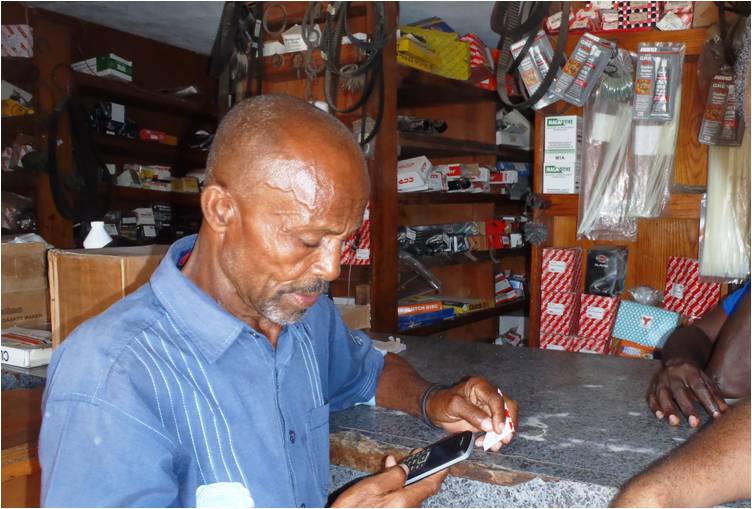 Haiti needs everything – from auto parts (above) to Internet Connectivity.
I have agreed to set up an endowment fund as part of the 
James Jay Dudley Luce Foundation
 to guarantee housing, educational, and small business loans here, in cooperation with the Montreal-based 
Desjardins Développement International
. This will allow micro lending institutions here such as the Fédération des Caisses to receive construction funds from the World Bank, International Developent Fund, and the European Union.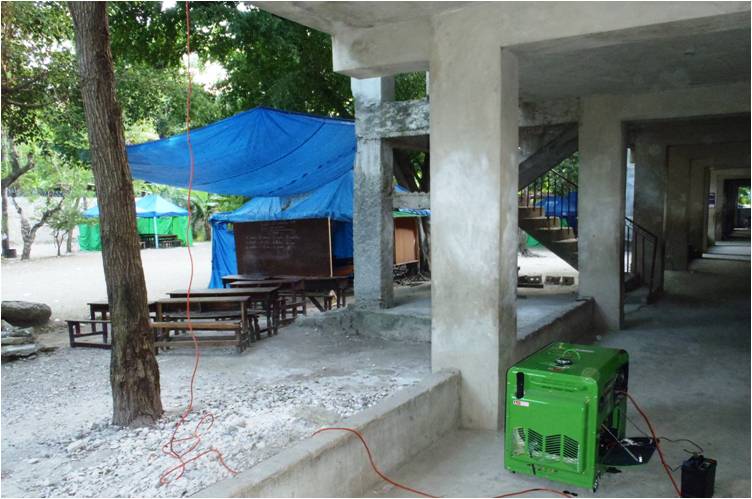 Ecole de la Rédemption, our partner school, finishes repairs as classes continue in tents.
Outside Haiti we continue to work with our friends at Skype, NGOs in Korea and China that have assisted us, various American universities, and individuals too numerous to mention. The We Can't Have That Foundation in New York is a partner. Our core belief is that 
all
 people and institutions of good will are needed to build the New Haiti, and we will cooperate with any and all of them towards that goal. The time to put egos away and work collaboratively is now.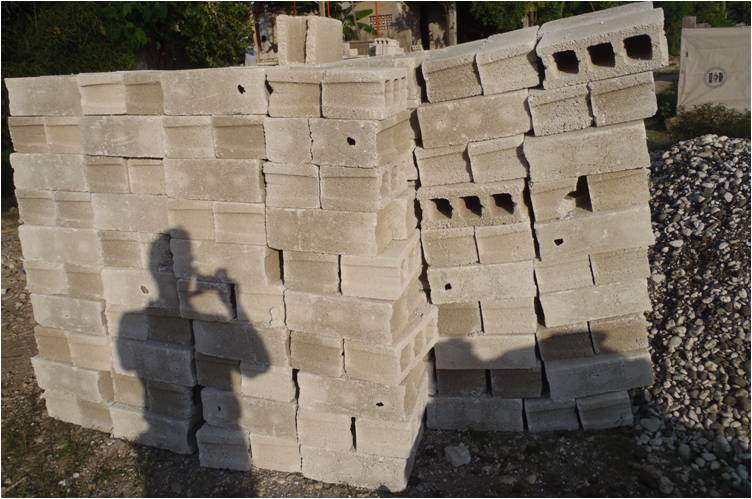 Cement block may be used for new construction if built to international standards.
We will continue to push to have our students placed on full scholarships at universities around the world — the Dominican Republic, the States, France, Japan, Korea, China — even Sri Lanka.
Personally, I look forward to beginning my own two-hour daily French and Creole lessons, living in a traditional Haitian two-room home with outdoor kitchen and bath, and bringing my teenage son down on summer vacations to join me until he finishes high school and joins us here at the University.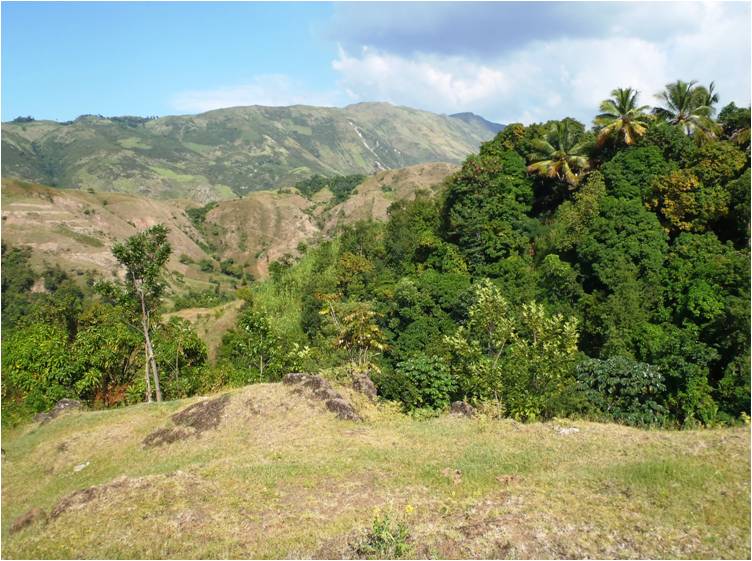 Haiti is 80% mountainous and has enormous opportunity for development.
We have much to do. Already, we are in contact with both the Haitian Government and the University of the West Indies consortium, founded by my mentor 
Cheddi Jagan
 decades ago, for accreditation. We have already begun to accept reservations for the University Center and have agreed to accept individuals associated with Harvard, Yale, Princeton, NYU, Wooster, and Marymount, as well as Rotary, Kiwanis, and Lions International as guests.
We open our first three cyber cafes next month, hiring local Haitians to run them. To kill ourselves in Léogâne would be noble but ineffective. Leaders in Petit-Goâve, Ganthier, and Croix-des-Bouquets have realized what we are doing and agreed to send young leadership to work with us, learn from us, and repeat the process in their communities. The plan is entirely replicable.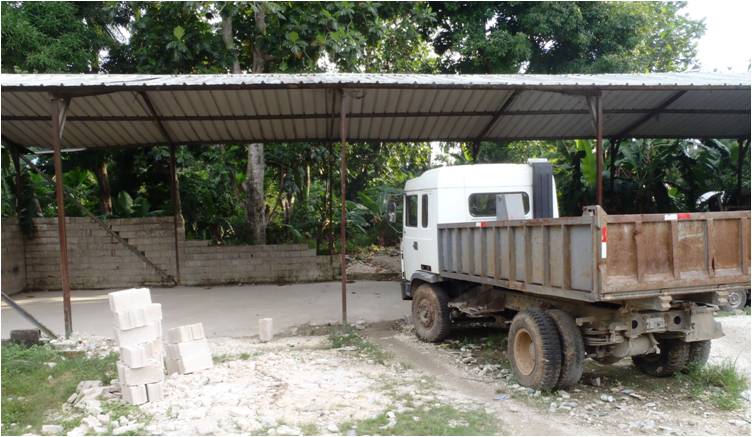 The time to build the New Haiti is today. We are making it possible for you to join us.
We are in need of donations for Orphans International Worldwide Haiti (
OIWW
) and the International University of Haiti. The fiscal sponsor for the University is the J. Luce Foundation in New York. We seek capital for our investment firm – either in New York or Haiti – in $1,000 increments.
On one side of my family, Time-Life was launched with $1,000 investments. On my mother's side,Thomas Dudley founded Harvard with even less. I believe, however difficult, my place today is in Haiti, opening an international university and investment firm. Our goal is to bring the world to Haiti – and to bring Haiti to the world. Join us.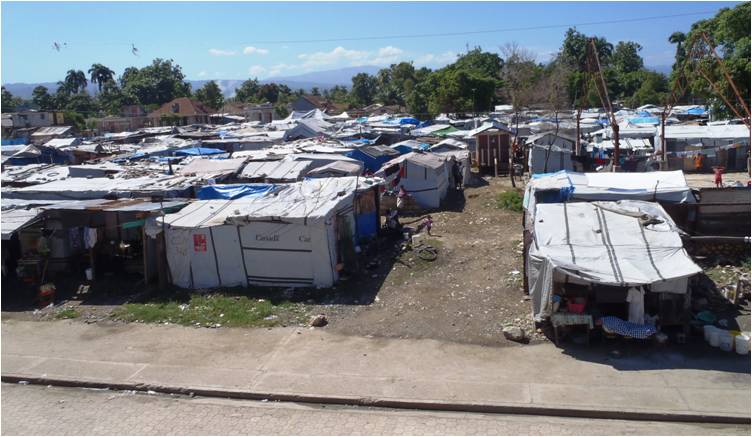 The need to move Haitians from refugee camps to new homes is immediate.
Photos by the author taken in and around Léogâne, Haiti October 2010.
See also by Jim Luce:
Jim Luce on Connectivity

Jim Luce on International Development

Jim Luce on Orphans International Worldwide

Jim Luce on Social Responsibility
Follow Jim Luce on Twitter: www.twitter.com/jimluce