Our meeting with the Mayor of Leogane in his new offices built by Canada was facilitated
by Lt. Colonel Wasantha Herath, Deputy Commander of the U.N. MINUSTA forces.
The Mayor is a big man, who seemed very depressed at the total devastation of his city. He admitted he was being provide with "nothing" to deal with it. Not even business cards.
The U.N. Deputy Commander joined us for this end-of-mission briefing and both the mayor and the commander were amazed at the progress our multi-national team had made in six short days. The mayor is providing Orphans International Worldwide Haiti the letter we need to operate here permanently. Our Haitian NGO status is also being processed.
Although Haitian schools before the quake only enrolled a small number of high school students and even smaller number of university students, and virtually all of Haiti's school buildings now lay in ruins, Orphans International Worldwide (OIWW) and our partner NGOs have moved mountains in just six days:
We have partnered with two local schools, Ecole Primeraire la Redemption and Nouveu College Surin Eveillard Secondary School to provide primary and secondary educational opportunities for the children of Leogane.


We are exploring the addition of a vocational track to the academic track, approved by the Haitian Department of Education before the January 12 earthquake.

We will help open a three-story school next week, enrolling up to 100 sponsored orphans, living in their own extended families.

We have interviewed and accepted 40 high school graduates for a one-year course in English and Chinese, with a shot at ten spots towards full four-year scholarship to a college in Beijing – and are actively seeking additional scholarships for them.
The NGO "Good Neighbors," led in Haiti by Kyung-hoo Roh and funded in part by the
Korean International Cooperation Agency, will run primary education at the school.
We have already launched the Internet from the school, after five days of trial-and-error. The Web is essential to each of our NGO partners — and the future of Haiti. We will have a computer laboratory, computer instruction, long-distance learning opportunities via our corporate sponsor Skype, to keeping our orphaned children in close connection with their child sponsors in North America, Europe, and Asia.


One of our NGO partners hopes to soon place more than 200 twelfth and thirteenth graders on-line for potential academic scholarships at $25 per month.

We finalized our interim director — a nursing supervisor with ten years experience — who is now working for another relief agency in the refugee camps of Leogane. She will oversee up to 100 orphaned children, the majority of whom will attend the Ecole Primeraire la Redemption and Nouveu College Surin Eveillard Secondary School.

We brought with us an American Haitian Studies major from Brown University, Kona Shen, who speaks Creole and has applied to be the Orphans Interntional Worldwide Global Officer assigned to Haiti.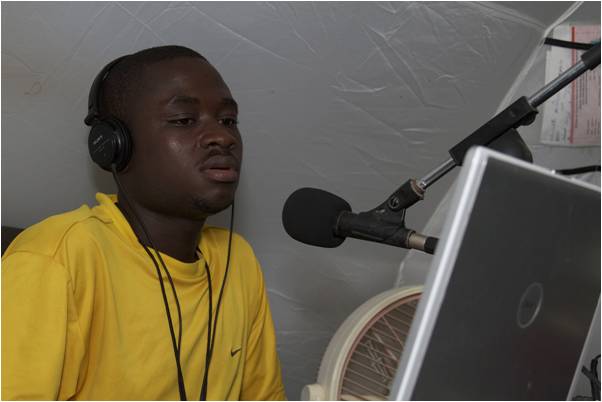 Our interview on Leogane's Radio Amikal FM resulted in over 200 scholarship applicants.
As we depart tomorrow we will stop to meet for the last time on this trip with the United Nations soldiers on the ground here — our new Sri Lankan friends known as "MINUTSAH."
The trip seems to never end. The Deputy Commander of the U.N.'s blue helmets, Lt. Colonel Wasantha Herath, introduces us to Ravi Singh, Chairman of Khalsa Aid, who joins us as we visit the three-story school, Ecole la Redemption, and pledges to help us provide clean water to the students and an adjacent IDP camp.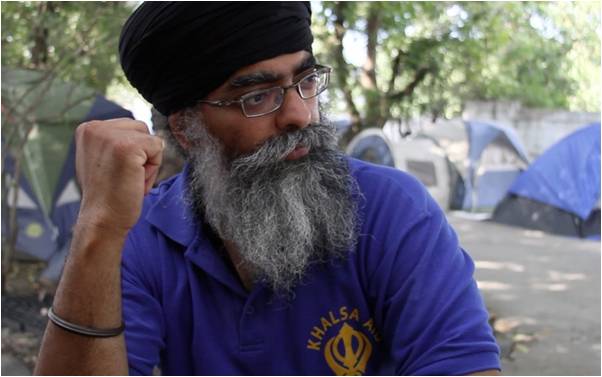 The Chairman of India's Khalsa Aid, Ravi Singh, tours our partner school.
He also suggests that a medical NGO he knows might be interested in one of the school's classrooms as a temporary health clinic for the upcoming rainy season. Soon after we meet Richard Bercy, President of the Cooperative Solidarite Pour le Developpement and also General Coordinator for Service Oecumenique d'Entraide. Richard also believes he can bring a health clinic into the school though his organizations.
Although I do not know it yet, I will meet and interview Kenneth H. Merten, U.S. Ambassador to Haiti, as well as one of Haiti's prominent film directors, and the Haitian-American Engineers Association leadership on the plane back to New York. I also do not yet know that the plane will break down and we will land instead in Miami.
To celebrate our mission's completion, unaware of what waits for us the next day, we drive for several hours up the mountain to the ancestral village of Evans Anozine, our team member representing We Can't Have That Foundation in New York. It is the one-year anniversary of his grandmother's passing at the age of 106. We visit her tomb in front of his family's homes.
To get there, we end up fording many streams, climbing a small mountain, and end up at a group of mountain homes devoid of electricity, fairly untouched by the earthquake because they are pre-concrete construction, and we sat by candle and moonlight as Haitians have done for centuries.
My team is tired, bruised, sun-burned and mosquito-bit, but thankful for the tremendous opportunities that have presented themselves to us on this trip — and the incredible opportunities we now have to help Haiti help itself.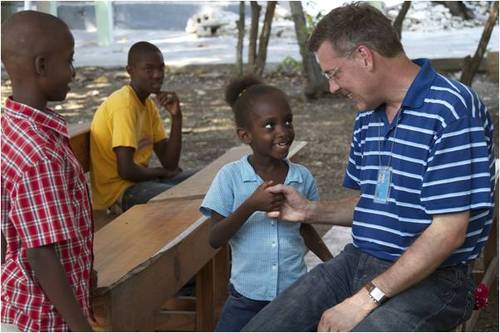 At the end of the day — and the end of the trip – it is about the Haitian children we can help.
Haiti is not looking for a hand-out, just a helping hand. We hope to stay for as many years as necessary, until the time when Haiti will be able to take care of its own people by using its own people.
The children we are placing in Orphans International Worldwide family care, the students we are going to assist in primary and secondary education — both academic and vocational — and the highs school graduates we are setting up with full university scholarships around the world will place a transformative role in rebuilding Haiti. By Haitians.
I am thankful to my team for making this week in Haiti the most productive week of my ten years in international development. At the end of the day, it is all about relationships. Thanks to all of us — Haitian and global — we have leveled the playing field and begun the process in which Haiti may resume, though its children, its future place in the world.
Photos by Morgan Freeman.  Originally published in The Huffington Post, April 3, 2010.

Other Stories and Interviews by Jim Luce about Reconstruction in Haiti

Live Report: Cement Dust Coats All of Haiti, as 9/11 Dust Coated New York (Daily Kos)
Live Report: No Spiders to Bite Me in My Pre-Dawn Haitian Shower (Huffington Post)
Live Report: 200 Haitian Earthquake Survivors Interviewed for Ten Chinese Scholarships (Huffington Post)
Live Report: U.N. Blue Helmets from Sri Lanka Come to Our Assistance in Haiti (Daily Kos)
Live Report: Orphans International Worldwide Goes Live in Leogane, Haiti (Daily Kos)
Live Report: Leogane – Walk-Through of our New Base, Ecole la Redemption (Vimeo)
Live Report: Leogane – Applicants for University Scholarships in Line (Vimeo)
Live Report: Leogane – Interviewing Global Team on Back of Truck (Vimeo)
Live Report: Keiko Tsuyama Interviews a Scholarship Candidate in Haiti (Vimeo)
Live Report: Port-au-Prince – Dr. Tiffany Keenan on Connectivity in Haiti (Vimeo)
Follow Jim Luce on Twitter: www.twitter.com/jimluce