New York, NY. I arrived in Aceh a few weeks after the catastrophic Tsunami of December 2004. As founder of Orphans International Worldwide (OIWW), I wanted to use our original project in Manado, Indonesia, as a springboard to help orphans left behind by the disaster in Aceh, Sumatra. We opened OIWW Sumatera and ran it for three years, until we could reunite the children with extended families following Aceh's economic recovery.
Within a year of the Tsunami, most NGOs had left. We stayed three years. But Rotary International is always long-term. The Rotary Youth Centre near Banda Aceh is a group of multi-function buildings catering to the youth of Aceh who were severely disadvantaged by the Tsunami. The center now consists of an orphanage, medical health centre, surgeries and dental facilities, student accommodation for university students, a sports centre, a kindergarten, and even a training center.
Like the January 2010 earthquake in Haiti, the Tsunami was one the greatest natural disasters of our time, killing hundreds of thousands of people in Indonesia, Sri Lanka and other Indian Ocean nations. The wave's epicentre was only 100 km off the coast of Banda Aceh, in North Sumatra, Indonesia. I witnessed Indonesia, Sri Lanka, and Haiti and the horror its people had endured and have seen with my own eyes their suffering.
Rotary International, the global humanitarian organization, is one of the most important institutions I know of because it helps alleviate such suffering. Rotary Clubs around the world were quick to respond to both the Tsunami and the earthquake. In Aceh, Rotary Clubs contributed funds to my own effort – OIWW Sumatera – as well as their own Rotary Youth Centre Aceh. Rotary Clubs in Bali and Jakarta, Indonesia, and Turramurra in Australia were particularly helpful to creating the Rotary Youth Centre Aceh.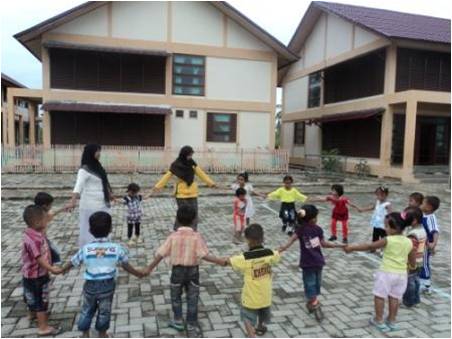 Following a crisis of epidemic proportions, triage is necessary. Rotary established a temporary center for immediate accommodation of traumatised children who had lost whole families in the Tsunami. They designed buildings and construction commenced for a permanent centre. The first buildings to be completed were the accommodation buildings for the orphanage. Past Rotary International president William B. Boyd and his wife Lorna officially opened these during his visit to Aceh in 2006.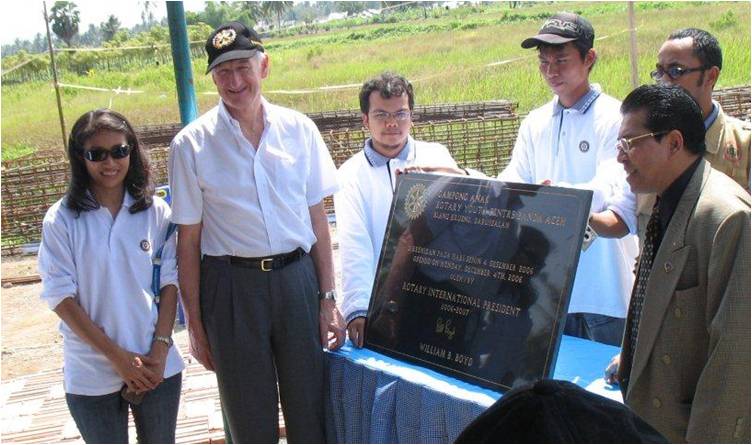 Rotary International's Bill Boyd opened the compound during his 2006 visit to Aceh.
Six years after the Tsunami, the well-built Rotary's Youth Centre continues in Aceh. Its components continue to provide support to the people of Aceh who lost so much. These include:
Orphanage. There are three housing blocks and a training block. Each housing block accommodates ten children and a housemother. The training block is used for a kindergarten, computer training, a sewing group, religious instruction, and traditional dance. The orphanage has been in operation for four years now.

The Rotary orphanage provides a safe environment and food for the children, and ensures a good quality education. The kids attend formal classes at nearby public schools. After school, they are given an opportunity to select an activity for the afternoon, such as sport, Tai Kwan Do, traditional dance, computer training, art, and other skills focusing on activities useful for them after they leave school. There is a session of religious education each evening, important in this Muslim area.

Recreational time is also spent by the children developing fruit and vegetable gardens, chicken farming, aquaculture to raise fish for the table, and planting trees etc. Trips to the beach and other locations are provided on public holidays and some Sundays.

The kindergarten was established at the request of the local villagers, and is now self supporting. We provide the work place, but their parents pay for the teacher's salaries and equipment. The orphans are not so lucky. In most cases they have no parents, and at most a widowed mother with several children.

The sewing group are a group of ladies, provided with a workplace, sewing machines, electricity and training to enable them to make clothing for their families and for schools and to otherwise sell their product. This group is also self supporting.

Health Centre. The centre has medical and dental surgeries and equipment, a CT scan, and patients' waiting rooms, with accommodation for visiting medical practitioners and an administration office. The facilities are almost complete and operations will soon commence, to provide health services for the 24,794 people in Syiah Kuala sub district of Greater Aceh.

Student Accommodation. The student accommodation block has recently been completed, and was initially built to house university students, and international student exchange programs.

Sports Centre. The last to be funded is the Sports Center, which is a steel framed covered "Futsal" suitable for indoor soccer, basketball and other sports. This building is not yet completed.
For over thirty years, there had been a deadly conflict in Aceh, between the national government based in Jakarta and separatists in Aceh. Ironically, it was the Tsunami drowning hundreds of thousands of people, destroying buildings and infrastructure, and paralysing the economy that lead to an internationally-brokered agreement between the two sides, allowing peace a chance to establish a sound economy.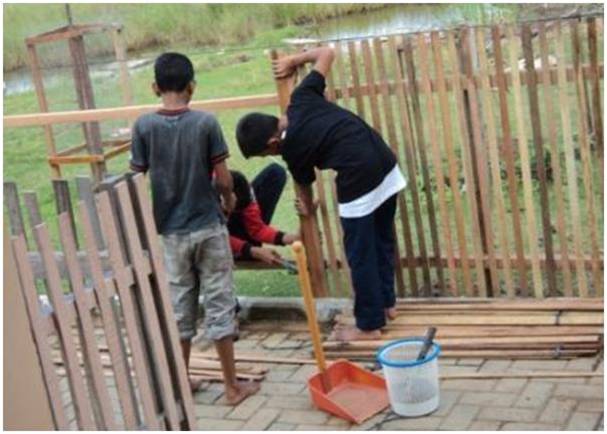 The children of the Rotary Youth Centre Aceh share in the chores of building a center.
I spoke to Fulbright scholar Dedek Arahman, an Acehnese studying in the U.S. who has been involved with the Rotary Youth Centre (RYC) for years. A graduate student for Educational Leadership in the University of Arkansas, she is sponsored by the Bush and Clinton Foundation through the Fulbright Tsunami Relief Program and will return next fall to continue to help the Centre. She told me:
Youth are the future of this country, and education is the secret to lift them out of poverty. The founders of the RYC project believe that it is not enough to provide accommodation and food for orphans and the poor, but that it is also necessary provide the lift necessary to enable them to be self respecting and self sustaining in the future.
I know from personal experience that the $100,000 you raise for Haiti or Sri Lanka or Indonesia immediately after a disaster cannot be replicated the following year. People move on in their minds. The disaster is over. Sustaining a project post-disaster is the most difficult of all NGO activities. Today, the buildings and other infrastructure, clean water and training venues of the Rotary Youth Centre are almost complete, but they need more funding to sustain them.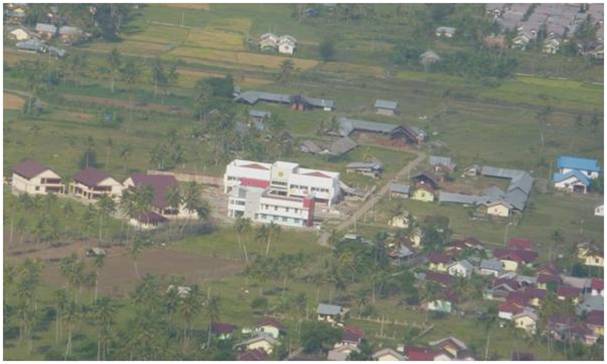 The Rotary Youth Centre is one of Aceh's premier institutions – but needs help.
I was able to track down Rotary International's past president Bill Boyd and reminisce:
When we visited Banda Aceh two years after the Tsunami struck, there was a lot of rubble and little sign of community facilities. The Rotary Youth Center stood out like a lighthouse amongst the damaged buildings and rutted roads and was a beacon of hope. We met the first group of children who would benefit from the Center and while we could not communicate with words we certainly could communicate with smiles.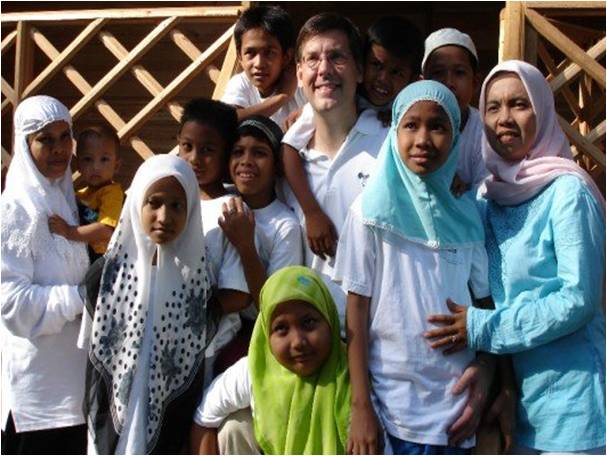 The author with orphaned children from OIWW Sumatera in Aceh after the Tsunami.
I told Dedek that if Rotary would continue to fund the project, I would arrange additional funding from the James Jay Dudley Luce Foundation and Orphans International Worldwide (OIWW). She agreed to try.
At the end of the day, at the end of the disasters – whether in Indonesia, Sri Lanka or Haiti, try is all we can do. I urge us all to try harder – for the sake of the children left standing after the disasters pass.
All photos except of author courtesy of the Rotary Youth Centre Aceh.
See also by Jim Luce:

On Children, On International Development, On Orphans, On Orphans International Worldwide
Lions, Rotary, Kiwanis: Are American Service Clubs Too Old To Matter?
Follow Jim Luce on Twitter: www.twitter.com/jimluce
Jim Luce


Thought Leaders and Global Citizens