Marietta, OH.  The 2016 McDonough Leadership Conference of the McDonough Center at Marietta College has received its lead sponsorship – The McDonough Corporation. Bank of America has signed on as another lead corporate sponsor. This conference will include a panel with J. Luce Foundation Leadership Fellows.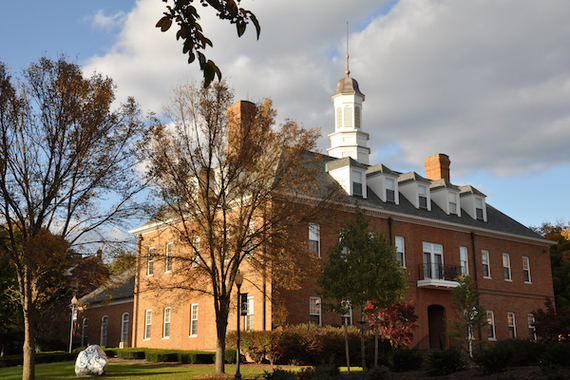 McDonough Center, home of the McDonough Leadership Program
at Marietta College. Photo: Marietta College.
According to Dr. Gamaliel "Gama" Perruci, the Dean of the McDonough Center:
In the spirit of intellectual exploration, scholarship, self-reflection and personal leadership development, we invite all to join us for the next McDonough Leadership Conference. All undergraduate/graduate students and faculty/staff members from any higher education institution are invited to present at this conference.
Located on the Marietta College campus in Marietta, Ohio, The McDonough Center for Leadership and Business was established in 1986 through a generous $5.5 million gift from in honor of the successful industrialist, Bernard P. McDonough (1903-1985). Through his many businesses, Bernard established a strong record of leadership and civic engagement.
Founded in 1835, Marietta College is a private, liberal arts college located in southeastern Ohio where I went to high school. Consistently ranked among the top Midwestern schools by U.S. News and World Report, Princeton Review and others, Marietta College's small and diverse student body enjoy opportunities rarely found at other liberal arts schools.
The Fellowship Program is a calendar-year program in which approved Fellows support the Foundation's mission of supporting young global leadership by applying their own specific training and skills, either in person or virtually, to address the challenges of the Foundation.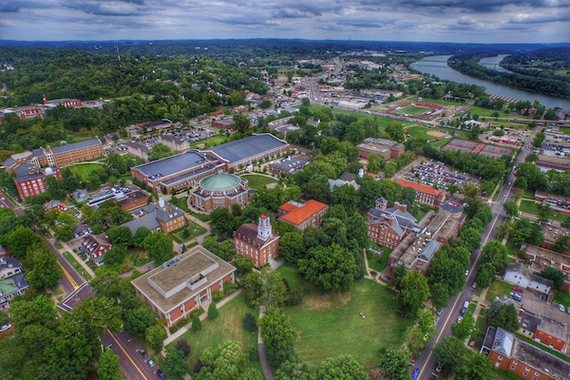 Marietta College is a private, liberal arts college located in southeastern Ohio.
Photo: Marietta College.
.
Foundation Fellows may elect a Foundation special project, including Orphans International Worldwide (OIWW) and The Stewardship Report (SR), or may choose to assist the Foundation itself in the real-world fields of Branding & Marketing Director, Communications, Development, Finance, Program Development, and/or Public Relations.
All six are part of the McDonough Leadership Program at Marietta College. I met them all formally last month in Ohio and another group of bright and eager students anywhere in the world would be hard to come by. Last spring, our foundation established a partnership with the McDonough Center.
Last March, I was honored to be co-recipient of the College's "Mister Mac" – the McDonough Award for Excellence in Leadership. During my campus visit, the McDonough faculty and staff and I discussed concrete steps to develop our partnership.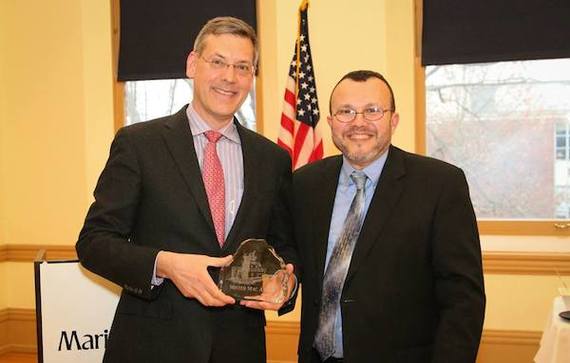 I received the College's "Mister Mac" – the McDonough Award
for Excellence in Leadership last spring from Dr. Gama Perruci,
Dean of the McDonough Center. Photo: Marietta College.
.
Dr. William Bauer, McCoy Professor of Education at Marietta College is also vice president of our foundation. I went to high school with Bill who received his Ph.D. in Rehabilitation Counseling from Ohio State and went on to work with my child psychologist mother in the local special needs high school before joining the College.
Partnership priorities between our foundation and Marietta College for 2015-2016 include the Fellowship Program as well as editorial support for the Foundation's Stewardship Report on Connecting Goodness, collaboration during the McDonough Leadership Conference next spring, a Social Entrepreneurship Internship next summer, creation of the New York Times Luce-McDonough Leadership Summer Reading List, and Board membership training.
I began to speak with the College's Leadership Dean, Gama, last summer and was impressed with how erudite and global his thinking was. When I met him and his family last spring, I was able to add genuine warmth to the list. With a Ph.D. in Political Science, Gama holds a Master's degrees in International Journalism and a B.A. in Economics and Journalism.
Gama is a pioneer in the academics of Leadership and serves as a session facilitator for the Rockefeller Global Leadership Program as well as the Management and Leadership Development Program at Dartmouth College's Rockefeller Center for Public Policy. He is the co-author of Understanding Leadership: An Arts and Humanities Perspective.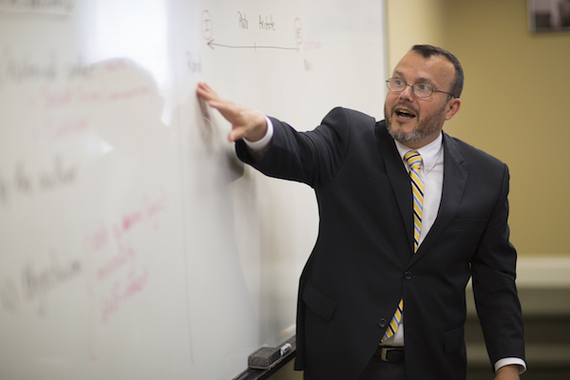 Dr. Gama Perruci, Marietta College McDonough Leadership Dean.
Photo: Marietta College.
.
Aside from his teaching, research and administrative duties, Gama also serves as a consultant for The New York Times, focusing on the newspaper's educational programming for leadership students. In that role, he writes a weekly column, Connecting Theory to Practice. He has assisted other institutions, from the United States Naval Academy in Annapolis, to Zayed University in Dubai.
Gama is also past Chair of the International Leadership Association and has been a frequent guest analyst for the BBC World Service as well as Radio France. He served as a member of the National Selection Committee convened by Harvard Kennedy School's Center for Public Leadership in collaboration with U.S. News & World Report and The Washington Post. Because of his tremendous strength of character, goodwill and common sense, I asked Gama to serve as a Global Adviser to our foundation, which he agreed to do.
I am also enormously appreciative of the support our foundation and Fellows have received from Dr. Joseph and Diane Bruno, president and First Lady of the College respectively. The Bruno's hosted a spectacular dinner for Peter Yarrow and me last month is their Historic Register home.
The Foundation and Orphans International, through our various funds, have raised $1.52 million over the last fifteen years, including having received generous proceeds from four estates. Our children have graduated from OIWW homes and gone on to university.
Young global Luce Leaders have gone on to Harvard, Yale, and NYU. The Foundation has funded numerous organizations in the U.S. and abroad, often year after year. The Foundation's Stewardship Report, which began publishing in 2010, has highlighted over 1,750 organizations and individuals uplifting humanity. Our foundation funds – helping Sri Lankan children, people living with mental illness, disadvantaged and refugee children in Greece to name but a few — continue to flourish, our new Fellows from Marietta College will be a wonderful addition to this trajectory.
I went to high school in Marietta and the beauty of its Appalachian landscape and friendliness of its people have long been known to me. One of my mentors, Peter Yarrow of Peter, Paul & Mary, traveled to Marietta with me last fall for a benefit concert for our efforts and discovered this goodness for the first time – he was enchanted, he told me (story).
Originally published in The Huffington Post, January 21, 2016.
See Stories by Jim Luce on:

Education | International Development | Ohio |
Philanthropy | Young Global Leadership

J. Luce Foundation Announces New Fellows at Marietta College

The James Jay Dudley Luce Foundation (www.lucefoundation.org) supporting young global leadership is affiliated with Orphans International Worldwide (OIWW), raising global citizens. If supporting youth is important to you, subscribe to J. Luce Foundation updates here.