New York, N.Y.  This week, hundreds gathered at the iconic New York Athletic Club on Central Park South to share stories, support and more stories to make more parents aware that their child's life can be saved by a vaccine. It was the tenth anniversary of the National Meningitis Association (NMA).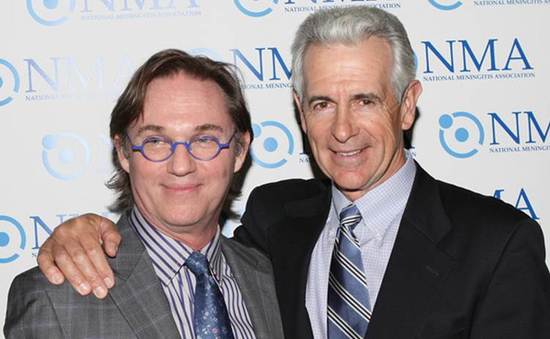 Richard Thomas and James Naughton at the 2012 National Meningitis Association Gala
at the New York Athletic Club. Photo: Steve Mack/S.D. Mack Pictures.
The severity of this disease was brought home to me by a pediatrician with the Infectious Diseases and International Adoption Program of Winthrop University Hospital who spoke with me at the event. I had mentioned that I had an adopted teenage son. Dr. Paul J. Lee said to me, "Imagine if your son Mathew shared a Coke at school with a friend, contacted meningitis, then came home and simply passed away." I could not clear this image from my mind the entire evening. He told me that he has had nice patients — all kids — who have had this happen to them. Two died, and seven had their limbs amputated as a result. "Each of the survivors endured amputations — some quadruple — and required extensive and excruciating skin grafting." And the disease is so completely random.
There are a lot of active mothers supporting the National Meningitis Association including Lynn Bozof, the founder and president of the NMA, who came up from her home in Atlanta where there is a local chapter. Her 20-year-old son, Evan, died on April 20, 1998, after less than one month of battling with meningococcal disease, having fallen ill on March 25, 1998. During those 26 days, Evan — an honor student and pitcher for his university baseball team — had both arms and legs amputated. His Mom and family had no idea at that time that a vaccine existed that could have saved his life.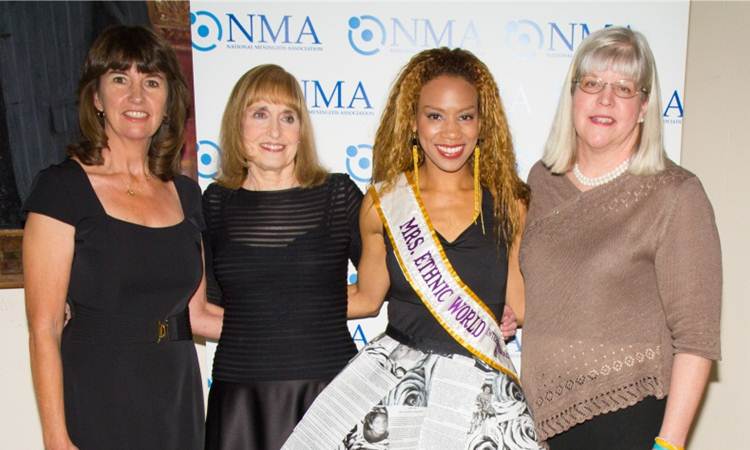 Secretary-treasurer Leslie Maier, founder & president Lynn Bozof, Mrs. Ethnic World Daisi Pollard Sepúlveda with director Lori Buher. Photo: Tom Fitzgerald & Pamela Napoli/Society-in-Focus.com.
Honored at this week's glamorous and important event were:
Health Achievement Award. Sanofi Pasteur, a company whose mission is to save lives through more pervasive and available immunizations.
Moms on Meningitis Award. Jeri Acosta and Jeri Greenwell for their enormous support and accomplishments.

Nancy Ford Springer Inspiration Award. Sara Herbert-Galloway and Barry J. Klarberg of Monarch Wealth & Business Management, for their long-term and active support of the NMA.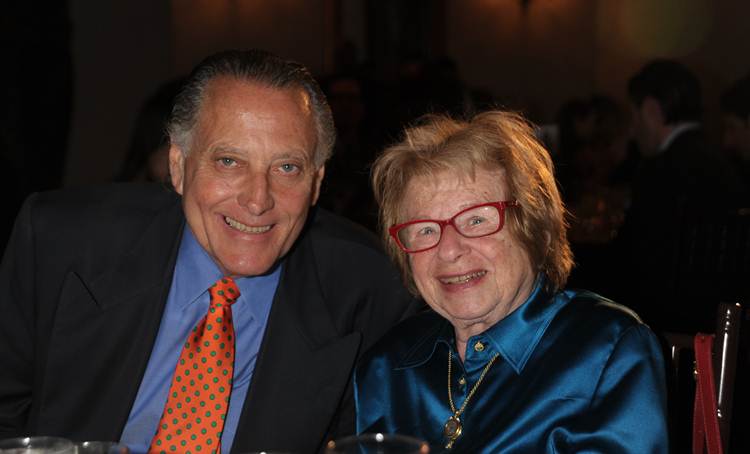 Errol Rappaport with the legendary Dr. Ruth Westheimer. Photo: Rob Rich/SocietyAllure.com.
As former actress Sara Herbert-Galloway put it so eloquently:
Given the quick progression and devastating nature of meningococcal disease, it is important for parents and students to be educated about its symptoms and how to prevent infection, including immunization. We are working nationally and internationally to save lives and are so grateful for the support and love we have witnessed here this evening.
Sara is a true humanitarian and has been involved with the NMA for years. Educated as a Registered Nurse with a specialty in ICU Trauma and Neurology, she has co-chaired the National Meningitis Association's Gala for the past three years. She writes about philanthropic events and posts them on her wonderfulHerbert Collection to generate awareness. She is a former Board member of the Worldwide Children's Foundation, and currently serves on several nonprofit committees including A.C.E for the Homeless, ICAMI's Global Stress Initiative, the U.N. Millennium Development Goal Awards and Founded Appalachia, A Diamond in the Rough.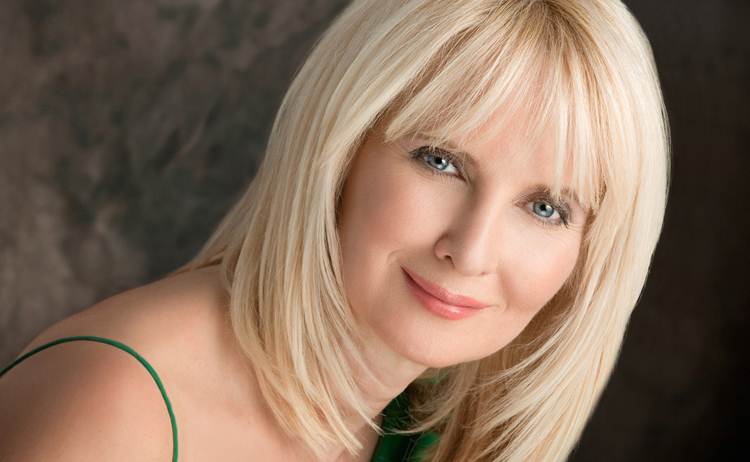 Sara Herbert-Galloway received the Nancy Ford Springer Inspiration Award, along
with Barry Klarberg of Monarch Wealth & Business Management. Photo: Robert Kim.
Barry Klarberg of Monarch Wealth & Business Management, who also received the Nancy Ford Springer Inspiration Award, said:
The brave parents who founded the NMA whose children have died or live with permanent disabilities from meningococcal disease are my heroes. We are dedicated to educating families, medical professionals and others about meningococcal disease and its prevention — to 'give kids a shot' so no other lives are lost and no other families have to suffer.
Barry is a partner in the New York Yankees and represents three dozen current or former athletes, including Mark Messier, Anna Kournikova, Ivan Lendl – along with entertainers that include Justin Timberlake, Charlie Sheen and Russell Simmons. Charlie Sheen is an honorary committee member and tweeted frequently leading up to the gala.

Nancy Ford Springer Inspiration Award recipients Sara Herbert Galloway and
Barry Klarberg with Carol Alt. Photo: Steve Mack/S.D. Mack Pictures.
Here are the facts about meningococcal disease:
Each year, meningococcal disease strikes nearly 1,500 Americans and 11 percent of those infected will die.
Adolescents and young adults are at greater risk for meningococcal disease than most, accounting for 15 percent of all cases. One out of seven who get the disease will die.

Among those who survive, approximately 20 percent live with permanent disabilities, such as brain damage, hearing loss, loss of kidney function or limb amputations.

Meningococcal disease is often misdiagnosed because its early symptoms are much like those of the flu.

Health officials recommend routine vaccination at 11-12 years old with a booster dose at age 16 to protect preteens and teens against meningococcal disease.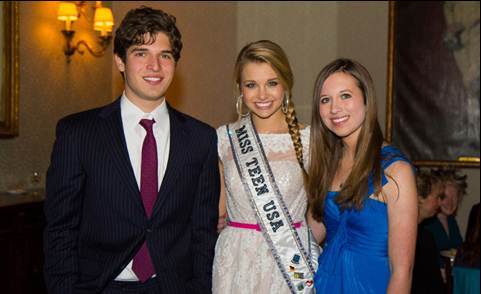 NMA reaches out to young adults through its Teen Health Advocates, Justin and Alana Galloway,
here with Miss Teen USA Danielle Doty. Photo: Tom Fitzgerald & Pamela Napoli/Society-in-Focus.com
NMA is also to be commended for being part of a consortium of non-profits and other organizations fighting meningitis around the world. CoMO was founded in September 2004 at the close of a World Conference of Meningitis Organizations in order to help support the fight against meningitis by emphasizing the global burden of the disease and supporting the establishment of new meningitis and children's health organizations.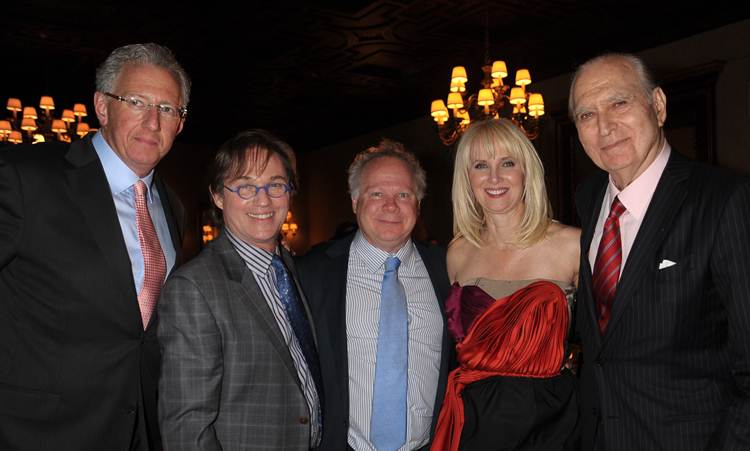 Barry Klarberg, Richard Thomas, NMA Chair Gary Springer with Sara Herbert Galloway
and Ambassador John L. Loeb, Jr. Photo: Rob Rich//SocietyAllure.com.
It was amazing to witness the incredible star power that united for Sara Herbert-Galloway, Barry Klarberg , Nick Springer and his family, Lynn Bozof and the NMA to combat Meningitis. Ambassador and Mrs. John Loeb, Joe Sirola, Monique Van Vooren, James Naughton, Peter Thomas Roth, Lucia Hwong Gordon, Jean Shafiroff, Mary Sliwa, David Hyrck, and Carol Alt were among the truly beautiful people.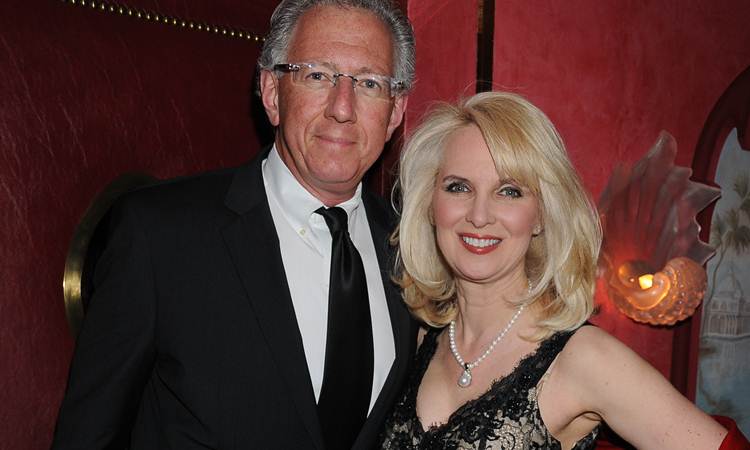 The inspirational Barry J. Klarberg of Monarch Wealth & Business Management with
actress and humanitarian Sara Herbert Galloway. Photo: Rob Rich/SocietyAllure.com.
Dr. Ruth Westheimer whom I had not seen for a while, as well as John Catsimatidis in whose home I met and wrote about Yoko Ono last year. Power couples included Rod and Judy Gilbert, Dr. Howard Sobel and Gayle Perry Sobel, and James and Kedakai Lipton of the Actors Studio. Mrs. Ethnic World International 2012 Daisi Pollard Sepúlveda and Miss Teen USA Danielle Doty added to the star quality. The amazing master of ceremonies Richard Thomas kept the evening entertaining – and real.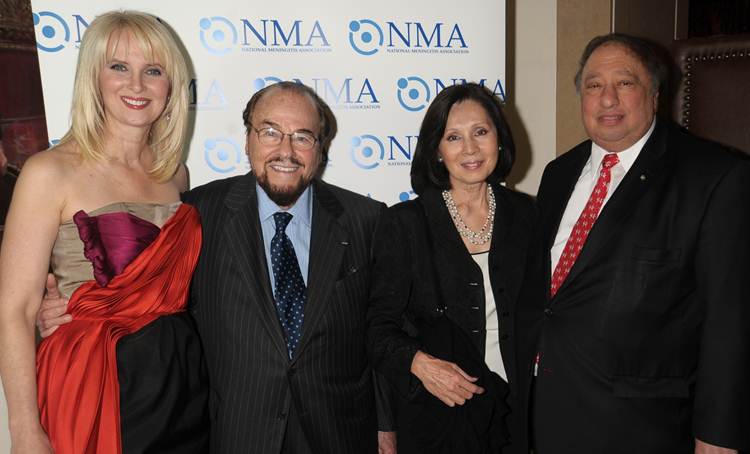 Sara Herbert Galloway, actor James Lipton, Kedaki Lipton, John Catsimatidis.
Photo: Rob Rich/SocietyAllure.com.
Thanks to speaking with leaders such as including Lynn Bozof, Sara Herbert Galloway, Dr. Paul J. Lee, Lorraine Cancro and Gary Springer, my son now has an appointment to get a vaccination for meningitis from his pediatrician. =I believe this will protect him from the ravages of this horrible disease. I may well own my son's life to the National Meningitis Association.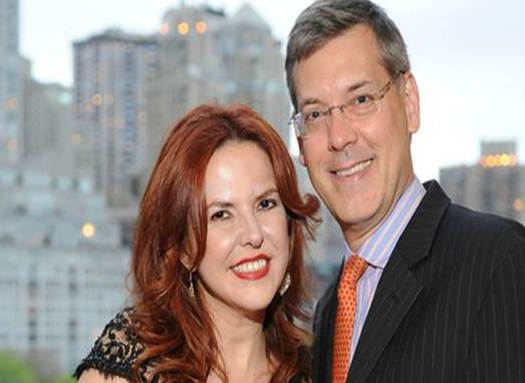 Lorraine Cancro with the author on the terrace of the New York Athletic Club.
Photo: Gregory Partanio/Manhattan Society.
Meningococcal disease, sometimes called bacterial meningitis, is a potentially fatal bacterial infection that may cause death or disability within hours. However, it can be prevented through vaccination. he Centers for Disease Control and Prevention (CDC) recommends meningococcal vaccination for all children at 11-12 with a booster at age 16.
Originally published in The Huffington Post.
See Stories by Jim Luce on:

Children | Health | New York | Philanthropy | Social Responsibility

The James Jay Dudley Luce Foundation (www.lucefoundation.org) is the umbrella organization under which Orphans International Worldwide (OIWW) is organized. If supporting young global leadership is important to you, subscribe to J. Luce Foundation updates here. Follow Jim Luce on Facebook andLinkedIn.