Cory Aquino fought with yellow ribbons, Aung San Suu Kyi fights with a dignified silence.
Cambodian Parliament Member Mu Sochua leads the opposition with candles.
Mu Sochua has expressed hope that the Supreme Court will make a fair ruling in the case. However, she repeats her initial position that she will refuse to pay the fine if the court upholds her guilty verdict, because the decisions of the lower courts were politically-motivated.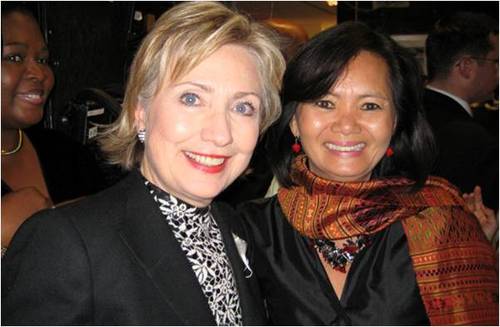 Cambodian M.P. Mu Sochua with Secretary of State Hillary Clinton at the
Vital Voices Tribute to Global Women Leadership lin Washington, D.C.

Mu Sochua's position is driven by principles of fair trial, freedom of speech, and gender justice:
Fair Trial. The judiciary is well-known for corruption and control by the executive branch, and by those who have political influence and money. The lack of reforms of the judiciary in Cambodia and the direct manipulation of the justice system by the executive must be condemned and immediate steps must be taken to allow judges and lawyers to exercise their roles and functions according to the rule of law and the principle of independence of judges and lawyers.
Freedom of Speech. Criminal charges of defamation, disinformation and incitement are being used to silence critics of the government, including journalists, trade union leaders, teachers and villagers, who dare to speak out against injustices. Even citizens seeking assistance from opposition MPs as victims of land grabbing, corruption, and abuse by local authorities are directly threatened and labeled as opposition activists. They are closely monitored and are often arrested without warrants.
Gender Justice. Women in Cambodia are expected not to speak out against abuses of any kind, and to silently suffer with injustices. Despite the number of strong women willing to risk their lives to organize against land grabbing and other community concerns, the backlash against their "audacity" has been even more fierce.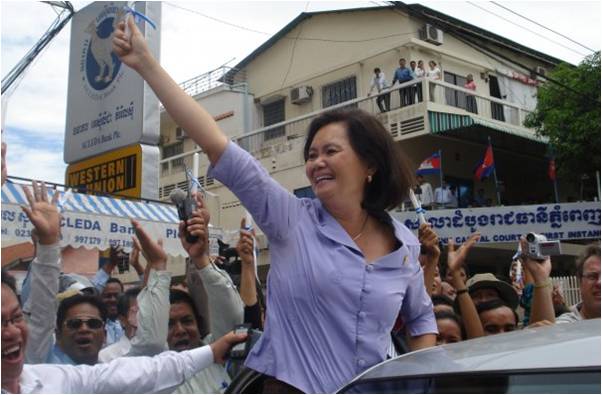 Waving to her supporters, the odds are stacked against Cambodian Parliament Member
Mu Sochua. Many of her contemporaries in the opposition have been assassinated.
Mu Sochua thus calls on civil society and the international community to continue their vigilance of the current surge of defamation cases against dissenting voices, partisan political pressure on the judiciary, and troubling status of women.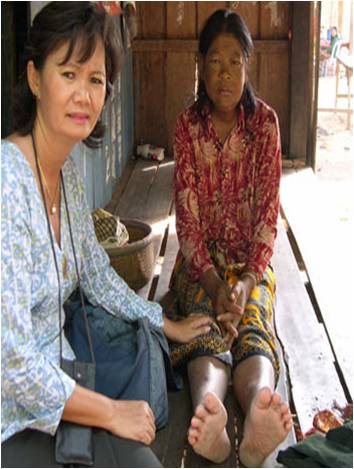 M.P. Mu Sochua visits a paralyzed woman denied quality health services.
She calls on the international community to remain vigilant in the next few weeks, and to take action to pressure the Cambodian government to:
Reform the judiciary and ensure independent and impartial trials for all who come before the courts.
Halt criminal prosecutions of critics of the government, who must be allowed freedom of speech.
Mu Sochua also calls for renewed momentum in Cambodia and across the globe to create social and institutional changes necessary to ensure equal respect and dignity for women in Cambodia – especially those who dare to stand up for their beliefs and speak out against injustice.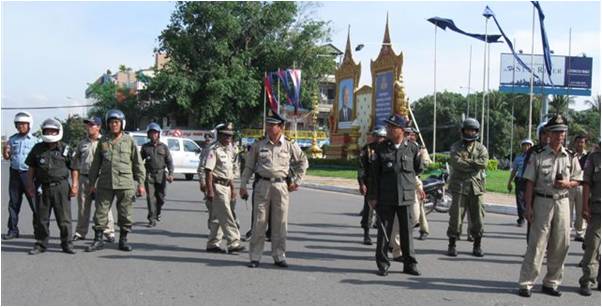 Armed police in Phnom Penh blocking the opposition's anti-corruption march.
Background.
In April 2009, following a confrontation with military police during which Mu Sochua's blouse was torn by an officer, Prime Minister Hun Sen made a speech in Kampot Province attacking Mu Sochua's character as a woman. He called Mu Sochua "strong leg", a term considered to be an offensive insult against women in Cambodia; he also called her a "gangster/thug" and suggested that she intentionally disrobed in front of the officer.
In response, Mu Sochua sued Hun Sen for defamation, demanding a symbolic sum of 500 riel (about USD 12 cents). Mu Sochua's aim was to make a statement, for equal treatment of Cambodian women whom she believes were all affected by Hun Sen's words. However, with the judiciary lacking independence from the executive, the Court dismissed her case for lack of evidence. Furthermore, in return, in June of the same year, Hun Sen sued her and had her stripped of her parliamentary immunity during a closed-door, executive-dominated parliamentary session.
In August 2009, Phnom Penh Municipal Court found Mu Sochua guilty of defamation and ordered her to pay 16.5 million riels (around US$3,975) in fines and compensation to Hun Sen, a verdict that was upheld by the Court of Appeal in October.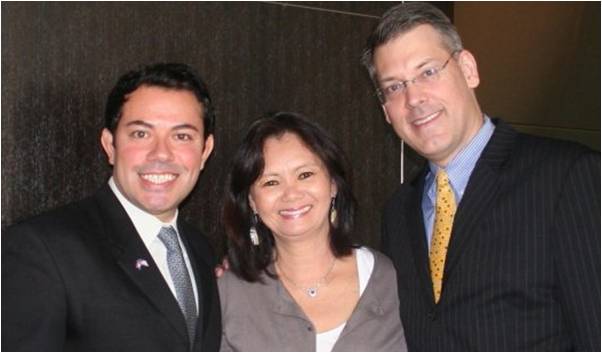 Cambodian Parliament Member Mu Sochua, whose is in danger for leading the opposition,
with Jean-Michel Tijerina of the Cambodia Project and Jim Luce in the safety of New York City.