New York, N.Y.  My mother's words still ring out in my head, year after year. It was Thanksgiving 1998, Boston. I was continuing to complain about how traumatized I felt having experienced the Dicksonian conditions of the orphanage where I found my infant son Mathew in Indonesia. The warehouse institution was crib-to-worn-out-crib of children dressed in rags, clean but threadbare. Impoverished would be an understatement. Dirt poor, as my mother would say.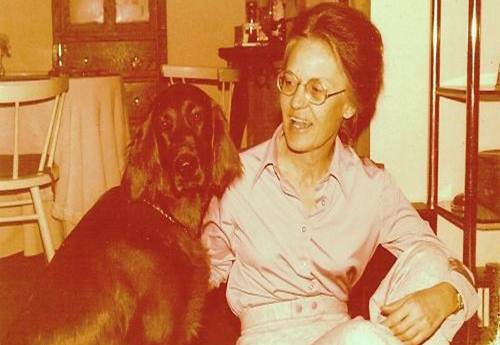 Mom, post-divorce, with her beloved dog and
Women's Empowerment Groups in the 1970s.
Photo: the author.
I had hoped my mom, a child psychologist, would commiserate with me. Allow me to suffer quietly for what I had seen. I was wrong. She wanted action. "If you identify something wrong in this world, it is up to you to fix it. Stop complaining and do something!"
Growing up I read Mother Jones: don't mourn, organize! I had forgotten she had read — lived it — too. To humor my mom, I agreed to write a feasibility study on how orphan care could be improved in the developing world and settled onto the SOS Children's Villages model, writing a 350-page thesis on how to raise children in small homes connected to one caregiver rather than in large, cold institutions with revolving staff. I worked in finance, which back then we called Wall Street, and knew little about children or NGOs. Over two years, mom edited my thoughts leaving us with the blueprint for orphan care still in use today.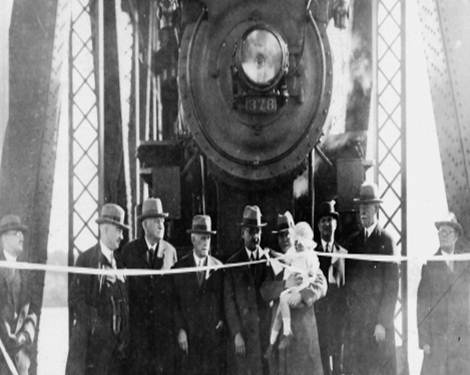 As a child, my mother was chosen to open the Bath Bridge in
Portland Maine, 1927. Photo: the author.
Several weeks after the thesis was completed my mother, Frances Dudley Alleman-Luce, unexpectedly passed away. Unbeknownst to me, she had left my portion of her estate to begin what we called Orphans International Worldwide (OIWW), an organization that played a significant role in orphan care following the 2004 Tsunami in Indonesia and Sri Lanka, and in Haiti after Hurricane Jeanne and later the earthquake of 2010. Today, OIWW continues to support orphans in Asia, Africa and the Americas.
Mom and Dad's marriage was essentially arranged by their two families
and did not last. Photo: the author.
My mother was not a Tiger Mom but rather a WASP Mom. A direct descendant of Thomas Dudley, Third Governor of the Massachusetts Bay Colony and signer of the Harvard Charter, her lineage was referenced in the New York Times headline of her marriage to the Luce family (here). Social causes were more important to her than social standing — or academics. Despite her multiple degrees, she allowed me to miss significant amounts of high school to march in civil rights marches and to serve as the Episcopal Diocesan Youth Representative at the state capital. Her own causes, embraced in the 1960's and '70's, were civil rights and women's liberation. She was rebelling against the slave owners on her maternal grandfather's side, and from the man her family had expected her to marry — my father.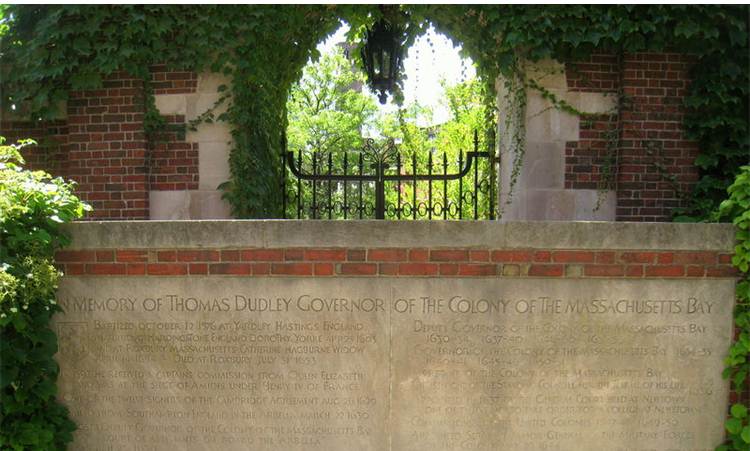 As a child, my mom would always take me to see the Dudley Gates at
Harvard Yard. Photo: Wikipedia.
My kindergarten year — just before mom embraced Martin Luther King and Gloria Steinem — my family lived in Paris and mom spoke French with the best of them. She would occasionally slip and declare herself at the table to be pregnant when she was simply full. She knew how bored I was of touring the endless chateaus my father wanted to see, so she convinced me that each and every one was the home of Thierry la Fronde, the Robin Hood of France whom I idolized.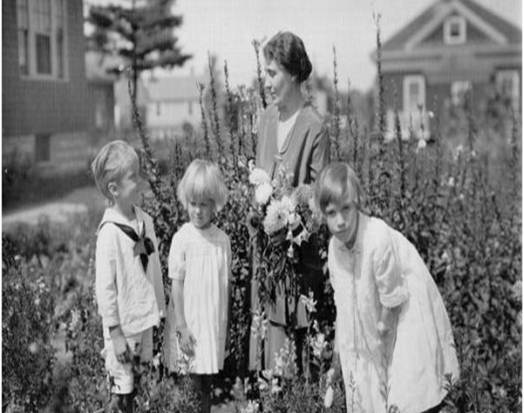 My mother (middle child) in their back yard in Portland, Maine in 1928,
was active in civil rights. Her mother, standing, came from Fredericksburg,
Maryland where her father had owned slaves. Photo: the author.
Moving to public school in junior high school following her divorce in 1972, I was often bullied. It was then that I changed my name from "James" to "Jim," seeking to mitigate my roots. Not until the last year had I ever embraced my real name when we used it to name our foundation. In high school, when not editing the school paper, I sought solace alone in my room reading Gandhi, MLK, Khalil Gibran, and Elie Wiesel. Mom gave me a beautifully framed Desiderata for Christmas during that era. I found comfort in its "Go placidly amid the noise and the haste…"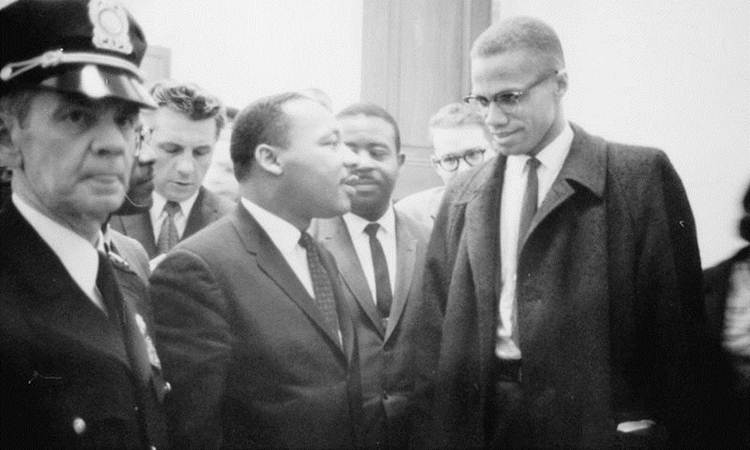 Mom would take me out of school repeatedly to join in civil rights marches
in the 1960's. Photo: Wikipedia.
Perhaps the happiest times with my mom were summers on Martha's Vineyard, where she would relax as I explored ancient cemeteries, collecting grave rubbings of the Luce family. Mom was always accepting of my sexuality — I'm gay — and embraced my adopted Chinese-Indonesian son as if her were her own blood. In fact, given the Anglican nature of my family, marrying outside the Church of England was a bigger transgression for her than same sex marriage. As she told me once, "When you decided to break with tradition, you really went for it!"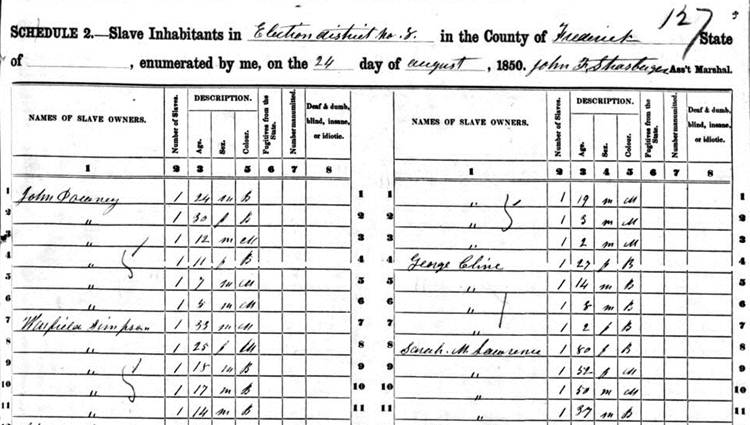 My mom's grandfather Warfield Simpson owned slaves,
here recorded in the census of 1850. Image: the author.
Her two other favorite oft-repeated remarks about me were that still make me chuckle were, "When my son came to the fork in the road, he decided to go cross-county," and "My son walks through life as if it he is on a trapeze without a net."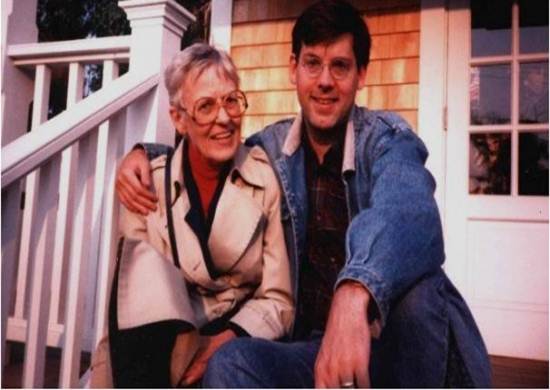 Vacationing on Martha's Vineyard, American origin of the Luce family,
with my mom in 1990. Photo: the author.
Mom's 2001 memorial service in New York, in a church belonging to the American Baptist denomination of Martin Luther King, included Buddhist, Muslim and Jewish prayers, Japanese modern ballet, Dominican drums, and majestic trumpeters to blast that stirring hymn Joyful, Joyful We Adore Thee. Then-mayor Giuliani wrote a letter in her honor. In Washington, The Congressional Record sadly noted her passing and the president sent his condolences.
U.S. Congress Representative Carolyn B. Maloney of New York wrote:
Ms. Alleman-Luce was an extraordinary woman far ahead of her time. She played an active role in the American Civil Rights Movement during the 1960's, training the Freedom Riders as they gathered in Oxford, Ohio before driving down to Mississippi. Ms. Alleman-Luce was an exceptional individual and a caring mother. A proud lifelong Democrat, a friend of the disenfranchised, and a caring educator, Ms. Alleman-Luce will be sorely missed.
Former Mayor Rudolph W. Giuliani who was then in office noted:
Frances D. Alleman-Luce was a towering personality who gave of her time and efforts towards the betterment of humanity. It is indeed fitting that we honor her by creating this orphanage fund which will help overseas orphans in Indonesia, Haiti and elsewhere. This is truly a noble pursuit that I wish tremendous success.
At her memorial I spoke about what my mother had taught me and how she was the impetus to form Orphans International Worldwide:
My mother taught me — by words and deeds — to stand up for the oppressed, fight against injustice, and believe in both myself, and the inherent goodness of humanity. I remember walking the picket line with my mom at the age of ten, protesting on behalf of the United Farm Workers. I remember being taken out of school for civil rights marches.

My most vivid childhood memory of my mother was hearing her anguished cry when she learned that Dr. Martin Luther King had been shot. Because of my mother, I have developed an interest in helping children around the world — children who are the "underdogs" — victims of poverty, disease, and conflict.

This is a time for remembering the dead. Letting their death provide the impetus to serve the living. This is what my mother wanted, and this is what the Frances Dudley Alleman-Luce Memorial Orphans Fund will do.
My mother was special in that all mothers are special. Reach out to your mom today if you are lucky enough to still have her around and tell her how much you love her. Many of my friends have lost their parents because they could not accept them for being gay or lesbian, but remember all mothers are special, even if they have turned their back of you for whatever reason. Not everyone is perfect. But they are still your mother. They might not realize it, but they need you.
Many people think that I rebelled against my Republican family, but both of my parents were very liberal. Progressive Eugene McCarthy/George McGovern Democrats through and through. It is they that broke the family's conservative traditions, not me. My parent's bitter divorce when I was twelve makes it hard for me to think of them together, and I loved my dad deeply, but for sure I miss my mom very much – and thank her for who I am today.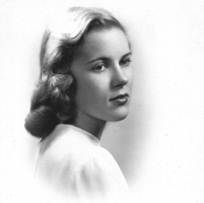 Frances Dudley Alleman-Luce in 1944.
Originally published in The Huffington Post, December 11, 2011.