New York, N.Y.  The Japan American Association (JAA) of New York has made a generous contribution to an important project of Orphans International Worldwide (OIWW) in Haiti. JAA has actively participated in helping the global community since inception, most recently assisting victims of Hurricane Katrina and the Tsunami in Indonesia. This civic organization has also funded the September 11th Fund, earthquake relief in Japan, and the International AIDS Conference in Yokohama.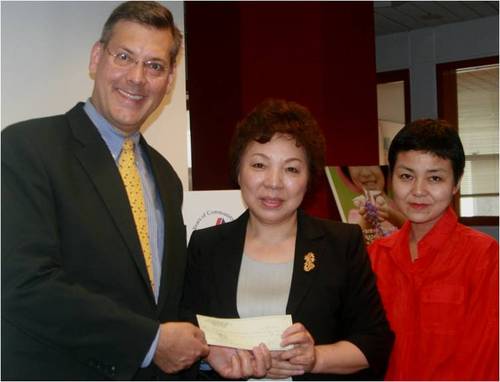 Michiyo Noda, Executive Director of the Japanese American Association,
with Japanese journalist Keiko Tsuyama, presents a check for Haitian students.
Following the destructive earthquake of January 12, 2010, leaving virtually all of Haiti in ruin, Orphans International Worldwide continued their ten-year commitment to beleaguered Haiti by instituting "Project Leogane." This project is a multi-facetted approach to rebuilding Haiti outside of its capital, and for providing as much support to the orphaned population there as possible.
One program initiated is the OIWW Haiti College Prep Leadership Training Program for 50 particularly bright high school graduates, with English and computer training, based on the premise that Haiti does not need a hand-out, just a helping hand. OIWW is working actively to place these students in university scholarship programs around the world. These students are in turn mentoring OIWW Haiti's orphaned children.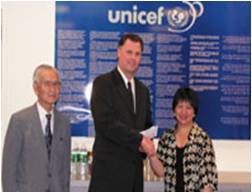 The Japan American Association of New York contributes to many important causes.
Michiyo Noda, Executive Director of the Japanese American Association, presented a check to Orphans International Worldwide for Haiti following a presentation to the Association by journalist
Keiko Tsuyama
and photographer
Morgan Freeman
, who both spoke to the group about OIWW's work in Leogane last month. Both Keiko and Morgan visited Leogane after the earthquake.
Project Leogane is taking place in the East Province of Haiti, 18 miles West of Port-au-Prince. Leogane was the epicenter of the January 12 earthquake that destroyed Haiti, leaving 90% of its buildings in ruins. OIWW's specific objective is to provide post-disaster family-care programming for orphaned children living with their extended families there, which is a part of Project Leogane.
OIWW Haiti has partnered with the Ecole Primaire la Redemption elementary school in Leogane, which runs until the ninth grade and will be extended to grade thirteen one year each successive year. The school has a three-story structure with about seventeen classrooms that sustained minimum damage during the earthquake, and has the original two story wooden structure adjacent to it. Classes now are held in 17 tents erected in the school yard.
At the end of the day, it is all about helping the children of Haiti resume productive lives.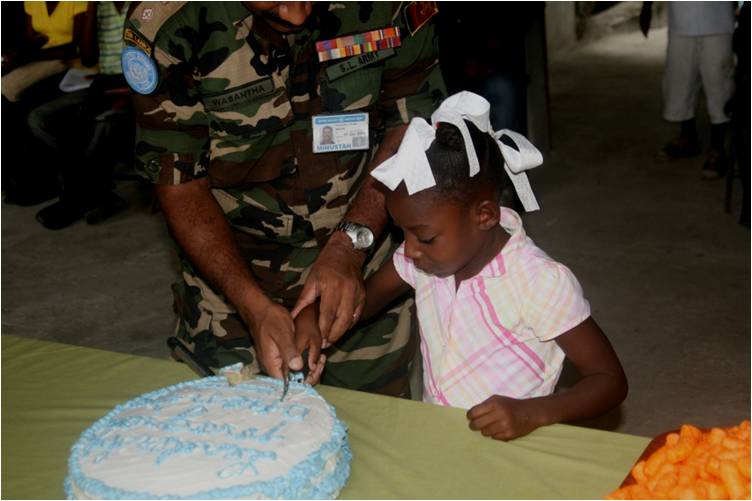 Here, the U.N. MINUSTAH Commander assists an OIWW orphans at Opening Ceremony.
The children in Orphans International Worldwide Haiti's family care — and the high school graduates in its Leadership Program funded by the JAA — will place a transformative role in rebuilding Haiti. By Haitians. Another group of organizations that have supported the project are Latino fraternities and sororities, such as
Phi Iota Alpha
.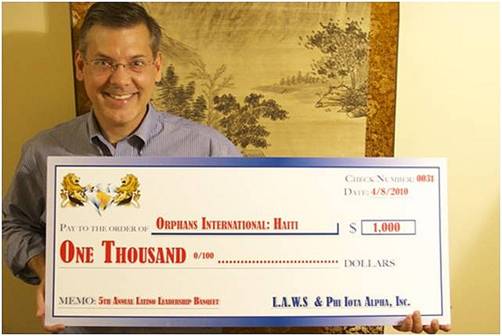 A gift from the Latin-America Students of Long Island will also help in Haiti tremendously.
At the end of the day, it is all about relationships. Thanks to organizations such as the Japan American Association in New York, the playing field will be leveled the process begun in which Haiti may resume, though its children, its future place in the world.
Other Stories by Jim Luce about Japan and Haiti in The Stewardship Report:

Keiko Tsuyama: Japanese Woman of the World

Yoko Ono Support Mayor Akiba and Nuclear Disarmament at John Catsimatidis' Fifth Avenue Home

Japan's PIKADON Project & Hiroshima Yes! Campaign in New York City

Orphans International Partners with Haitian School Founded by Orphan

College Prep Leadership Training Begins for our Orphan Mentors
Follow Jim Luce on Twitter: www.twitter.com/jimluce
Originally published in The Huffington Post, June 21, 2010.