New York, N.Y.  In looking back at 2013's most successful Manhattan events, the one gala that stands out for me took place on the USS Intrepid along the West Side Highway in early October. Although I have attended numerous galas on The U.S.S. Intrepid, nothing prepared me for the scale and impact of Chelsea Clinton's keynote address on behalf of Pratham – the largest education organization in India. And to witness about two million dollars be raised for children.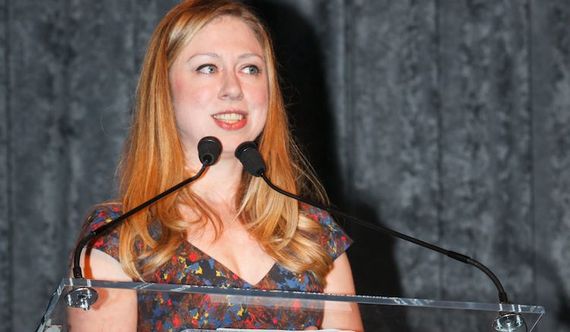 Chelsea Clinton Speaking at the Pratham Gala.
Photo Credit: Sarah Merians/Courtesy: JINGO Media.
About 600 of New York's 
crème de la crème
 from finance, technology and entertainment sectors joined forces for educational efforts targeted at India's underprivileged children. Pratham's annual New York City gala attracted C.E.O.s of major U.S. corporations and financial and investment firms, senior diplomats and celebrities who enjoyed a star-studded evening on board the 
Intrepid
.Guest speaker Chelsea Clinton, who has been my hero for years, shared a story about her parents being the first in their families to seek higher education. She herself went on to Stanford, Oxford, Columbia, and NYU. I have heard Chelsea speak each year's at the Clinton Global Initiative (
CGI
) and was enormously pleased to chat with her on the Intrepid about striking differences in international development between two countries dear to us both, India and Haiti.
During her keynote remarks, Chelsea Clinton stated so eloquently:
I applaud Pratham for the strides it has made in helping expand quality education for every child in India. Pratham's strategy of engaging all the sectors that need to work together to ensure any child anywhere gets the education he or she deserves — the government, businesses and private citizens that work collectively toward a common goal — is remarkable and should be the model followed by other countries who have similar education challenges around the world.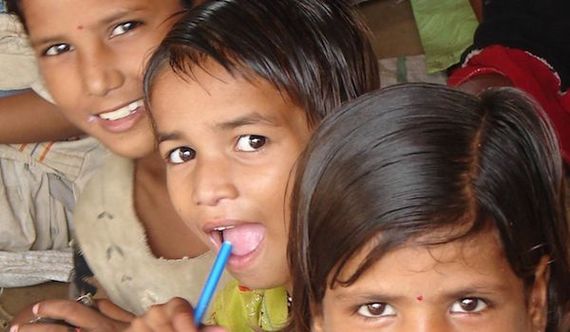 Pratham Students in a Classroom in India. Courtesy: Pratham USA.
My new hero, education activist Malala Yousafzai, sent a special video-taped message applauding India for the gains it has made in making primary education universal — and reminding the audience of all that remains to be done in other parts of the world. I heard Malala speak brilliantly at CGI last month and am pleased to say my Orphans International Worldwide (
OIWW
) has inducted her as a hero to orphaned children around the world.
A live tele-presence with children at a Pratham school in India's Pune was a real highlight of the evening for me – to see and hear the children whose lives have been so radically altered by Pratham. The future Chelsea's and Malala's of India.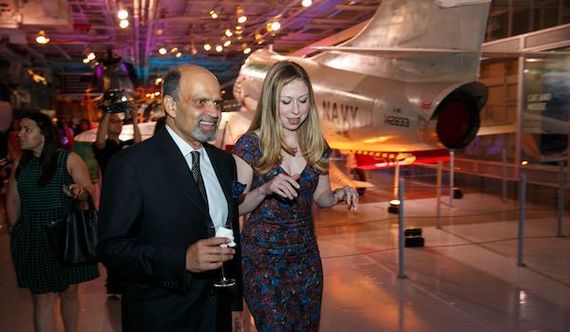 Pratham Tristate Chair Dinyar Devitre with Chelsea Clinton.
Photo Credit: Sarah Merians/Courtesy: JINGO Media.
Our 
foundation
 is dedicated to supporting organizations that don't waste so much on overhead. "What sets an organization like Pratham completely apart is that we are run almost fully by volunteers," Pratham's Tristate Chapter board chair Dinyar Devitre told me. "From our programs in India to our galas all over America, volunteers dedicate hundreds of hours of their time, allowing us to utilize 96% of the monies we raise directly for the children." That rocks.
I chatted with the evening's emcee for the second year in a row, Hollywood and Bollywood actor Omi Vaidya, who told me how pleased he was they were able to raise so much for the children of India.
My friend Indian-American fusion singer Isheeta Ganguly sang Bande Mataram which features the great Tagore's poem, Where the Mind is Without Fear. A graduate of Brown with a MPH from Columbia University, Isheeta captivated the audience with her passion and talent. She told me:
The piece I performed, Bande Mataram, is a patriotic song written in 1882 by the renowned Indian writer Bankim Chandra. The song was written as an outcry for freedom within a dream for greener pastures in a new India. Almost seventy years later, that dream has not been realized by most.
Pratham's mission and work are an outcry for freedom to bridge the immense gap in access and opportunity for millions who cant avail the basic tools of literacy much less a complete education.
Since its start in Mumbai almost twenty years ago, Pratham has become one of the most influential forces in India's educational system. It is my favorite. It currently serves the education needs of underprivileged children in most of India's 28 states and is one of the world's largest non-profit organizations in the field of primary education.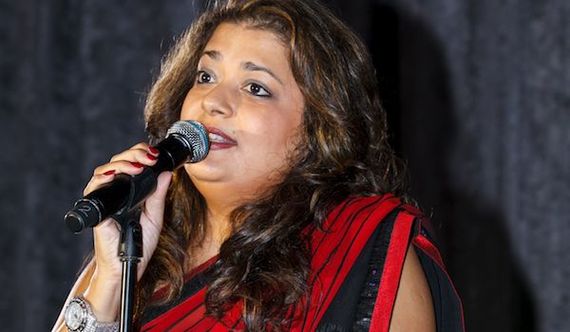 Singer/Songwriter Isheeta Ganguly performing "Bande Mataram."
Photo Credit: Sarah Merians/Courtesy: JINGO Media.
Pratham's innovations have been recognized with the Kravis Prize for Leadership, the Skoll Award for Social Entrepreneurship, and most recently, the WISE Prize, which is equated with a Nobel in Education, for its C.E.O. & Co-founder, Dr. Madhav Chavan, who spoke at the gala about four of Pratham's major programs: Annual Status of Education Report (ASER), Read India, Second Chance, and Vocational Training.
Pratham's strategy – perhaps the world's largest campaign to improve remedial education – centers on recruiting youth from the communities it serves and training them as teachers. More than 62,000 volunteers reach two million children in 20,000 villages. PBS NewsHour recently highlighted Pratham's important work (link).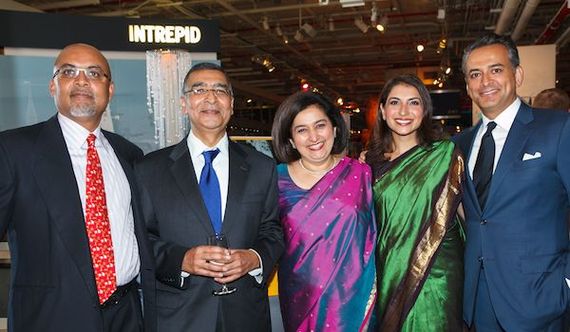 Guests Enjoying the Pratham Gala: (From L to R) Pratham USA Chairman Arvind Sanger,
Sanjiv & Sangeeta Sobti (gala co-chair) and Salonika and Venk Lal.
Photo Credit: Sarah Merians/Courtesy: JINGO Media.
As you probably know, India is a young country. More than a third of India's population is under the age of fifteen. Of those, a staggering 25% — a shocking 100 million children – cannot read or write, perpetuating a cycle of poverty and exploitation.
Pratham was founded in 1994 to ensure that "every child is in school and learning well." Today, as the largest non-governmental organization working in the education space, they have a presence in urban and rural communities across twenty Indian states, which enables them to reach 1.5 million children each year.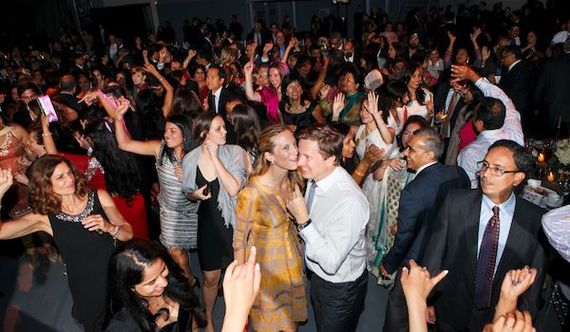 Guests Dancing to Bikram Singh's Bhangra Music.
Photo Credit: Sarah Merians/Courtesy: JINGO Media.
Rather than build schools, their approach is to leverage resources through partnerships with local schools and community stakeholders, including state government, to plan and implement our methods, allowing our programs to be both cost effective and easily scalable.
Pratham harnesses India's human capital: 60,000 volunteers and 40,000 teachers from local communities have been trained in our teaching and assessment techniques so they can help students develop basic literacy and numeracy skills.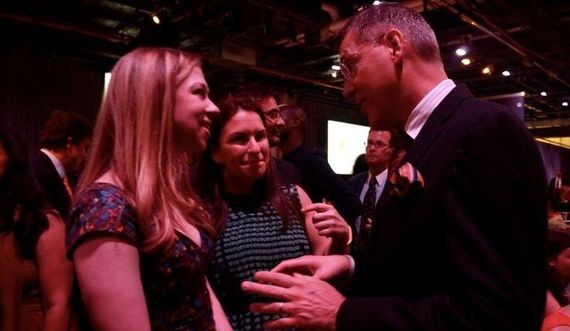 Chatting with Chelsea Clinton at the 2013 Pratham benefit on the Intrepid – the largest
NGO in India focused on education for all. Photo: John Lee/The Stewardship Report.
Dear to my heart, Pratham is committed to transparency, monitoring and evaluation. They survey 600,000 children in 300,000 households annually across India to assess learning levels. Moreover, they collaborate with external entities such as MIT's Poverty Action Lab to evaluate the effectiveness of our programs. The future of international development is all about collaboration.
Too many organizations in the world waste enormous amount of funding on high rent and salaries. The future of sustainable philanthropy is organizations such as Pratham that leverage volunteer opportunities with low overhead and maximum impact in the field. Individual leaders such as Chelsea Clinton and Malala Yousafzai are needed, but without effective and efficient institutions such as Pratham, their valiant efforts would not be as successful. I could not endorse the work of Pratham more strongly.
Pratham USA 9703 Richmond Ave, Suite 102 | Houston, TX 77042
Tel. 866-PRATHAM | info@prathamusa.org

See Stories by Jim Luce on:
Children | Education | India & Indian-American Culture | New York |
Orphans | Philanthropy | Social Responsibility | Young Global Leadership

The James Jay Dudley Luce Foundation (www.lucefoundation.org) supporting young global leadership is affiliated with Orphans International Worldwide (OIWW), raising global citizens. If supporting youth is important to you, subscribe to J. Luce Foundation updates here. Purchase tickets for the next event here.

Follow Jim Luce on Facebook, Tumblr, Twitter, and LinkedIn.

Originally published in The Huffington Post, January 10, 2014.