Her Majesty Queen Noor of Jordan addressed Soliya's "11-9: From Hate to Hope" symposium.
Queen Noor was present at an event entitled "11-9: From Hate to Hope," in partnership with the United Nations Alliance of Civilizations and Soliya, held at SoHo House in New York City last fall.
She admitted to those assembled earlier in the evening that nothing frustrates her more than American and European reporters asking her how it felt to live on a "repressive society." Her Majesty feels that Islam is a religion of liberation, not repression.
Queen Noor said she had married a man who was a direct descendant of the Prophet Mohammed, the late King Hussein of Jordan, and that she knew the Prophet's message was one of human rights, tolerance, equity, and peace.
She told me:
The principals of Islam are not well known, and are often politicized, dehumanized by the media.

Islam is not authoritarian control but rather consensus. The fundamental value of Islam is consensus.

Islam is about learning, pluralism, the importance of education and knowledge, learning, and studying. The first teachings of Islam are about social justice – and the fundamental responsibility we have to help one another.

The importance of charity is a key tenet of the faith. Help for widows and orphans. A certain proportion of one's income to go to charity to support those less fortunate.

It was revolutionary at the time – equality, women's rights. These values are blurred in some parts of the Muslim world, but the teachings are very clear.
Negative stereotypes exist, she posited, because of depictions in the media – from news to popular entertainment. "Media has been part of the problem, so it follows that media – new, interactive media traditional media – can be part of the solution," the Queen explained.
"These media, used in combination, can have a transformative impact on the world's divides," she said.
Soliya's program, "11-9: From Hate to Hope," was held to introduce the organization's new program, "Terana" (video). This program is an internal website portal that uses the best features of Facebook, Yahoo Instant Messaging, and Skype to allow tomorrow's global leaders to connect today.
Her majesty continued:
Young people can work together to turn around the world's destructive, counter-productive inhumane cycle of ignorance and fear which prevents us from realizing our common humanity.

They can, God Willing, feel motivated to help shape this vision. We are taking an enormous leap of faith, to turn the tide, to gain a momentum to move in a direction together.

Using interpersonal global communications, we can learn from one another and work together to solve the issues as a global family.

It is more important than ever that we have these communities that can help complete the picture that the media does not present.
Queen Noor's work in Jordan and the Arab world has focused on national development needs in the areas of education, conservation, sustainable development, human rights, and cross-cultural understanding.
She is also actively involved with international and U.N. organizations that address global challenges in these fields.
Queen Noor is the current president of the United World Colleges movement and an advocate of the anti-nuclear weapons proliferation campaign, Global Zero.
Since 1979, the initiatives of the Noor Al Hussein Foundation which she chairs have transformed development thinking in Jordan and the Middle East.
This has been done through pioneering programs in the areas of poverty eradication and sustainable development, women's empowerment, microfinance, health, environmental conservation, and arts as a medium for both social development and cross-cultural exchange.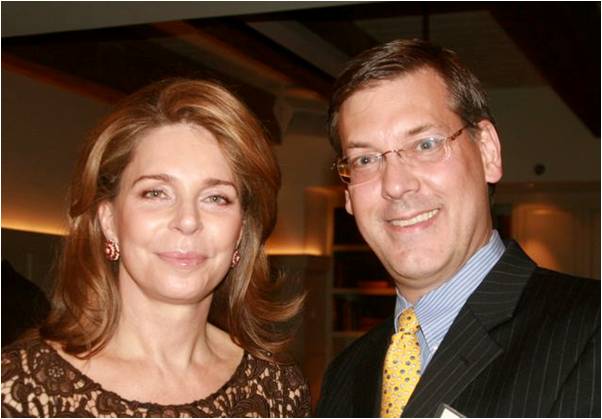 I was enormously honored to be able to interview Her Majesty Queen Noor of Jordan.
Queen Noor also chairs the
King Hussein Foundation
and the King Hussein Foundation International.
Both were founded to build on King Hussein's humanitarian vision and legacy through programs that promote education and leadership, economic empowerment, tolerance, and cross cultural dialogue and media that enhance mutual understanding and respect among different cultures and across conflict lines.
Queen Noor has undertaken several humanitarian missions to Latin America, particularly to Colombia to try to negotiate a series of humanitarian accords with the leaders of the country's guerilla insurgency on landmines, child soldiers and kidnappings.
Alongside former President Bill Clinton, Queen Noor is on the board of the Daniel Pearl Foundation, and is a patron of the SOS Children's Villages in Jordan.
Her Majesty has published two books, Hussein of Jordan (KHF Publishing, 2000) and Leap of Faith: Memoirs of an Unexpected Life (Miramax Books, 2003), a New York Times best seller published in 15 languages.
See also by Jim Luce in The Stewardship Report

A Muslim Voice of Reason Against Israeli Actions: Ibrahim Ramey

Sweden's Queen Silvia on "Fire Souls" — Leaders in Child Protection

Department of Ed Discriminated Against Khalil Gibran International Academy Principal

Jordan's Queen Rania on in Advancing 'Education for All' Via Cell Communications

Felice Friedson and The Media Line Bring Balance to Issues in the Mideast
Follow Jim Luce on Twitter: www.twitter.com/jimluce
Originally published in The Huffington Post, June 19, 2010.