New York, N.Y.  Warm weather is upon us at last, and with it comes the Third Annual Roosevelt Island Cherry Blossom Festival. Located under the 59th Street Bridge, across from the United Nations, Roosevelt Island has 600 incredible cherry trees. With the opening of FDR Four Freedom Park, a $50 million improvement to the island southern tip, Roosevelt Island is New York magazine's "Best Day Trip 2013" and the largest crowds ever are anticipated for this Saturday, April 13 all-day event.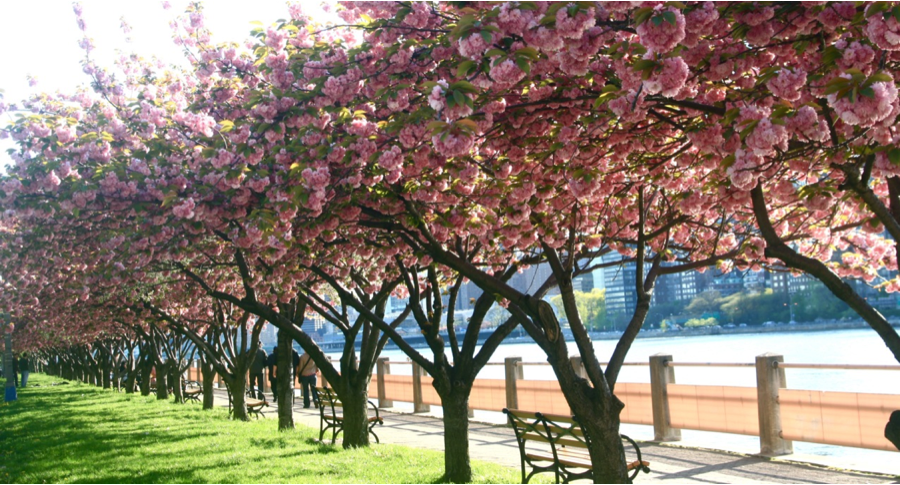 The Third Annual Roosevelt Island Cherry Blossom Festival is set for this Saturday.
Photo: John Lee.
Of course, the Brooklyn Botanical Garden has cherry trees – 200 of them, and there are more than 37,500 on the Tidal Basin in Washington, D.C. But Roosevelt Island has the Tram – and a spectacular view of Manhattan.
The Festival will occur on and off stage. Performances on stage include:
Japanese Drums – Taiko Aikokai (11:30am – 12:00pm)

Koto & Shamisen ensemble – Masayo Ishigure & Miyabi (12:20pm – 1:00pm)

Traditional Dance – Ichifuji Kai (1:20pm – 2:00pm)

Iaido & Karate performance – RESOBOX (2:10pm – 3:10pm)

"Enka" Folk Music – Neo Blues Maki (3:20pm – 4:00pm)

Shamisen string ensemble – Kicyo Kai (4:20pm- 5:00pm)
Much of the Japanese culture to be presented is traditional. One exception, Enka folk music from Neo Blues Maki, is a unique contemporary approach to old-school Japanese soul music. Launched in 2009 by Soshi Uchida. The band's music personifies atypical progressive arrangements created by Soshi and Junya Yamaguchi. Combined influences of members in the band reflect neo-soul, R&B, gospel, rock, funk, hip-hop, and fusion. The band performed on the main stage at the Brooklyn Botanic Garden's Annual Sakura Matsuri two years ago, surprising the crowd with their exquisite blend of Japanese tradition and intricate yet dynamic harmony and rhythm.
H.E. Shigeyuki Hiroki, Japanese Ambassador to the United Nations and the Hon. Micah Kellner of the New York State Assembly will address the audience at 11am.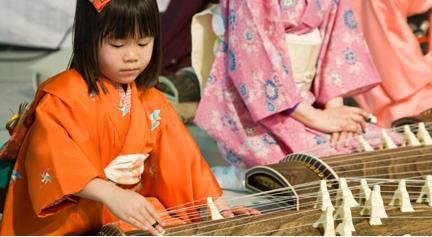 Koto and Shamisen Ensemble with Masayo Ishigure and Miyabi.
Photo courtesy Roosevelt Island Cherry Blossom Festival.
Off stage, along the path to the just-opened FDR Four Freedoms Park designed by Louis Kahn, will be:
Japan Street Fair (10am-7:30pm)

Charities Walk of Hope (10am-5:00pm)

Children's Area (10am-5:00pm)

Tea Ceremony (10am-5:30pm)
Traditional Japanese culture will present women of the Ichifuji-Kai Dance Association presenting Sakura, Sakura: How beautiful are the cherry blossoms, filling the warm spring sky! This endearing folk song is one of the most beloved of Japanese melodies. In another song, Megumi no Tuyu (Blessings of the Dew), young girls enjoy the spring as they gather fallen cherry petals to make a flower-petal ball they toss and dance about.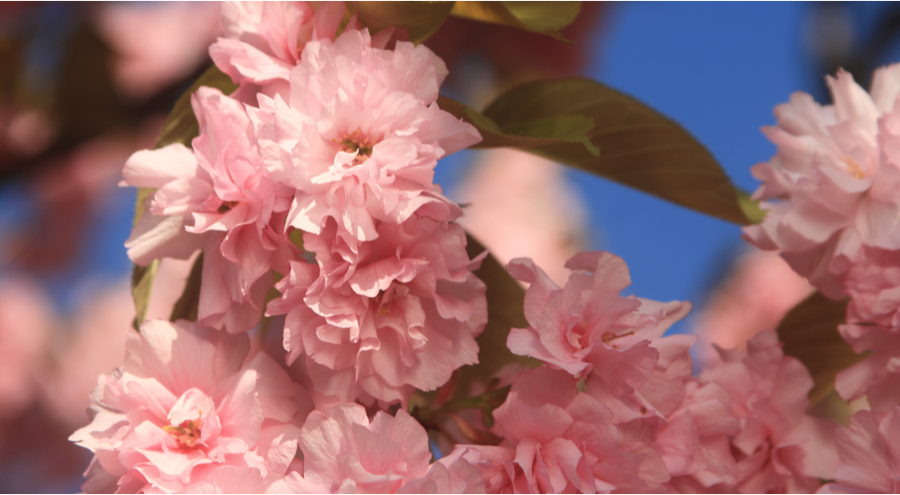 The cherry blossom is beloved for its impermanence. Here today, gone tomorrow –
like our own lives. Photo: John Lee.
The Happy Butterfly Group – Kicho-kai – is comprised of students of the late Kiharu Nakamura, who was a famous Shinbashi geisha in her earlier life. The members maintain their sensei's spirit by playing the shamisen music she taught them so well. The group will perform traditional Nagauta and Kouta folk songs on Roosevelt Island.
New York's drum group Taiko Aiko Kai is part of the TC Taiko Society at Teachers College, Columbia University. It began in 2002 when a few families at an Upper West Side public school began practicing Taiko with a hope to pass Japanese culture to their children. The group has always been family oriented, but many adults have also joined the group over the years. Hiro Kurashima, the founding teacher of the group, was certified by the late Grandmaster Daihachi Oguchi.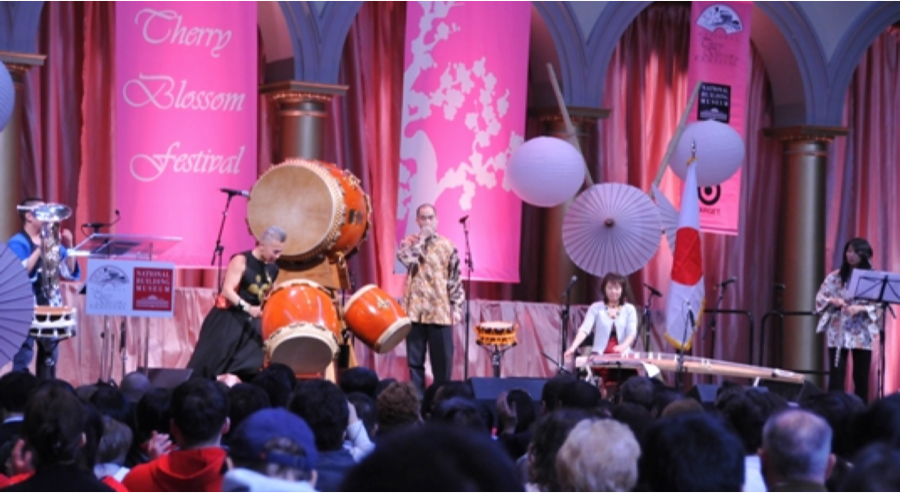 Masayo Ishigure (front right) and Kenny Endo (Taiko Drummer) played for Washington, D.C.
Cherry Blossom Festival. Photo courtesy Roosevelt Island Cherry Blossom Festival.
According to the Roosevelt Island Historical Society (RIHS), this festival began in the wake of the 2011 Tsunami and earthquake that hit northern Japan. That spring, the Roosevelt Island Residents Association (RIRA), Roosevelt Island Operating Corporation (RIOC), the Japanese Association of Roosevelt Island, and the Roosevelt Island Visual Arts Association (RIVAA) dedicated a grove of cherry blossoms in an act of solidarity for the Japanese people.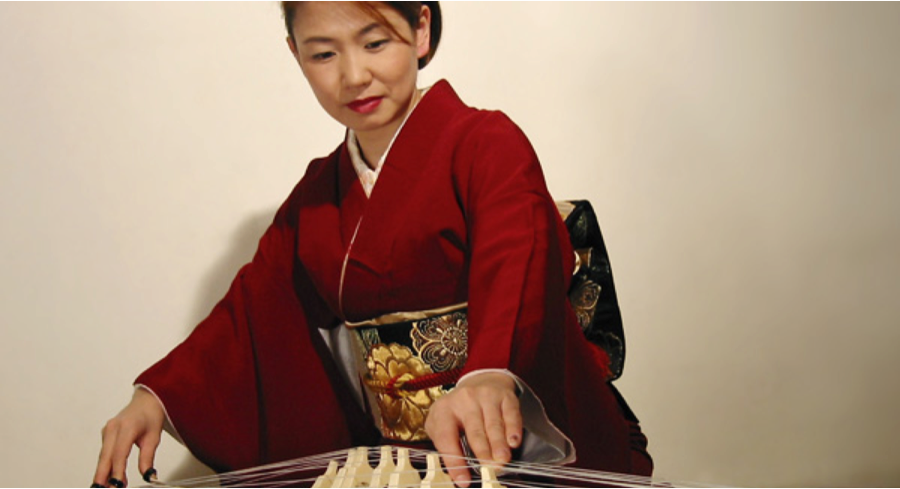 The talented Masayo Ishigure will appear.
Photo courtesy Roosevelt Island Cherry Blossom Festival.
In the 1980's I attended Waseda University in Tokyo and my fondest memories are of sitting under the cherry blossoms across from the Imperial Palace with my friends during o-sakura. I moved to New York to work with a Japanese bank – Daiwa – in Japanese, and moved my family to Roosevelt Island fourteen years ago, attracted by the island's nature. The experience here has been like living in Central Park. This weekend I will serve a Master of Ceremonies for the Roosevelt Island Cherry Blossom Festival and I feel like my life has come full circle.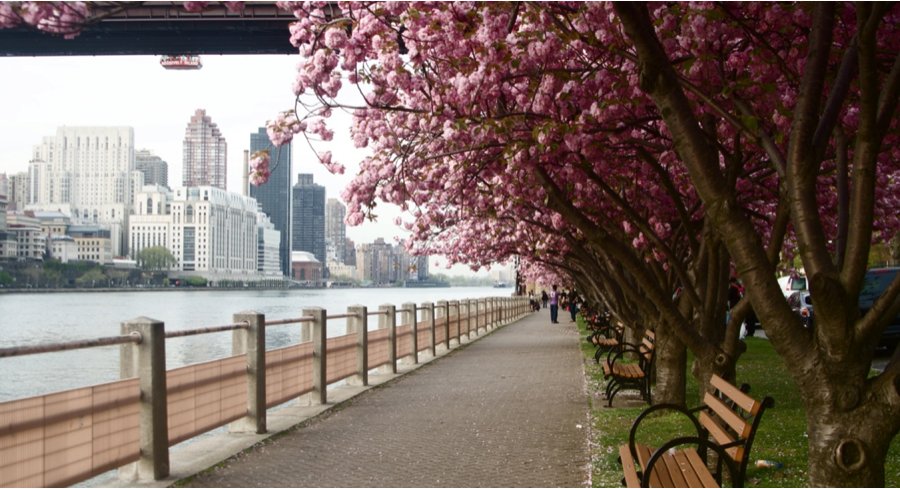 Cherry trees line the promenade along the southern tip of Roosevelt Island. Photo: John Lee.
Roosevelt Island is two miles long, running parallel to East 46th up to East 85th Streets in Manhattan. We have about 12,000 permanent residents here and used to be called "Welfare Island" from 1921 to 1973. The first prison here was built in 1832, a workhouse for the poor in 1852, and the Smallpox Hospital, designed by James Renwick Jr. and seen lit at night from the FDR, in 1856. My favorite historical footnote is that in 1839 the New York City Lunatic Asylum opened here, housing 1,700 inmates. Roosevelt Island is known to many HuffPo readers through pop cultural icons such as Spider Man, Dark Water, CSI: NY, America's Next Top Model, and White Collar.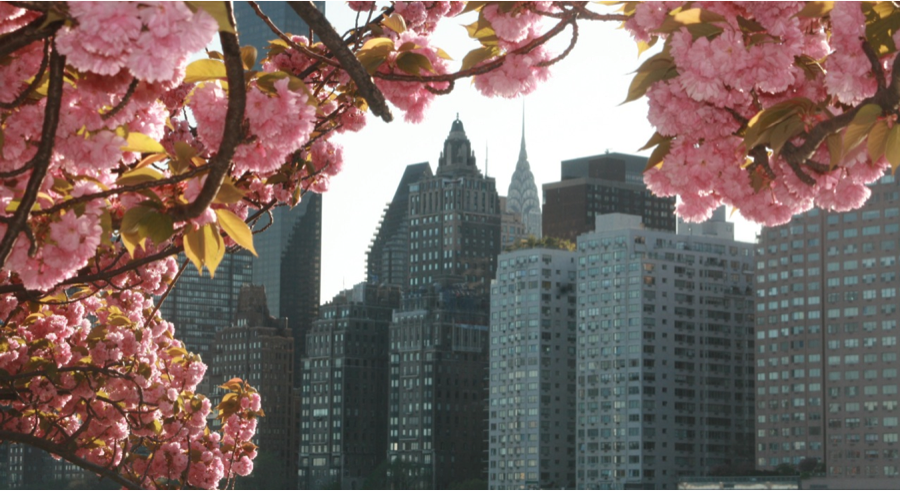 The views of the Manhattan skyline from Roosevelt Island are always spectacular.
Photo: John Lee.
The "F" train runs to Roosevelt Island – one stop from Lexington at 63rd – and the Tram runs every few minutes from Second Avenue and 60th. The Tram is as integral to NYC as the Staten Island Ferry – you must experience it to call yourself a real New Yorker. For those who drive, a bridge connects from Long Island City, Queens with an enormous parking garage that houses an art gallery on the island side. Our islands' famous Red Bus runs non-stop for only a quarter (no Metro cards!).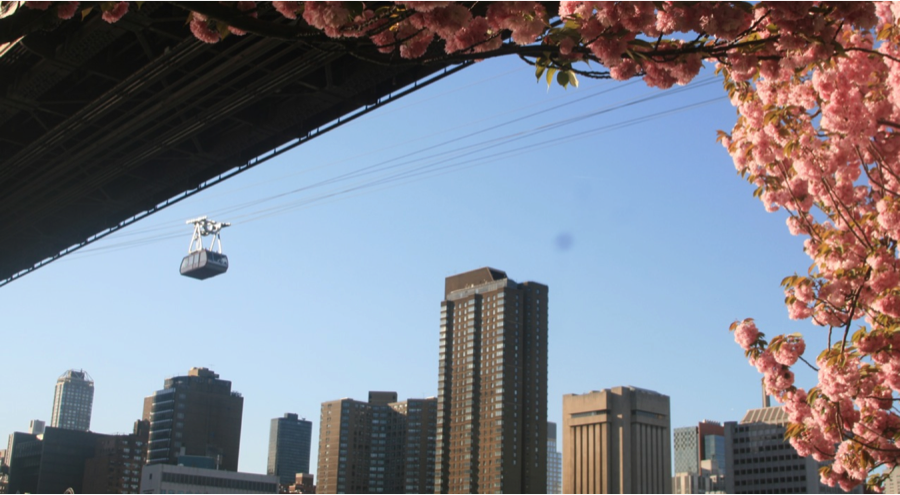 From Spider Man to White Collar, the R.I. Tram is known through pop culture. Photo: John Lee.
The after-party will be a wine tasting at Gallery RIVAA hosted by our foundation and Chefs Without Borders through our joint project know as The Culinary L@b. John Lee and Francesco Liello, coordinators of the evening event, believe that a well-curated gathering of fine wines and friends from around the world will do much towards global harmony.
The whole point of the Third Annual Cherry Blossom Festival on Roosevelt Island is to seize the moment and enjoy life. Carpe diem, Joie de vivre! To Japanese, the cherry blossom is sacred for its impermanence. Here today, gone tomorrow – like our own lives. For one day, Saturday, April 13, let us gather on Roosevelt Island and celebrate life and our common humanity. Together.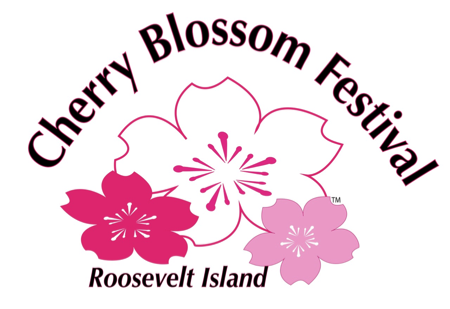 Resources

Roosevelt Island Cherry Blossom Facebook page
Cherry Blossom Festival 2013 Facebook invitation
Wine Tasting After-Party @ RIVAA Gallery invitation
Roosevelt Islander blog

 See Stories by Jim Luce on:

Japan & Japanese-Americans | Music | New York | Roosevelt Island

The James Jay Dudley Luce Foundation (www.lucefoundation.org) is the umbrella organization under which The International University Center Haiti (Uni Haiti) and Orphans International Worldwide (OIWW) are organized. If supporting young global leadership is important to you, subscribe to J. Luce Foundation updates here.

Follow Jim Luce on Twitter, Facebook, and LinkedIn.

This story was originally published in The Huffington Post, April 10, 2013.