New York, N.Y.  In a sea of steaks, burritos and grab-and-go food in busy Midtown East, there is a beacon of the Slow Food movement, serving healthful food in an elegant, inviting environment. For nearly two years, Sprig Restaurant has served consistently superb New American cuisine that celebrates artisanal goods, seasonal produce and local distributors. Some may recognize these elements as Northern Californian-cuisine, in the tradition of famed Chef Alice Waters. Sprig's executive chef, John Parlatore, looks to both northern California and old-world Italy to compose nutritious, well-composed dishes.
I was introduced to Sprig when I attended a fundraiser there. Impressed with the décor, the food, the bar, the staff and Director of Government Relations Susan Horsfall, I decided to broaden my horizons and learn more.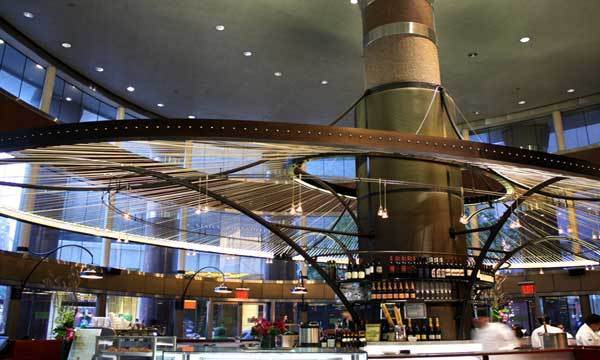 Designed by Larry Bogdanow and Phil Hayes, Sprig rules the Lipstick Building lobby. Photo: Jessica King
The Slow Food movement began in Italy in 1986, under the name Arcigola, in response to the opening of a McDonald's near the Spanish Steps in Rome. Its founder, Carlo Petrini, strove to preserve traditional and regional cuisine as an alternative to the path of mono-crops with globalized distribution and often nutrition- and flavor-deficient products. The health-consciousness and Mediterranean climate of Northern California resonated well with these ideals, and Northern California cuisine became known for Slow Food signatures: fresh fruits and local vegetables and meats, many of them organic.
I met Chef John at Sprig and was awed by his culinary skills. He is in his element with this cuisine, his face lighting up on the topic of artisanal goods and slow food preparation. John's training was honed in Italy, the birthplace of Slow Food and a cultural champion of traditional techniques. After graduating from the French Culinary Institute in Manhattan, where he studied French technique and artisanal baking, John was honored with no less than three invitations to the prestigious Festival of Gastronomic Cuisine in Mougins, France. He was the only American chef for two of those three years.
Sprig, located in the Philip Johnson-designed Midtown East Lipstick Building, has a menu that reflects his expertise through a marriage of traditional goods and locally sourced whole foods. Local produce is served in abundance, fresh and often raw; there are more than 10 salads on the menu that are easily adapted for vegetarian, vegan and gluten-free diners.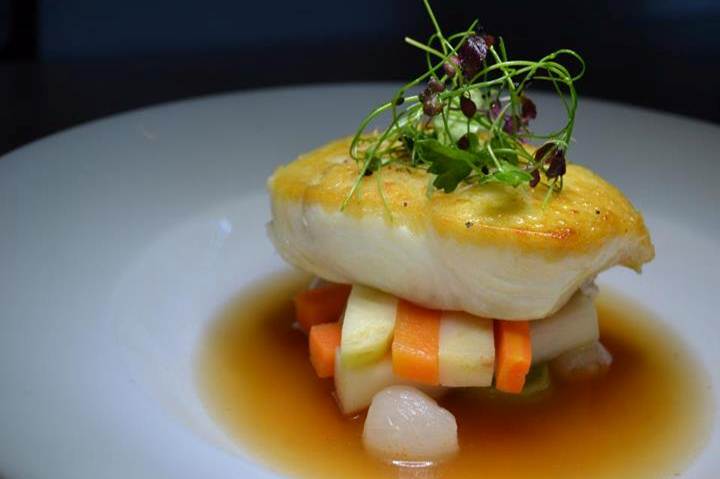 Roasted Halibut with Celery Root, Carrots, Pearl Onion & Braised Leeks in Light Tomato Broth. Photo: Jessica King
Artisanal goods include the highly sought-after Humboldt Fog chèvre, cured meats from Parma, and hand-roasted Weaver's organic coffee. Sprig's kitchen is the venue for an incredible scope of preparation, including an on-site bakery, a small-batch canning operation, and a culinary team that performs an impressive 80 percent of the butchering on-site, which I was able to witness.
In my recent visit to Sprig, I sampled seasonal crostini, small plates of grilled seafood and a crisp tuna and watermelon salad with pomegranate mint balsamic dressing. Wild seafood offerings are the hallmark of Mediterranean and northern California cuisine (Sprig receives its orders whole, of course, so I learned gills and eyes can be checked for contaminants).
Sitting with my laptop 12 hours a day, I constantly worry about my health. I was pleased to learn that their richer dishes are abundant but without unhealthful shortcuts; I was pleased to hear that the tomato fondue is sweetened with apricot rather than processed sugar, and not a single fried dish is available.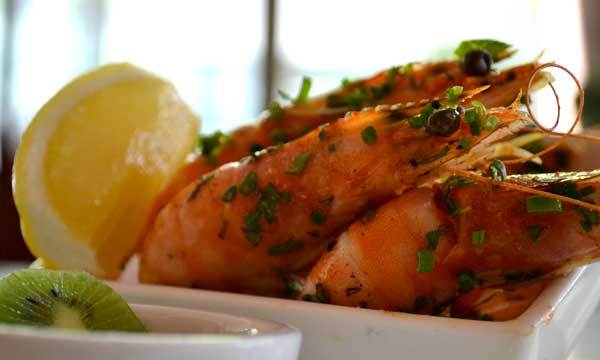 Sprig Shrimp Cocktail Lightly Seasoned Head-On Sweet Shrimp, Remoulade & House Made House Sauce. Photo: Jessica King
The theme I noticed throughout the varied but well-edited menu is hearty portions of naturally nutrition dense and lower-calorie ingredients. It can be said that this satiating-not-fattening quality is a signature of the 25-year-old Slow Food movement, with Slow Food itself the growing grandchild of hundreds of years of sustainable, pre-fast food dining.
Unfortunately, during the same 20-year period that Slow Food has worked to gain a foothold in the U.S., low-cost and calorie-dense food has contributed to a dramatic increase in obesity. McDonald's food is killing us. More than one-third of adults are obese; this statistic spans all nationalities and socioeconomic groups.
Long hours, sedentary work and a collective amnesia regarding food as fuel for both activity and pleasure leads our society toward "convenient" food, even as statistics tell a frightening story about obesity. Not one state has met the nationwide goal to lower obesity prevalence to 15%. On the contrary, the year 2000 marked the last time when every state in the U.S. recorded less than 30 percent obesity prevalence. By 2010, 12 states had passed the 30 percent mark.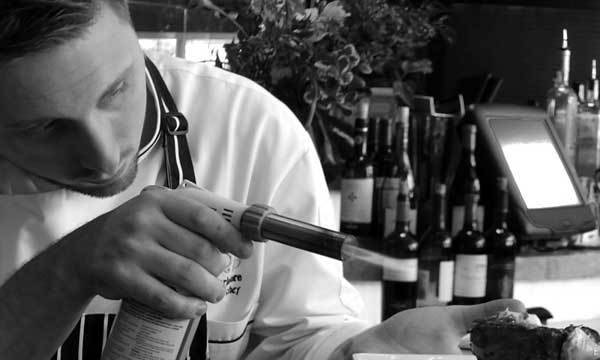 Sprig's Executive Chef John Parlatore looks to both Northern California and old-world Italy to compose nutritious, well-composed dishes. Photo: Jessica King.
Despite these disappointing trends, many have faith that the Slow Food movement will succeed in reversing this trend. Paulette Satur and Eberhard Mueller of Satur Farms provide produce to Sprig. Paulette told me:
"The Slow Food Movement has helped to create an unprecedented interest in what we eat. This keen interest generates knowledge which is setting the table for what we want to eat: delicious and healthful food grown in a responsible and sustainable fashion. An enlightened palate cannot reverse directions, so we see the Slow Food Movement gaining momentum into the future.
Lauren Lintvent, an account executive at Dairyland, says that distributers are embracing local goods, but must let restaurants' demand drive their supplies.
Everybody — restaurants and distributers alike — want to be a part of the movement, but not every restaurant can commit to building menus off of what is available week by week. Much of the romance of locally sourced goods is a connection between people, animals and the environment. The other side of that coin is Mother Nature as sous chef: a change in rainfall means cows drink less water, for example, or feed prices go up, and suddenly a cheese that's a key component to a dish is no longer available.
Restaurants that commit to exclusively local goods must be flexible enough to use what small producers can provide week by week. Fortunately, conscious consumption is on the rise, with businesses like Sprig and Dairyland incorporating more short-seasoned, local and wild ingredients. With the dual goals of supporting local suppliers and preserving traditional goods — many of which are literally facing extinction worldwide — a restaurant like Sprig can be proud of its fare.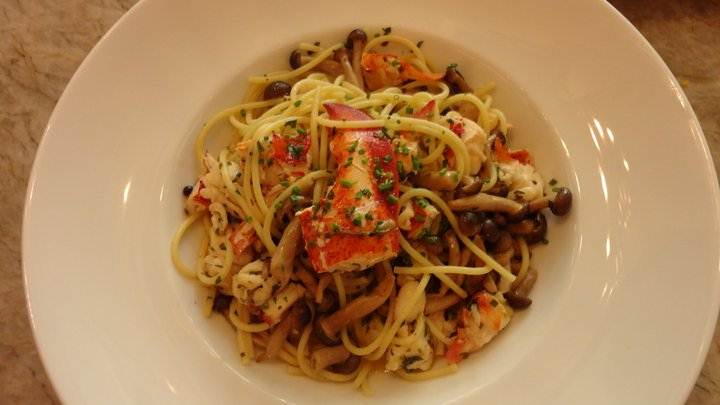 Lobster & Forest Mushroom Linguini with Pink Lobster Cream Sauce. Photo: Jessica King.
Sprig is well-positioned among Midtown Manhattan's healthy, stylish and time-crunched legions, thanks primarily to their ability to serve slow food swiftly; lunch hours are respected, pre-theater dinners finished on time. The central component of slow food is pleasure, wherein mindful preparation methods, taste appreciation and a curated space for dining inspires people to make better choices in their diet.
When fresh, clean food comes out of the kitchen at fast clip, it is possible to enjoy Slow Food with good company, on a limited lunch or dinner break. Althea Zanecosky, LDN, spokeswoman for the American Dietetic Association, has said:
Slow food doesn't necessarily mean food that takes a long time to cook. It means turning down the speed at which we eat and increasing the amount of time we spend dining together with other people.

Ready for dessert? Nothing beats the delicious fruit tart at Sprig!. Photo: Jessica King.
Sprig has put as much thought into cultivating a peaceful, comfortable dining room as it has in the menu. In a custom-built enclave in the Lipstick Building, 25-foot windows and 54 outdoor seats quickly erase the claustrophobia of small offices with views that reach only to the next skyscraper. The Lipstick Building was designed by John Burgee Architects with Philip Johnson in 1986 (coincidentally the same year as Arcigola came to exist), and is a landmark thanks to its unique elliptical shape and rose marble façade.
Sprig's design resonates with its grand home, with an elliptical bar illuminated by a custom canopy of floating cables and lights. Eleven hanging cantilevered pendants line the perimeter, reminiscent of the classic soft glow of street lamps. The main dining room seats more than 80 guests and features heavy wood tables paired with spacious buckskin swivel chairs. In a setting this spacious and inviting, it's not unusual to see business meetings, dates and longtime locals enjoying meals side by side. And if natural light, clean food and warm service makes a good restaurant, live jazz every night elevates the experience to a true feast for all senses.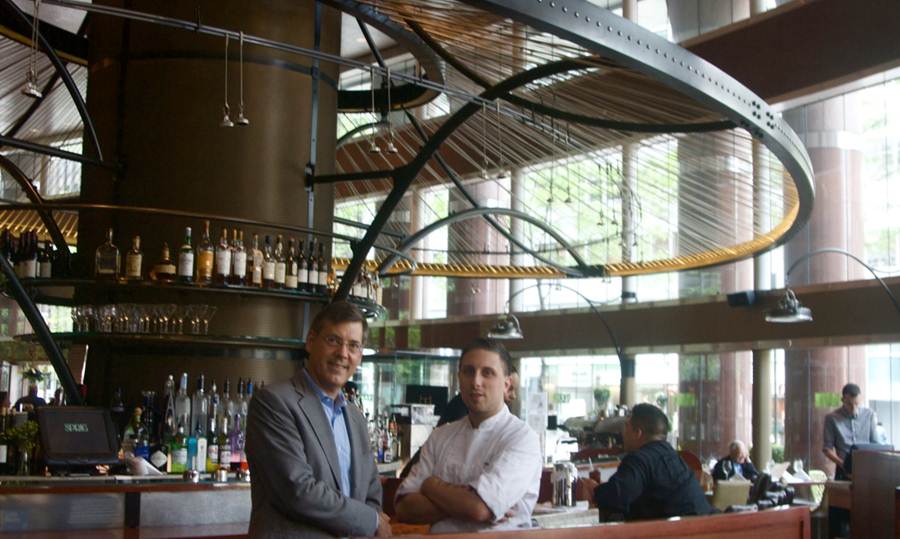 Sprig's Executive Chef John Parlatore (right) brought the author (left) up to speed on Slow Food.
Photo: The Stewardship Report.
That, after all, is the crux of Slow Food. NYC's midtown workforce may be moving fast, but at Sprig they are eating Slow. Eating well. Eating with style. Sprig has become my favorite restaurant. In 1992, a New York Observer profile of me noted my favorite restaurant at the time was Odessa off Tompkins Square (story). I, like most thoughtful New Yorkers, have evolved.
The Lipstick Building | 885 Third Avenue
Between East 53rd & 54th St. | NYC 10022
212-249-4500 | info@sprignyc.com

See Stories by Jim Luce on:

Food | Health | Italy | New York

Follow Jim Luce on Twitter, Facebook, and LinkedIn.
Originally published in the Huffington Post, August 22, 2012.