"Primavera" is a spring series including two world premieres and dances from the treasury of the Company classics. Two solos will be premiered: "In Transit," a sequel to "Window" performed behind a translucent cloth set by sculptor James Cobb with piano music by Mexican composer Luis Montes, and "Passages," by guest choreographer Maxine Steinman to music composed and plaid by Matthew Ferry.
The performance includes "Red," a passionate quartet with dancers in varied shades of red set to a quartet by Beethoven, and "Encuentros" (Encounters), in which a male trio dances to music by Max Lifchitz. It features unexpected interactions, with humor and high lifts. "Flecha" (Arrow) is a highly stylistic, architectural work for one woman and two men with piano and cello music by Spanish composer Elisenda de Fabregas.
Speaking to me on her penthouse patio, adjacent the Guggenheim, Annabella traced her journey from the aristocracy of Mexico City to the rarefied world of modern dance in New York City.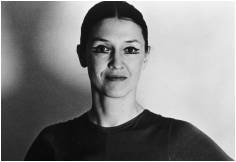 I try to capture thought leaders and global citizens for the Huffington Post. In my friend Annabella, I have found both. Her great personal warmth comes through as readily in Spanish as it does in her two other languages, English and French. Her art is both Mexican-Hispanic and international, as well as exotic and disciplined.
"Primavera," which I watched recently in rehearsal, is distinguished by its originality. There is an aesthetic feeling, a special freshness and superb dancing. What struck me was the synthesis of classical dance and modern dance, with both serious and humorous elements.
Annabella is known for having an eye for movement that conveys the essence of emotional situations. This shines through in "Primavera," with its eclectic mix of performance styles and moods mixed together with a New York-style of abandon.
The Annabella Gonzalez Dance Theater is known for its wicked sense of humor, a choreographic theater of the absurd. Sometimes humorous, sometimes sensual, AGDT — and its upcoming "Primavera" — offers a feast of movement, color and sound which I find electrifying. Her work in Primavera intrigues the mind as well as the eye.
Annabella is known for her resourcefulness and a firm belief in artistic inclusiveness. She produces dance compositions filtered through a blend of contrasting and subtly cohering styles.
As my friend Jennifer Dunning, theater critic for the New York Times, wrote in 1982, "Annabella Gonzalez approaches the artifacts of everyday life in somewhat the way that Paul Klee looked at machines."
AGDT appearances include the Joseph Papp's Latin Festival, the Brooklyn Academy of Music, Carnegie Hall, and Lincoln Center Out-of-Doors.
An excellent and informative orientation on the dance company may be viewed on YouTube.
In addition to superb dancing, great variety and humor in its full-length performances, AGDT also offers bilingual (English/Spanish) lecture demonstrations and residencies on various dance styles anywhere in the USA.
The Spring Series is made possible in part with public funds from the New York City Department of Cultural Affairs and from the Fund for Creative Communities, supported by the New York State Council on the Arts, and administered by The Lower Manhattan Cultural Council. Additional support is provided by the Harkness Foundation for Dance and Mayab Happy Tacos.
Annabella holds a Master's degree in Dance Education from Columbia University Teachers College, where she taught traditional Mexican dance. Annabella is more than a national treasure. Indeed, she is an international treasure. In her own words, "No se pierdan este espectaculo!" In other words, Don't miss this show!
Originally published in The Huffington Post, April 15, 2009.
The Luce Index™
95 – Joseph Papp
92 – Annabella Gonzalez