Leogane, Haiti. My 22nd trip to Haiti since 2001, the third since the earthquake of January 12. Probably over 250,000 dead more than six months ago. The exact figure is unknown as this is Haiti. Beautiful countryside. Proud people. A nation that does not work. A failed state.
The streets are cleaner now than they were on the last trip, but the populace remains largely in tents. Little new construction, and what little can be seen seems to be being built in the old style. The style that collapses and kills one-quarter million. It's simply cheaper and easier than building smart.
We are headed to Orphans International Worldwide's three projects in Leogane, epicenter of the quake. OIWW has partnered with the only large structure that survived January 12 in Leogane – Ecole de la Redemption.
With 700 students still meeting in tents as the building awaits repairs, our programs there consist of orphan family care for 100 orphans, leadership training and college preparation for another 100 high school graduates who are being trained to mentor our orphans, academic scholarships for an estimated 100 orphaned students enrolled at the school, and a comprehensive Connectivity project to link the school to the world. By the end of the trip, we will have processed the first 50 orphans and 50 mentors.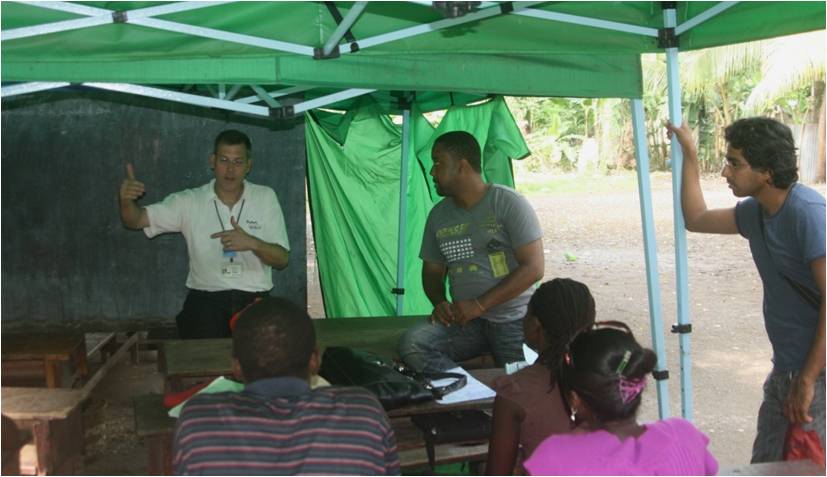 Because of the fear many Haitians have of buildings, many programs are still held in tents.
We arrived at the airport yesterday carrying supplies for our students, and the Customs inspector immediately requisitioned a French-English dictionary for himself. We wade through the many, many men who wish to help us with our luggage and pile it all up in a pick-up truck. With our lunch with U.N. officials postponed, two of us ride shotgun on the back of the truck and we head for Leogane, arriving at sunset. The American Airlines announcement had said it was 103 degrees.
Along the way, we pass acres of tent cities, negotiate beggars on the street, and see one man presumably drunk pass out in the middle of the clogged road ("national highway"). He was dragged, bloody, to the side of the road. We see virtually no signs of the massive donations made for reconstruction. Disaster relief, I think to myself, is so often little better than a scam.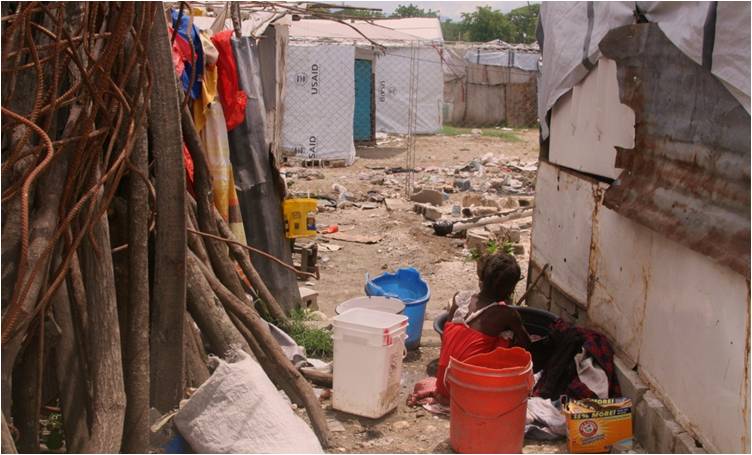 Where is the money raised for Haiti being spent?, I ask myself again and again.
I am delighted to get to Leogane, where our own projects – funded on a shoestring – offer the most hope we have seen here. Orphaned children not warehoused but kept with their own families, being supported by OIWW. High school graduates so full of hope as they gather under our banner to learn English and computer skills. They are the face of New Haiti and they are beautiful, enthusiastic, and committed.
Our students, like students throughout Haiti, somehow manage to live in tents, often in the rain, and navigate the sidewalk-free dirt roads to school without getting dirty. I cannot manage that – it is amazing. The pride and strength of so many here cannot be described. We are adding to that mix opportunity.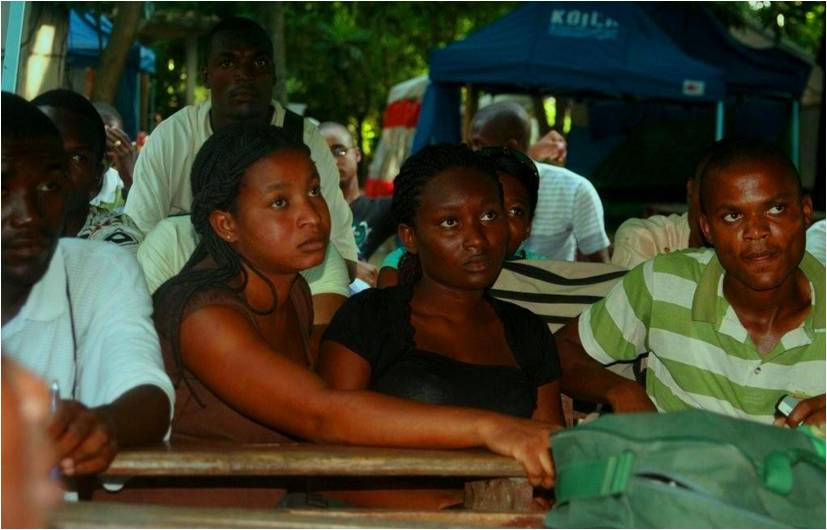 Members of the OIWW-Haiti College Prep Leadership Training Program in Leogane.
We are working to make it possible for all of the orphaned children in our care attend private school in September. Eighty percent of schools here are private, and the few public schools are overwhelmed and underfunded. Each of our kids will have one of our college-preparatory leadership students to mentor them. And we have already linked the school to the Internet and are beginning to bring in computers to enable Connectivity to the world.
Our goal is to provide the best opportunities we can for our orphans, including housing for the extended families of the children in our care through Project Leogane, which we are a partner of. Project Leogane includes several foundations and institutions in the U.S. focused on building housing in Haiti – more on that soon.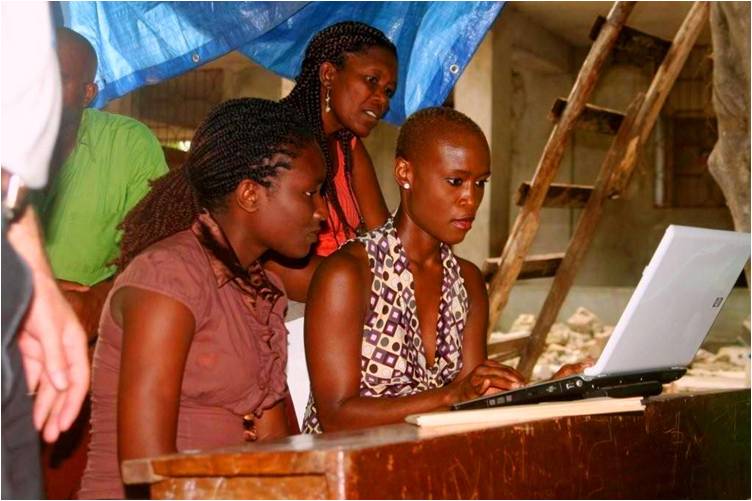 A Haitian-American volunteer helps one of our Leadership students while our director looks on.
Our goal is to assist as many of our leadership mentors obtain a scholarship to study abroad or via the Internet as possible. Each of our 50 students, narrowed down from a pool of over 200, are high school graduates. After a year in our program, they will be ready to study in the U.S. and Canada, Europe, Asia and Latin America. We need to find them those scholarships.
Our programming is supported by an eclectic consortium of funders which includes Holy Trinity Episcopal Church in Oxford, Ohio, Latino fraternities and sororities on Long island, the Japanese American Association of New York City. Additional funding is being sought from foundations and corporations.
Volunteers from the U.S. work with our Leadership Program students inside our office.
Haiti has suffered under two hundred years of independence. Freedom does not hurt her, but greedy and inept leadership does. The New Haiti must have local leadership that is global minded to reconstruct a nation with agriculture and industry, a social net that provides educational opportunities, with healthcare and pensions.
Our staff is as capable as they are loving. Our executive director is a registered nurse with ten years administrative experience. Our English teacher has taught here for years and has a stronger American accent than I do. Our technology director is capable enough that he may well begin a master's program via the Internet connection he is building out for us in the school.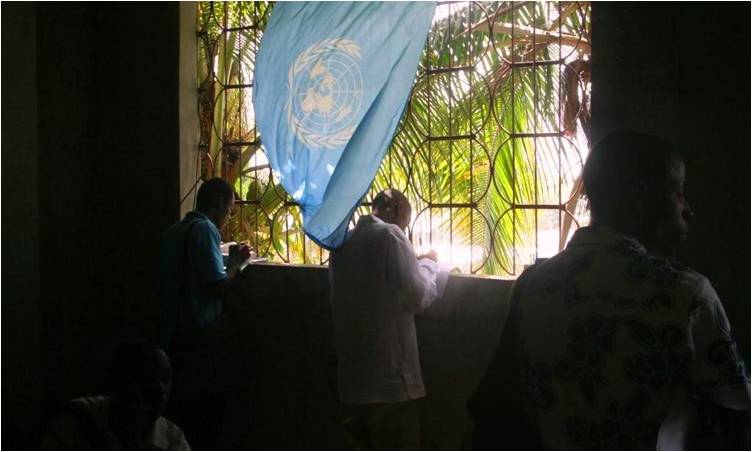 A view of the OIWW-Haiti office/classroom with the U.N. flag waving in our window.
Orphans International Worldwide is doing our part to raise these leaders. With a dedicated team, strong and enthusiastic mentors, and funding from around the world, we can make the biggest difference with the least amount of funding. After 22 trips to Haiti over the last ten years, I can say with assurance that we are in this for the long haul. As I fall asleep I remind myself: this is not a job, but a life.

Related Stories by Jim Luce:

Eyewitness: Haiti Has Improved Somewhat in Last Two Months

Live from Leogane: Orphans International Partners with Haitian School Founded by Orphan

Live from Leogane: College Prep Leadership Training Begins for our Orphan Mentors

Airplane Interview with the American Ambassador to Haiti

Latino College Students Fund Haitian High School Graduates to Prepare for Chinese University

NYC's Japan American Association Funds Haitian Students Dream of International Study

Film Shown at U.N. Donor Conference on Collapse of Haiti's Presidential Palace

Connecting Disaster Relief Through Technology After Earthquake in Haiti

Fonkoze Helps Rebuild Haiti through Microfinance Following Earthquake

Live Report: No Spiders to Bite Me in My Pre-Dawn Haitian Shower

Live Report: 200 Haitian Earthquake Survivors Interviewed for Ten Chinese Scholarships

Live Report: Tremendous Progress Accomplished in Six Long Haitian Days

Live Report: Orphans International Worldwide Goes Live in Leogane, Haiti

U.N. Blue Helmets from Sri Lanka Come to Our Assistance in Haiti

Live Report: Cement Dust Coats All of Haiti, as 9/11 Dust Coated New York

Follow Jim Luce on Twitter: www.twitter.com/jimluce
Thought Leaders and Global Citizens