New York, N.Y.  Orphaned children–especially in poor countries–face daunting odds against succeeding in life. In many countries they have little, if any, opportunity to obtain an education or training that would enable them to become independent, contributing members of their society. Many organizations work to offer hope. This fall, two groups are collaborating for the first time to do just that.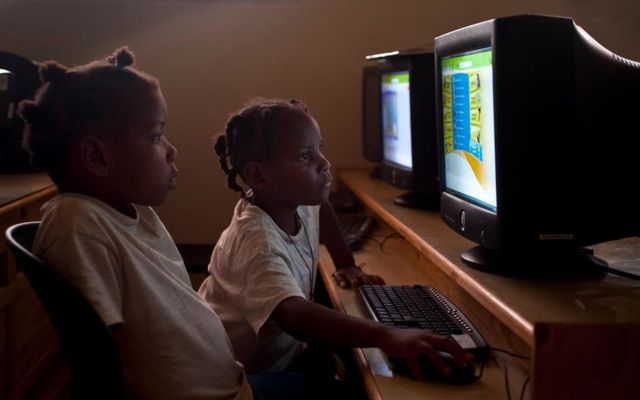 OSF helps orphaned children in the Dominican Republic learn computer. Photo: OSF.
A significant portion of my philanthropic work focuses on educating these disadvantaged children. So, I had an instant connection with Andrew Stein, an international banker-turned-philanthropist, when we first met. His organization, Orphaned Starfish Foundation (
OSF
), has been instrumental in providing computer-based vocational training to orphaned and at-risk children in more than a dozen underdeveloped countries.It was easy for me to accept Andy's invitation over coffee to collaborate with OSF to co-host his annual fundraising event. The gala takes place on October 18 at the elegant Cipriani Wall Street (
tickets
). All funds raised via this link are earmarked for construction of a computer center at 
l'Ecole la Rédemption
 in Léogâne, Haiti. This will be OSF's ninth gala, which typically draws about 500 supporters from the business and entertainment worlds.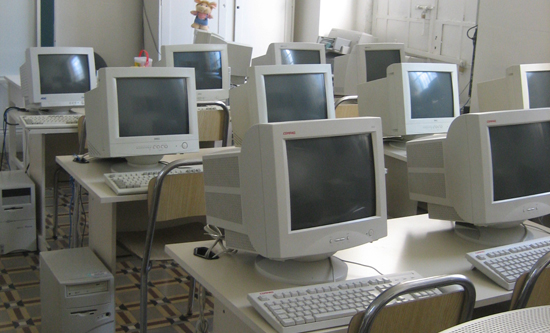 In Mexico, OSF has built a computer center for orphaned kids. Photo: OSF.
Proceeds will enable OSF to support its vocational training programs, expand from 12 to 14 countries and introduce English language and life skills training at the orphanages. Proceeds raised by The J. Luce 
Foundation
 will go toward establishing a computer lab in Léogâne, Haiti to serve hundreds of students. The computer center is stage one of our project International University Center Haiti 
("Uni Haiti")
.Our plan at 
Rédemption
, in cooperation with our Orphans International Worldwide (
OIWW
), is to launch a 40-station computer lab for the school's 800 elementary, middle and high school students in grades 1-12. It will feature multiple computer stations, software, and a projection system with independent power generation.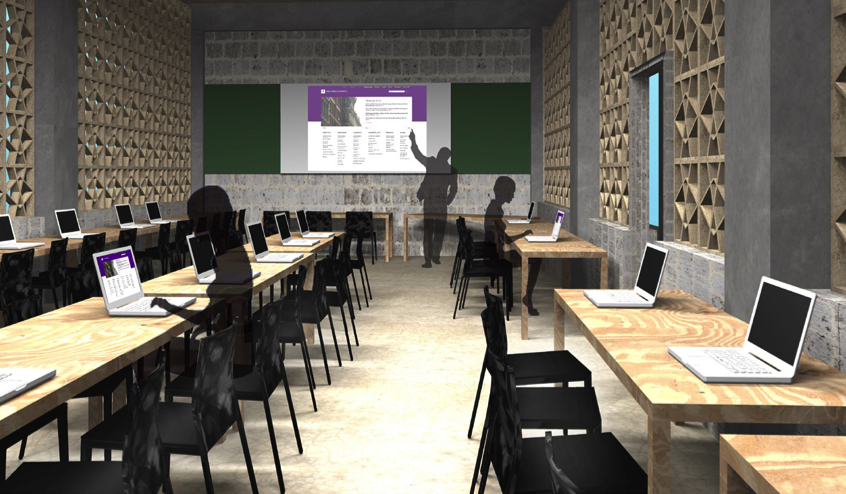 Rendering of computer lab at l'Ecole la Rédemption in Léogâne, Haiti, which will serve hundreds of students. Image: J. Luce Foundation.
Like me, Andy's philanthropy began at an early age. He recalled, in a recent conversation, participating in walk-a-thons and bike-a-thons as a youngster. In later years, he was instrumental in the effort to raise funds for Special Olympics New York.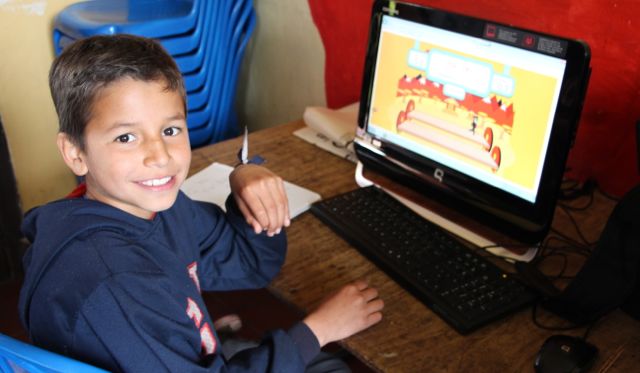 Orphaned Starfish Foundation is working in more than a dozen countries. Photo: OSF.
In the '90s, Andy was based in the Philippines while working as the joint head of corporate finance for Chase's Manila branch. That's where he began working with an orphanage in his spare time and became "financially and emotionally" attached. Our bonds tightened: I began my work with orphan care following a trip in the 1990's to neighboring Indonesia where I met my adopted son.
The story behind the spark that launched OSF in 2001 is touching. While traveling frequently on business in Latin America and visiting orphanages, a nun at a Chilean orphanage pulled Andy to the side. She explained to him that at age 18 the children have to leave, and many ended up living on the streets, drug addicted or in prostitution.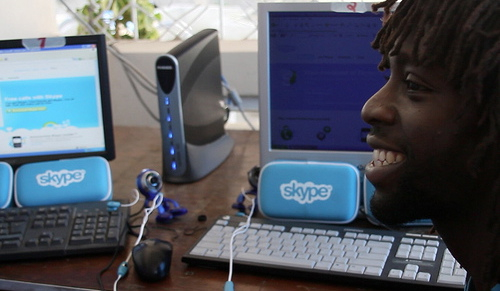 OSF and our own foundation will cooperate to build a computer center in
what was the epicenter of Haiti's earthquake – Léogâne. Photo: author.
After thinking long and hard about how he could best help, Andy concluded that providing vocational training, scholarships and coordinating internships would enable these children to break the cycle of poverty and abuse.
"Education is the way out. There are almost no safety nets in these countries," Andy emphasized to me. "If we don't do something, these children would be out in the streets, and I couldn't have that on my conscience."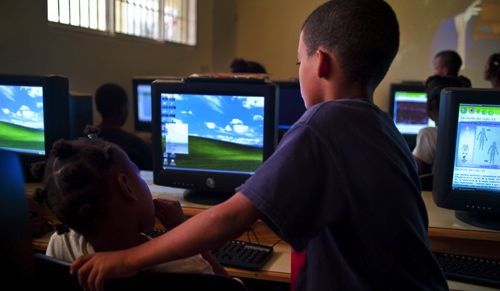 Around the world, OSG provides opportunities to orphaned kids. Photo: OSF.
The foundation's training programs are primarily computer-based, so they learn basics, such as how to use Microsoft Office and the Internet. But this tech training is more in-depth in some places, such as Columbia where the children learn robotics.
Since establishing the first program in Santiago, OSF now serves more than 5,500 children in twelve countries: Mexico, Costa Rica, Panama, Bolivia, Chile, Brazil, Dominican Republic, Haiti, Colombia, Ethiopia, Puerto Rico, and El Salvador. It will add two more by the end of the year: Peru and Honduras. In three to five years, the organization's goal is reach 10,000 children.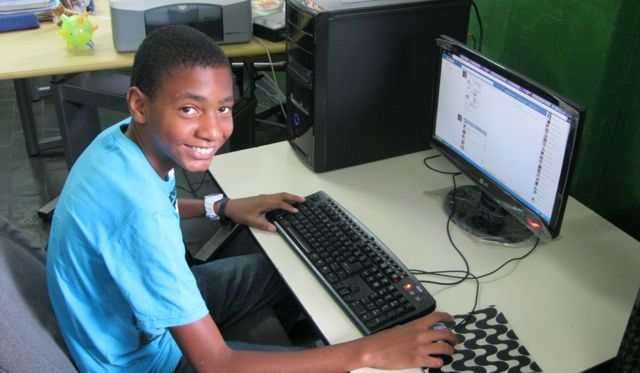 When children learn skills like these in Brazil they have hope for the future.
Photo: OSF.
OSF does amazing work on a budget of less than $1 million a year. But Andy is determined to do much more. He wants to add English language and life skills programs to the curriculum. "We've prepared our children well for college and the job market, but most are unprepared when they leave their orphanage to perform basic life tasks, such as opening a bank account and managing their money," he said.
Computer literacy is necessary for raising young global citizens. Photo: OSF.
Andy's fundraising efforts have come a long way from his first gala at the downtown Ritz Carlton–a venue that a friend helped him to reserve. Last year's gala raised more than $900,000. OSF uses 80% of the funds for operating expenses, which range from teacher salaries and maintaining the computers to purchasing software.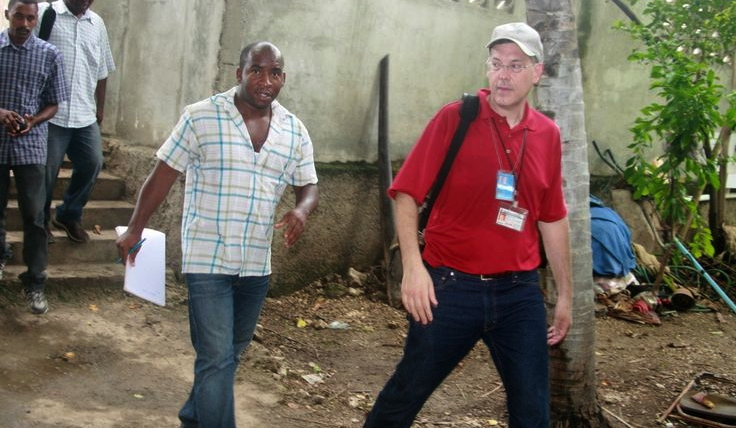 The author inspecting Ecole la Rédemption in Léogâne, Haiti after the earthquake in 2010.
A computer lab is planned here. Photo: J. Luce Foundation.
This year's gala features new corporate support — McGraw Hill and Sprint, in addition to all sponsors returning from the Orphaned Star Fish gala of last year.
A number of celebrities will attend this year's event, and there will be a red carpet. But the highlight each year for Andy is when he introduces eight of the orphans and four of them speak to the audience about how OSF has impacted his or her life.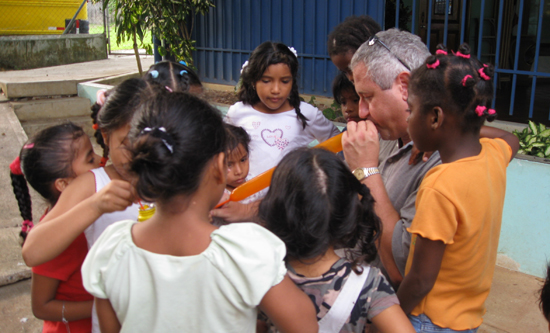 Orphaned Starfish Founder Andy Stein playing with kids in Panama. Photo: OSF.
"It's beyond inspirational!" he commented. "They talk about the hope they always had to do more despite the poverty and abuse they experienced. The children also talk about paying it forward to their brothers and sisters."
Andy Stein, thought leader and global citizen, is proud that many of the children in the program return to their orphanage to teach, support and inspire their "brothers and sisters" living in the orphanage. You can help us make difference: Celebrate with us on October 18 as we raise funds to help orphaned children around the world.
Edited by Nigel Roberts of The Stewardship Report.  Originally published in The Huffington Post, September 25, 2013.
Orphaned Starfish Foundation (OSF) | Facebook | Twitter @OStarfish
The Orphaned Starfish Foundation creates lasting change in the lives of orphans throughout Latin America and elsewhere by helping them develop vocational skills. 
See Stories by Jim Luce on:Children | Connectivity | Corporate America & CSR | Haiti | Indonesia | International Development | New York | Orphans | Philanthropy

The James Jay Dudley Luce Foundation (www.lucefoundation.org) supporting young global leadership is affiliated with Orphans International Worldwide (OIWW), raising global citizens. If supporting youth is important to you, subscribe to J. Luce Foundation updates here.