Bronx, N.Y.  It is an understatement to call homelessness a growing problem. More accurately, it's a tragedy. The Wall Street Journal recently reported that an average of more than 50,000 people slept in New York City homeless shelters for the first time in January (a record), with families becoming the largest category of the nation's homeless population.
Having volunteered in homeless shelters through much of the 1980's and 90's with Partnership for the Homeless, I know that there are many effective organizations dedicated to battling homelessness in New York City. Socks 4 Tots is one of a number of organizations working in the Bronx. Its founder and executive director Laverne Rooks-Sparrow recently extended an invitation to observe its grassroots efforts.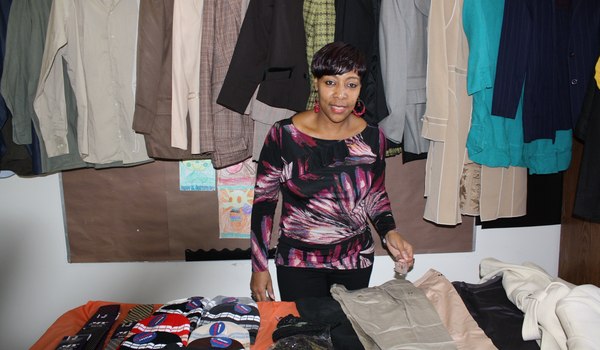 Socks 4 Tots founder Laverne Rooks-Sparrow offers homeless residents a selection of donated professional attire as a part of organization's signature Dress for Success program. Photo: Socks 4 Tots.
Each month, Socks 4 Tots visits a different shelter in the Bronx to provide clothing, training and encouragement to people surviving on the edge. On the morning of my team's visit, the facility's manager requested that we don't photograph the residents or disclose the location of the shelter. Some of the women at the facility had escaped from dangerous domestic violence situations and needed protection and time to sort out their life.
Socks 4 Tots is largely a one-woman operation with a small group of dedicated volunteers. As the residents gathered in a recreation room at the shelter, Sparrow's volunteers offered them snacks, while a face painter escorted the children to another room for fun activities.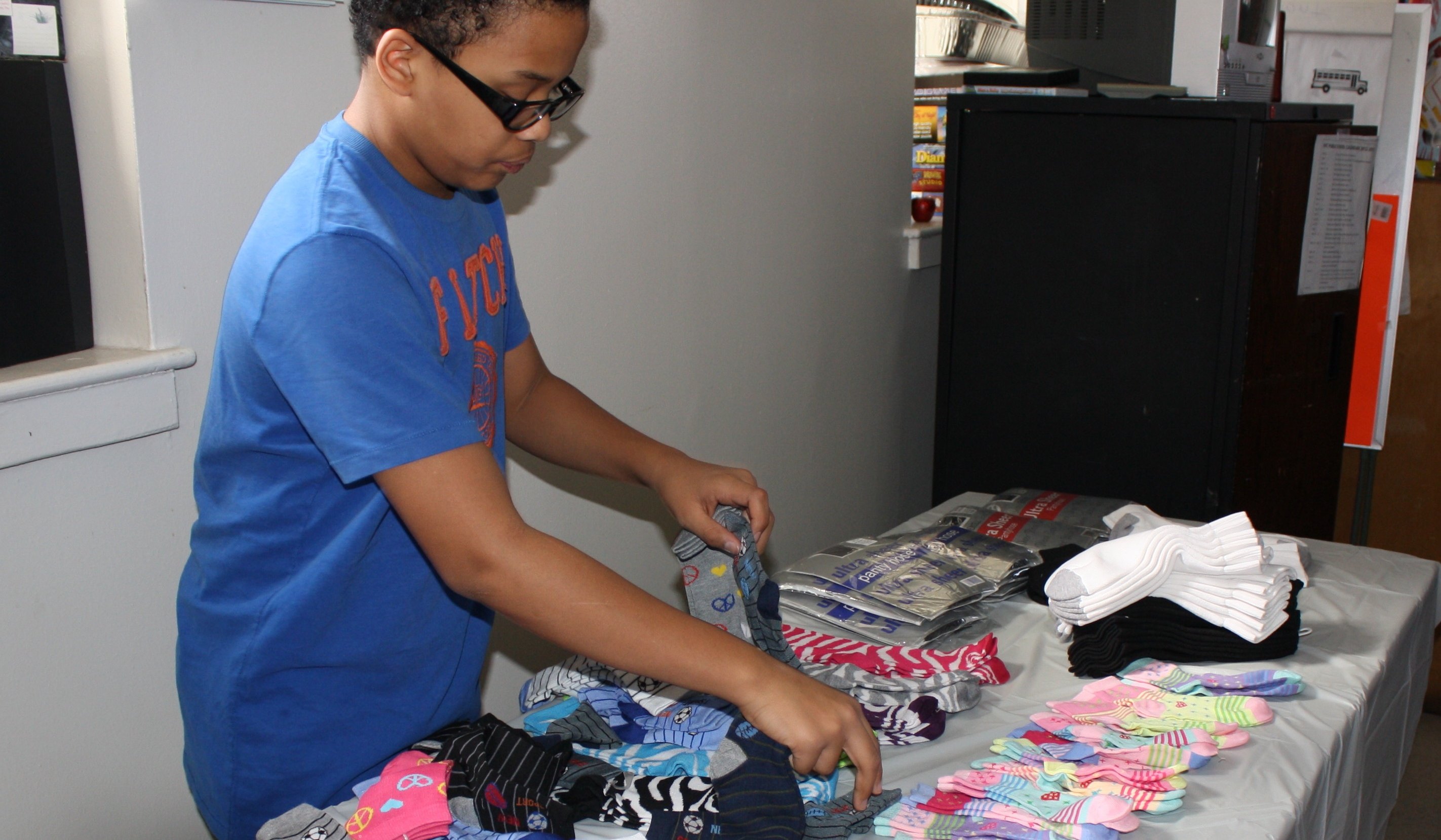 A volunteer displays Socks 4 Tot's signature items–children's socks. Photo: Socks 4 Tots.
Before the meeting started, Laverne encouraged the women to selection from the assorted dress clothes, shoes and other donated items. In the background, the disco anthem 
Ain't No Stoppin' Us Now
 played, setting an upbeat and positive mood for the day's events.
"I'm in my zone," said Laverne, a highly motivated and optimistic person. "I've got to get my volunteers energized." Pulling one of her volunteers aside, Laverne said, "You work the room. That's what you do so well. Talk with the residents and find out what they need."
Unfortunately, these women and children have more needs than Socks 4 Tots can possibly deliver–but its efforts go a long way toward a solution. Homelessness in New York City has reached the highest levels since the Great Depression of the 1930s, the Coalition for Homelessness reports.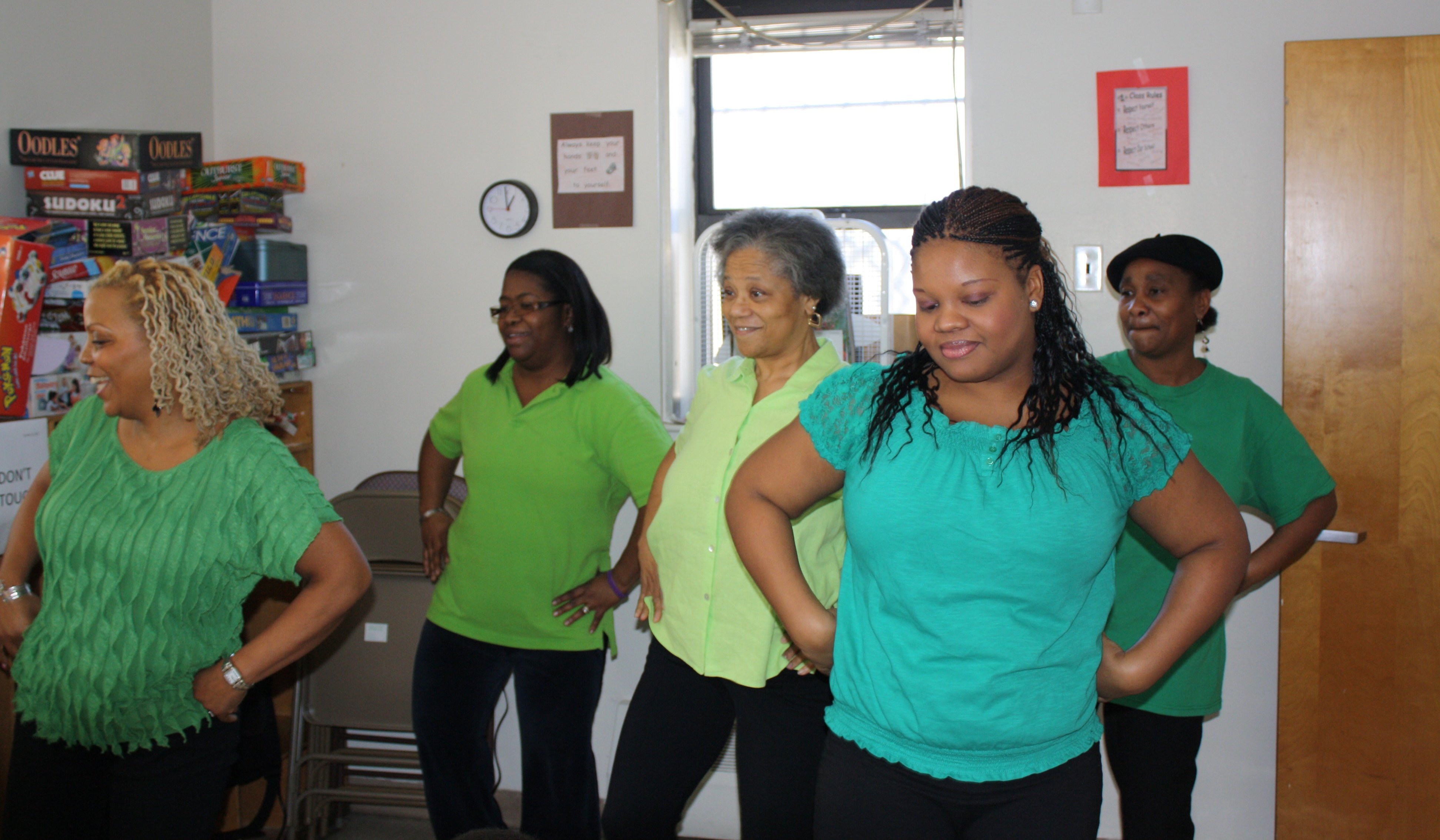 Volunteer dance group provides entertainment to lift the spirits of mothers and children at homeless shelter in the Bronx. Photo: Socks 4 Tots.
Beyond shelter, these mothers need to figure out how to support themselves and their children in a tough job market that demands a level of skills and education beyond their attainment. At the same time, a sense of hopelessness weighs them down.
"I know this can't be the easiest thing for you, but this is one stepping stone," Laverne said in her opening remarks to the residents. "You as mothers are my heroes. I'm proud of you. You haven't given up. I pray that you move on in your life."
Laverne, who first began visiting homeless shelters six years ago, laments that the recession and high unemployment have combined to cause unprecedented long stays at the city's shelters. As despair ravages the minds of residents, she feels a sense of urgency to motivate and equip these women with the tools they need to rebuild their lives.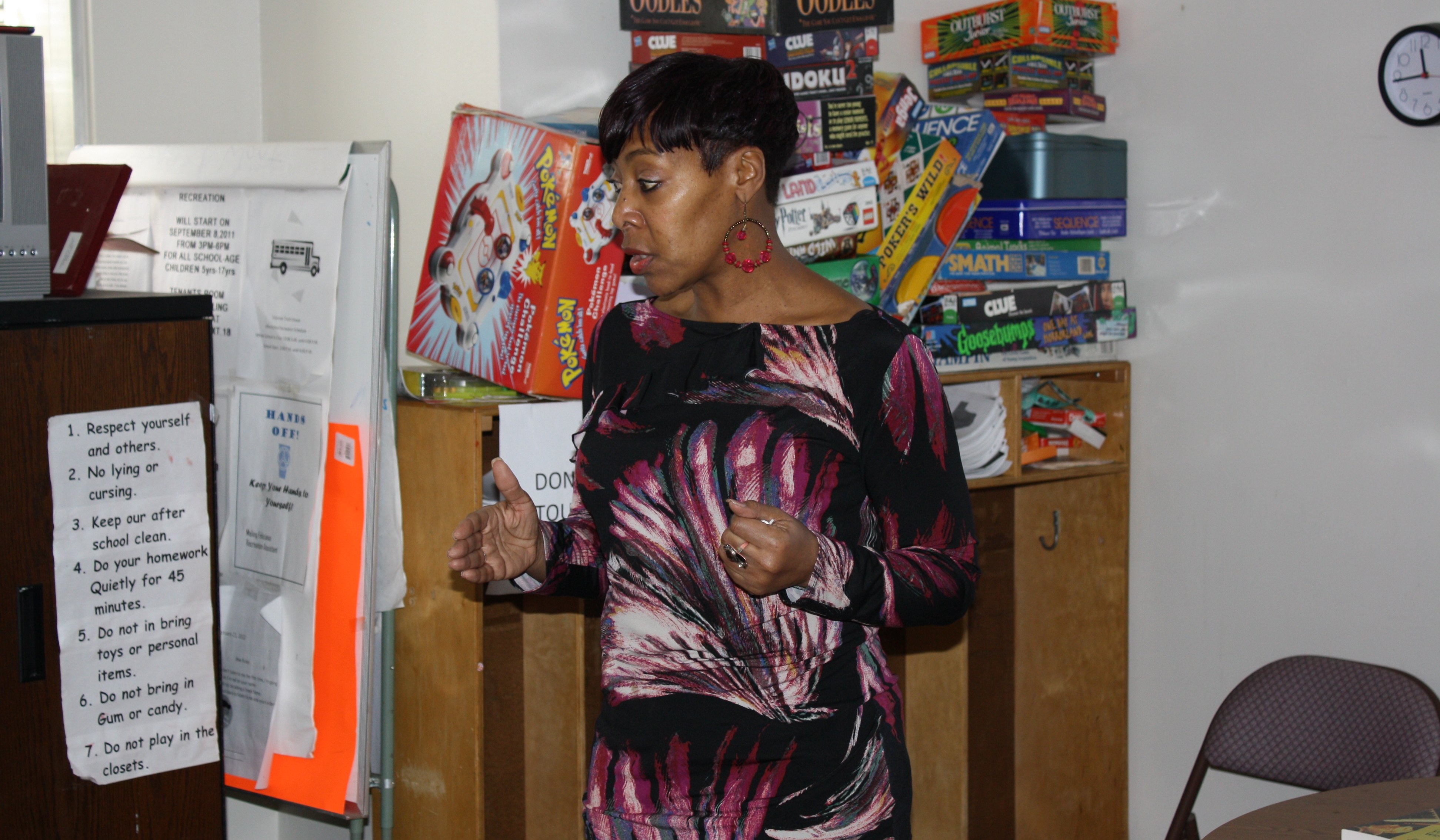 Sparrow offers words of encouragement to a group of homeless mothers at a Bronx shelter. Many are victims of domestic violence. Photo: Socks 4 Tots.
Dress for Success
 is one of Socks 4 Tots' signature programs. At these events, residents can select from the assortment of professional attire on display that they could wear to a job interview. At our visit, volunteer Omari Gay, an operations manager, instructed the shelter residents on the fine points of writing their resume. And human resources specialist Laura Cyrus discussed the ins-and-outs of job interviews.
Laverne explained that many of the residents have not completed high school or passed the GED, which makes it extremely difficult to find employment in the current job market. At other venues, her organization offers basic computer training and GED tutoring.
"A lot of shelter residents were not taught how to go out and land a job, don't have basic job skills and have given up," she added.
She often invites former homeless residents who overcame those obstacles to speak at these events. It is very motivating to those who have given up. One former shelter resident, a 22-year-old mother of three and domestic abuse victim, sometimes accompanies Laverne to speak about how creating a vision board changed her life (link).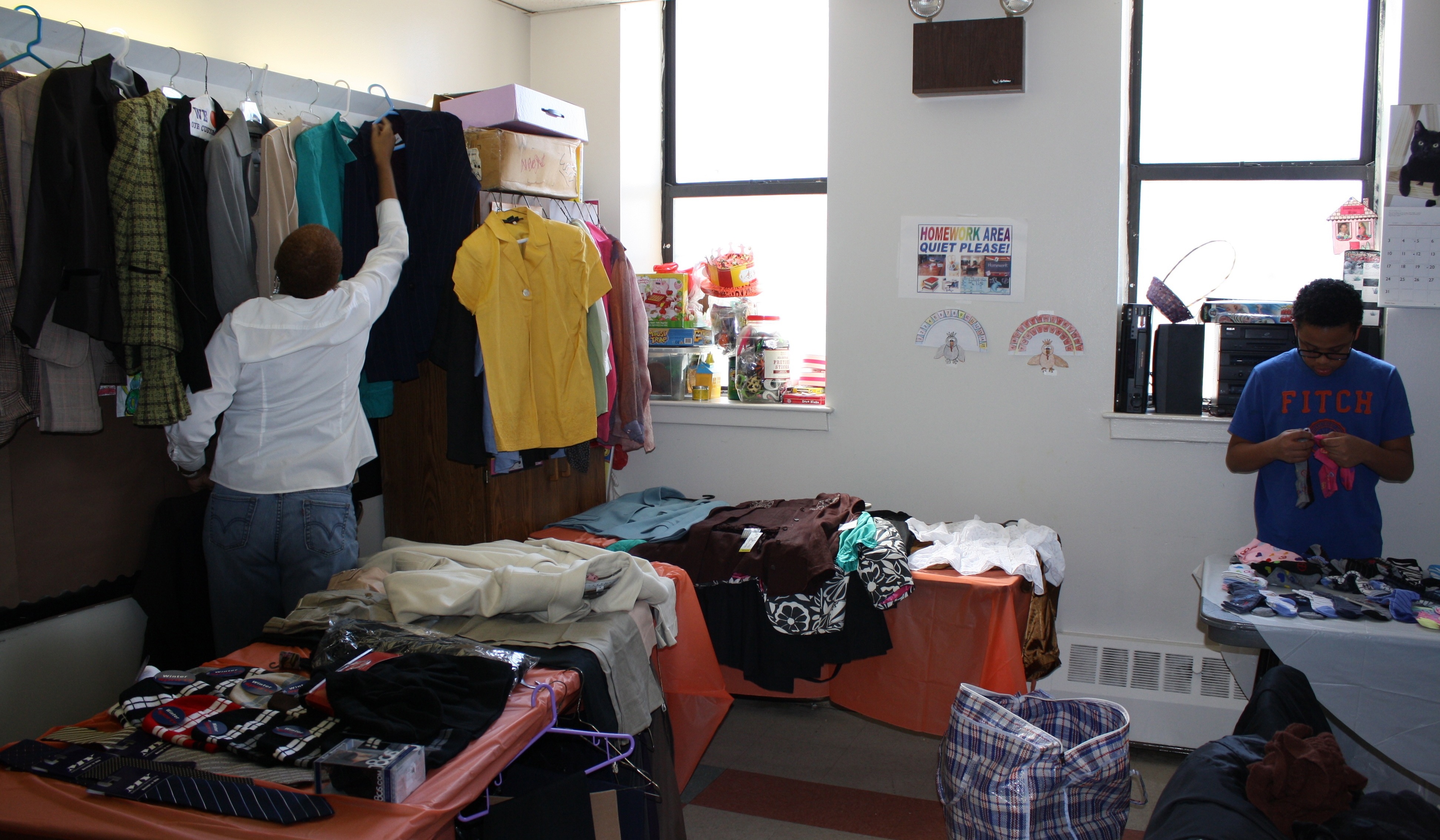 Dedicated Socks 4 Tots volunteers display an assortment of donated clothing for shelter residents. Photo: Socks 4 Tots.
Step-by-step, she achieved everything on her vision board: home, job, car and a new marriage. "She believed that she could conquer anything and achieve all that she wanted in her life," Laverne commented. "That's the kind of feeling I want to inspire."
The Harlem native said her passion for human services stems from her upbringing. "I lived in a neighborhood considered predominantly poor, but I saw people working together to help one another," Laverne recalled. As an adult, she looked around her Bronx neighborhood and saw tremendous needs in the borough's many shelters and felt she could make a difference.
She searched online for ideas and discovered a program that provides pajamas to kids in need. So, Laverne thought it would be a great idea to focus her efforts on children.
"I thought about socks," she recalled with a warm smile. "Socks are one of those things we all need. But there is also an idea behind it. I could go there with socks, with clown face painting, just to make the kids happy."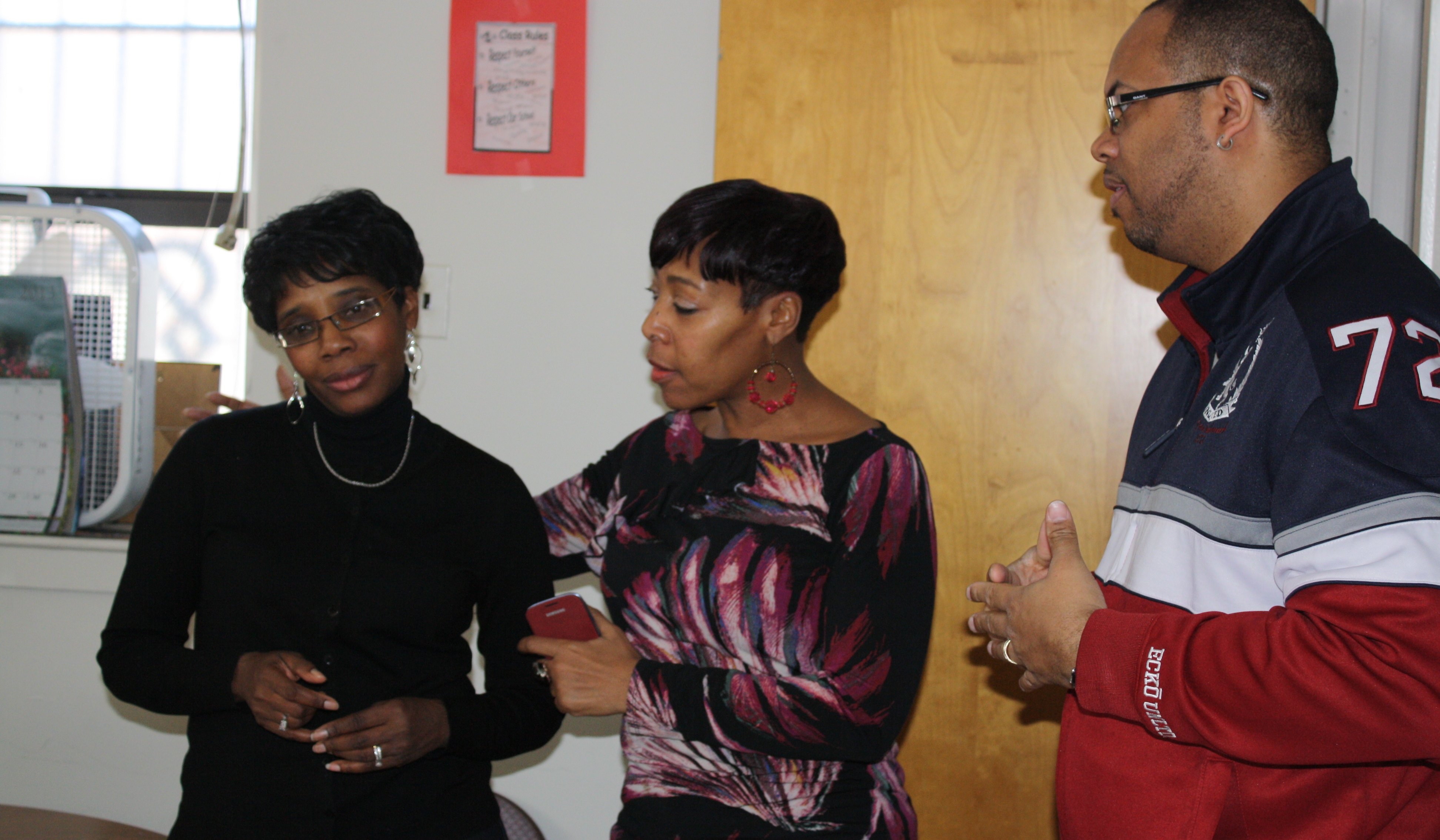 Sparrow (center) introduces job interview coach Laura Cyrus (left) and resume writing expert Omari Gay (right) to shelter residents during workshop. Photo: Socks 4 Tots.
But in visiting the shelters, a realization struck her: "For the children to do well, I also have to reach out to the parents." What began as an organization focused on helping homeless children evolved into programs to assist homeless families. In addition to education and job training programs, Sock 4 Tots organizes an annual Mother's Day Certificate program, coat giveaway, Thanksgiving feast and Christmas Toy Drive.
The problem, though, is so huge that efforts to help homeless families seem futile. "I wish I could do more," Laverne said, "but there are some serious obstacles."
For one thing, budget cuts have caused facilities to lay-off workers and consequently prevent her team from conducting workshops on Saturdays at many facilities. And as with many other organizations, raising funds is difficult–especially in the current economy.
But Laverne is a woman of faith. "Knowing that God could use me to make a difference keeps me going," she stated emphatically. If more people were willing to take such a leap of faith — no matter what faith that might be — the world would be a better place. I salute Laverne Rooks-Sparrow, founder and executive director of Socks for Tots, for her determined efforts to better humanity by helping the children of the homeless.
Originally published in The Huffington Post, May 2, 21013.
Socks 4 Tots
See Stories by Jim Luce on:

Children | Education | Health | New York | Social Responsibility

The James Jay Dudley Luce Foundation (www.lucefoundation.org) is the umbrella organization under which Orphans International Worldwide (OIWW) is organized. If supporting young global leadership is important to you, subscribe to J. Luce Foundation updates here.