New York, N.Y.  One can become addicted to the young global talent that plays upon the stages of the world under the banner of Young Concert Artists (YCA), directed by the indomitable Susan Wadsworth. Last week's concert by a 20-year-old French clarinetist of extraordinary talent and musical exuberance was particularly engaging.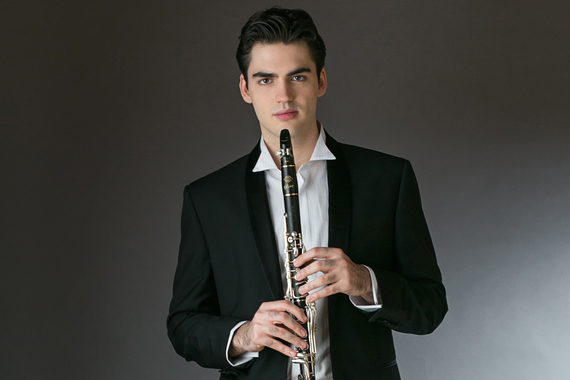 Raphaël Sévère. Photo courtesy of Young Concert Artists.
Raphaël Sévère made his debut in the YCA Series on Tuesday, April 7 at Merkin Concert Hall. The program was bookended by two pillars of the clarinet repertoire, the Brahms Sonata No. 2 in E-Flat, and the oh-so-French Poulenc Sonata.In between, the young artist showed his astounding versatility and range with works by the venerable Pierre Boulez (whose 90th birthday was recently celebrated), a talented newcomer Sylvain Picart, and Igor Stravinsky. Raphaël played every work flawlessly and with compelling conviction. The pianist Paul Montag proved a brilliant, supportive partner in every work.Raphaël drew us into the concert from the first soaring sounds of the Brahms Sonata, taking us on a rich and rewarding journey through Brahms' passionate score.
Raphaël Sévère. Photo courtesy of Young Concert Artists.
For Boulez'
Domaines
for solo clarinet, the stage was darkened. The performer is directed to start the music offstage, and then play sections at difference areas – "Domaines" – on the stage. This Raphaël carried off perfectly, creating an intriguing mood in which one heard a vast and wild array of sounds from the clarinet, all of which he seemed to produce naturally and perform as a wholly absorbing work.
Fantasy on Themes by John Williams, which received its premiere performance at this concert, is a series of four virtuoso pieces on themes distinctively and pleasantly recognizable from the first Harry Potter film.
The 21-year-old composer Silvain Picart had in mind to continue the l9th century tradition of virtuoso variations on popular themes, and this enjoyable work, expertly written for clarinet and piano, showed him to be a gifted composer to watch. Raphaël and Paul had fun with this piece, displaying their youthful energy and virtuoso partnership.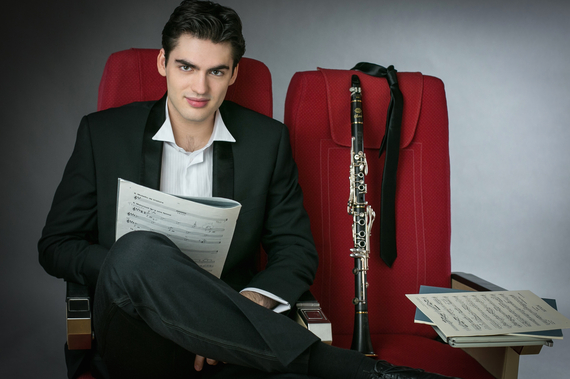 Raphaël Sévère. Photo courtesy of Young Concert Artists.
On the second half of the program, the violinist Paul Huang, also a Young Concert Artists winner, joined the two French musicians for a dynamic performance of the trio version of Stravinsky's
L'histoire du Soldat.
In the last piece on the program, the famous Sonata for clarinet and piano from Poulenc, Raphaël displayed his command of the instrument, with every sound controlled – from the lyrical melodies of the slow movement to the fortissimos and sparkle of the ending which was greeted with a standing ovation.
The artists presented an encore, two dances from Bartok's Romanian Folk Dances.
It is because New York City is not complete without experiencing the talent presented by Susan Wadsworth's Young Concert Artists that I am so excited to attend their annual gala, the upcoming black-tie fête at Alice Tully Hall on May 5.
Raphaël Sévère has joined the legions of YCA performers who have captivated me.
With Jacqueline Vanasse.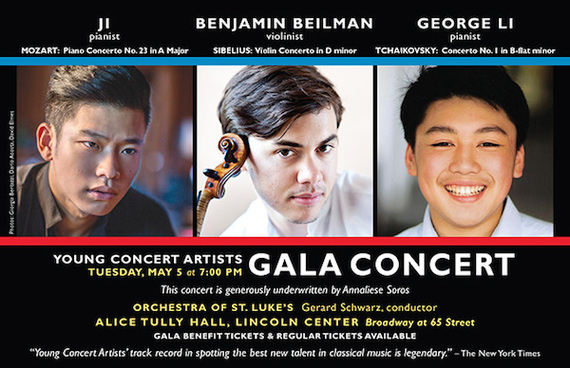 Young Concert Artists, Inc. (YCA)(tickets here)
250 West 57 Street, Suite 1222, New York, N.Y. 10107

Young Concert Artists is supported, in part, by public funds from the New York City Department of Cultural Affairs , New York State Council on the Arts, and the National Endowment for the Arts.

Originally published in The Huffington Post, April 21, 2015.

See Stories by Jim Luce on:

France & French-Americans | Music | New York

The James Jay Dudley Luce Foundation (www.lucefoundation.org) supporting young global leadership is affiliated with Orphans International Worldwide (OIWW), raising global citizens. If supporting youth is important to you, subscribe to J. Luce Foundation updates here.